Are you a crocheting parent or grandparent? Or maybe your best friend has just had her first baby? We think we know what you may need!
If you want to start a new crochet project, take a look at these free patterns for Delightful Baby Slippers. Soft, simple, and charming, they make babies smile! A pair of baby shoes is a great idea for a baby shower or as the Christmas gifts. They will be great as a house slippers (or maybe I should say crib slippers) as well. So grab your crochet hook and lets start a pair of crochet slippers based on one of those slippers free patterns.
The links to the free crochet slipper patterns  are below the photos. You don't have to give your email address to get the pattern. Just click on the name of the pattern below the photos.
`, `sl st`, , `mary jane`, `video tutorial`, ", `works great`,
Sleep Tight Slippers
Simplicity is always a good idea! Not only in the world of fashion and house decor but also in handmade baby fashion, it turns out.
These high cut slippers look super stylish and feel like the softest pair of socks you can think of. Chunky, fluffy, delightful!  I will love this pattern! The link to the free crochet pattern is under the photo.
Skill: Upper beginner Designer: Morgan Palomo
The full article about this pattern and the photos are here:
Advertisements

Simple & Sweet Baby Slippers Free Crochet Pattern
Do you want to know the recipe for the perfect pair of baby slippers? Here we come with the answer! This brilliant crochet designer has made it so clear. Work with the simple crochet stitches and use quality yarn. You can and add a sweet applique as a finishing touch. For example,  a bow for a baby girl or a car for a baby boy. So easy, isn't it?  I love these slippers!
Skill: Upper beginner Designer: Loganberry Handmade
The full article about this pattern and the photos are here:
Girl's Shoes – Lazy Daisy
These elegant lazy daisy booties will go with anything the young lady wears. We especially recommend the popular Simple Baby Bolero Cardigan which you can find here.
These booties is crocheted inconsistent rounds, developing your work clockwise and crocheting into the foundation eyelets after your first row. Directions and charts are below for how to make the woven blossoms. The free crochet pattern is below.
Skills:  Easy to Intermediate    Designer : Laura Eccleston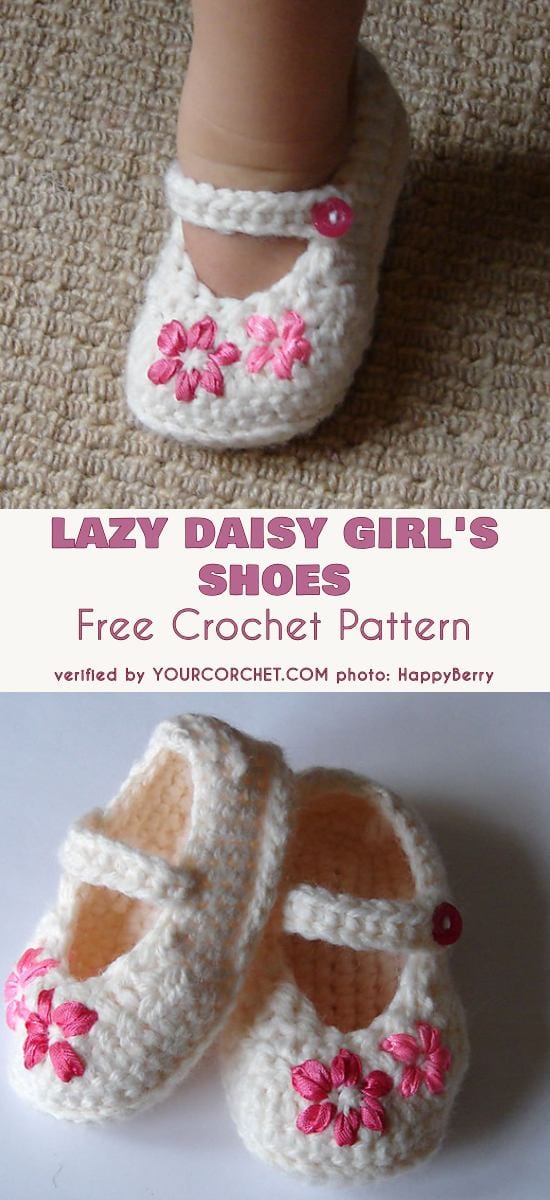 The full article about this pattern and the photos are here:
For more free designs every day follow us on Facebook. Share your ideas and your work on our Facebook group!
Advertisements

You may also like:
Kitty Granny Squares Free Crochet Patterns
Baby Strap Flip-Flops Free Crochet Pattern