Browse Hundreds of Free Amigurumi Patterns
You might have already been searching for the ultimate amigurumi free patterns but with no luck. Happily, here we are with a great selection of the best free crochet patterns that you will enjoy. Create amazing items with your own hands, some yarn and crochet hooks. Learn new crochet stitches and techniques and excel at what you already know. Browse our patterns collection for lots of knowledge and even more joy.
Many beginner crocheters ask what exactly Amigurumi is. This question pops up until they see the beautiful patterns that they instantly fall in love with it. Amigurumi is a Japanese crocheting technique of creating fun and beautiful stuffed creatures using yarns. Traditionally those are crochet animals, however you can also use this technique to create people and animated objects. If you have vivid imagination and creative inclination then Amigurumi crocheting is for you.
Your Crochet is your one stop destination for finding free crochet patterns Amigurumi. They are easy, they are fun and you can learn them with our free patterns.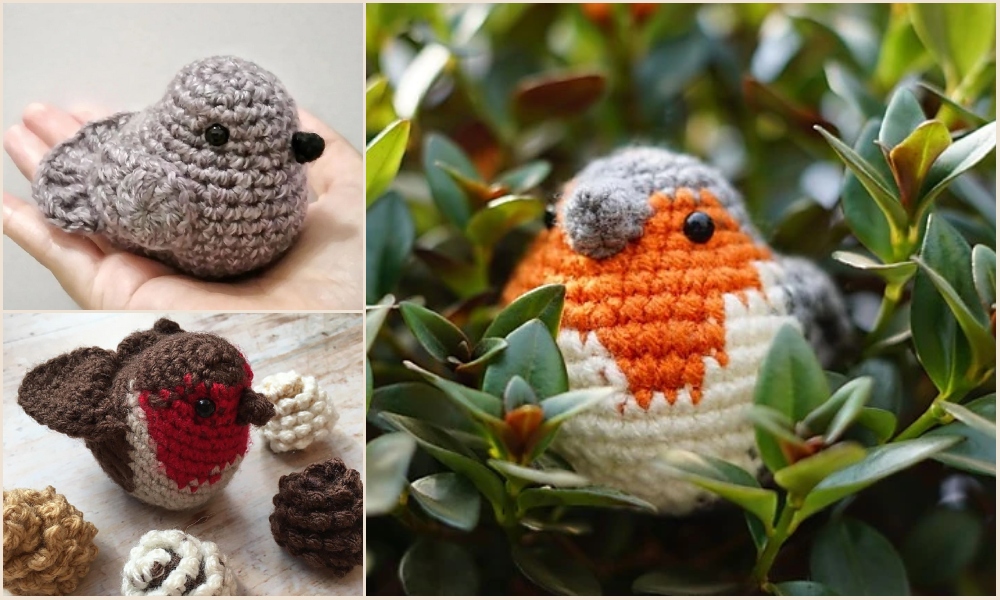 Add some gentleness with these Little Bird Ornaments.
How to get started with Amigurumi
If you are a beginner crocheter do not worry, Amigurumi are great project to start your adventure with. Like all the crocheting projects you will need yarn and crochet needle perfect for this kind of patterns. As Amigurumi needs to be rigid and dense, its tend to be made with worsted weight yarns or thinner. The crochet hook is also relatively small, although always remember that it should have a pointy needle head. This will make crocheting small parts easier.
Do not worry though. The free patterns are easy to make and you will learn to crochet in no time. Those who have knitting experience will find the process quite easy.

Plunge into sea life with Amigurumi Crab Free Patterns.
Browse free patterns
We have also more complex Amigurumi free patterns for advanced crocheters. They are more challenging tasks that will keep you intrigued and hooked. We have hundreds of free Amigurumi patterns to inspire you to create something unique and beautiful. You can create Amigurumi for decorating your house or gifting someone. Handmade Amigurumi are one of the best and personal gifts for birthday, especially for kids. Such item will become not only a favourite toy or decoration, but also a heirloom.
Amazing thing about Amigurumi is that you can get as creative as you can with the designs. Adjust them, swap colors, change yarn weight and hook sizes for different effects. The possibilities are unlimited, just like the plethora of free patterns that you can browse on our website.
What's more, it is very easy to search through everything that's gathered on Your Crochet. Visit our Amigurumi section to browse by type, or use our functional search box.
There is nothing more classic than a Crochet Teddy Bear Pattern.
All for Free
At Your Crochet website you can get access to hundreds of Amigurumi free patterns. Browse and find the perfect pattern that will inspire you to create the best Amigurumi. With our Amigurumi collection you can build up on your crocheting experience and confidence. These patterns are easy to learn and follow, always containing visual presentation and great instructions. Have we already mentioned, they all for free? We have but it is always good to repeat such a great news!
Start crocheting Amigurumi today. Browse and find hundreds of crochet ideas and inspiration here.