As the days grow shorter, the sun gets lower in the sky and leaves start to rustle under your feet, these are undeniable signs that Halloween is close. What would be a better way to celebrate the season than crocheting a cute amigurumi ghost?
These playful, ghostly creations are a charming accent during the haunted season add a touch of charm. They are the perfect addition to your Halloween decor or a delightful gift for fellow Halloween enthusiasts.
Ghosts are extremely versatile amigurumi projects to make or design. They can be tiny or big, sweet or scary, funny or sad. The creative possibilities are endless.
Each haunted house needs ghost as a home decoration. They can be both be Halloween party attractions during a party. Also, they can be outdoor Halloween decorations to 'scare' trick or treaters.
Products made from these patterns are small,

but you can resize them to any size you want, e.g. life sized. All you need is more white yarn and a bit more time. Halloween decorations would present be even more fitting when you combine them with fog machines .
Diverse and enchanting, the world of ghost amigurumi is amazing and has both friendly, cuddly specters and scary, mysterious creatures… and everything in between. That's why we've dredged up the interwebs to select the "10 Best Ghost Amigurumi Free Crochet Patterns."
You may also like:
5+ The Best Little Halloween Bat Amigurumi Free Crochet Patterns
Let us introduce you to a fabulous collection of free crochet patterns to inspire your Halloween. Experienced crocheters will find a quick and fun project. Beginners will learn the art of amigurumi. Indeed, here's a broad range to suit crocheters of all skills.
Go on a journey into the 10 best ghost amigurumi free patterns. Get your crochet hooks ready, pick your favorite ghostly yarn, and let's dive into this wonderful world. Whether you're a Halloween connoisseur or just want to create something fun, you will definitely be inspired and find a spooky creation to call your own.

Ghost Amigurumi
These hands-up ghosts are as cute as little children who what to scary you. They are tiny (2-3 inches) and very friendly. Remember to include safety eyes with these white fellows. 
You can find the photos and the full pattern on Instagram:
Ghost Kitty Ragdoll
First, et's stay on the sweet side. The Ghost Kitty Ragdoll is as sweet as cookies. The pink ears and paws combined with green eyes and tiny nose say 'Love me'. Finished size is about 11″ tall x 8″ wide.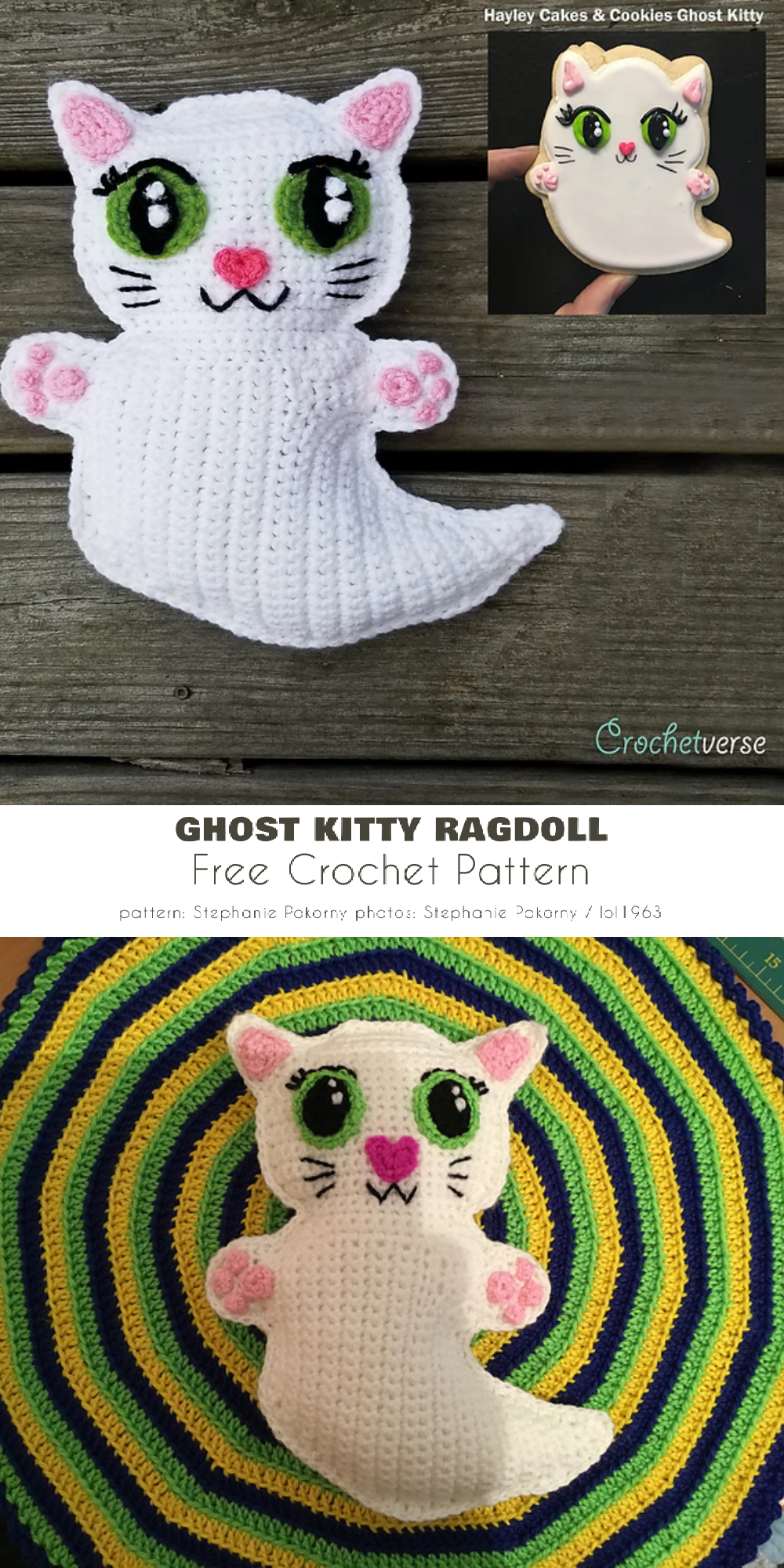 Ghost Amigurumi
Staying with the theme of cutness, this amigurumi ragdoll is made from 2 separate pieces joined together to give them that unique 2-D look. It's very easy to adjust the size from a pocket size to a ghost pillow.
Howl- the littlest ghost
This tiny ghost give you the pleasure of creation with a minimum of effort. You will make a bunch of Howl-the littlest ghosts in no time to place all over. Due to the small size, they will be perfect as a keychains.
Ghost Cute Kawaii Key Chain
What can I say? This is so adorable, no one will resist. However, manga fans will go ballistic!
Ghost / Fantasma Halloween
Boo ghost looks more alien-ish than his traditional ghost collegues. Nevertheless, he's cuteness personified and will trick-or-treat his way into your heart.
The original pattern and the photos are available here : Ghost / Fantasma Halloween. 
Ghost Coaster
Ghost coasters are another idea for decorating your home. You can use this pattern as a coaster or you can re-size it and stick to the window glass.
The original pattern and the photos are available here : Ghost Coaster. 
Zero Ghost Dog
As we had a ghost kitten, it's time for a ghost dog now. This little fellow is cute and friendly and super fun. Zero Dog measures 7" tall. You can easily decorate a pumpkin face on the tip of his nose.
The original pattern and the photos are available on Raverly : Zero Ghost Dog. 
Halloween Ghost
This Halloween ghost measures 6″ tall and is the most doll-y and elegant ghost from all the patterns. It's great as a shelf / window sill decoration.
The original pattern and the photos are available on Amigurumi Today blog : Amigurumi Today. 
For more free designs every day follow us on Facebook. Share your ideas and your work on our Facebook group!
[spider_facebook id="1″]
Advertisements