Gnomes, they're not just for Christmas.
While this popular Scandinavian Yuletide tradition has taken the world by storm, there's nothing written that says you have to limit them to Christmas. Indeed, there are all the reasons one can think of to crochet a Valentine's Day gnome. Firstly, they're fun and we all like fun projects. Moreover, they are a bit off-beat and kooky, which makes them original and unique. Finally, their overall cuteness and sweet factor is off the chart. In fact, nothing says "I love you" like something weirdly cute and adorable. In fact, nothing says I love you like a Valentine's gnome.
You may also like:
Valentine Gnome Jar Cozies
To begin with, this is a fun way to dress up a glass, cup or jar of some Valentine's day goodness. Overall, this is an easy project that is fun and useful, and how good is that!
Designer:  Jenila Mathialagan
The original pattern and the photos are available as YT tutorial:
Advertisements

Tiny Valentine Gnome
Next, one of these gnomes doesn't have to be a large thing. Consequently, here is a tiny one that is an absolutely adorable token of affection. Without a doubt this one is a perfect addition peeking out from between some chocolates are delivering a card.
Designer:  Elena Atisheva
The original pattern and the photos are available on Ravelry:
Valentine Gonk
Next, here is a that's a little more traditional in shape, but definitely decked out for  the big V. Truly, no recipient will be left standing.
Designer:  Lisa Hooper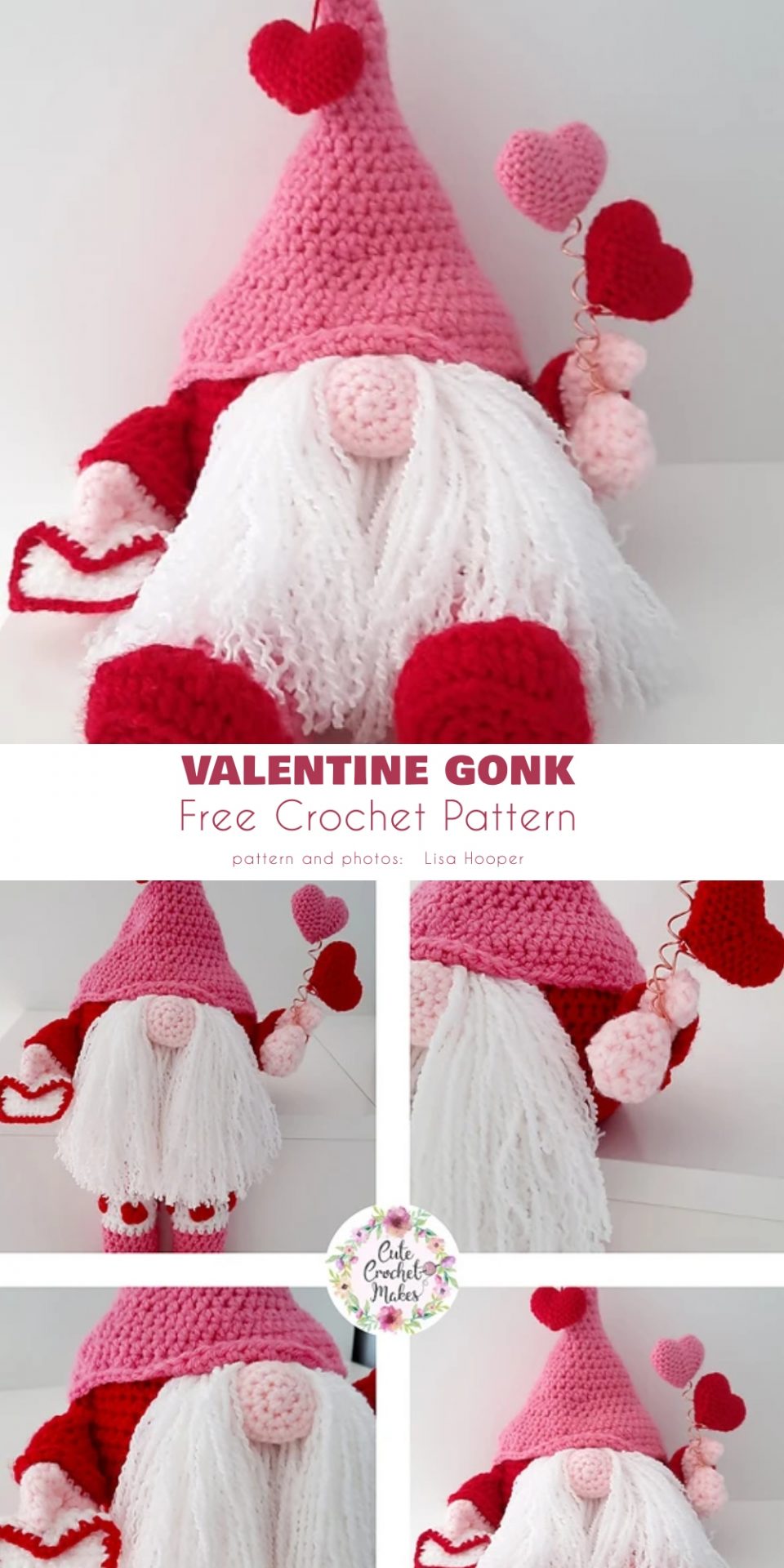 The original pattern and the photos are available on Cute Crochet Makes blog:
Valentine's Gnome Set
Next, we have this absolutely gorgeous couple ready to go out on its Feb. 14th date. In particular, I adore their variety of hats and decorations.
Designer:  passionatecraft2
The original pattern and the photos are available at Passionate Crafter blog:
Advertisements

Valentine's Gnome Applique
Finally, here is one pattern that can decorate any other project or item with a February 14th gnome. Indeed, this little applique is capable of "lovifying" EVERYTHING.
Designer:  GoldenLucyCrafts
The original pattern and the photos are available at GoldenLucyCrafts blog: