Crocheting is a great way to create beautiful things with your manual skills. It can bring out your artistic soul and the whole process can be very relaxing. The knowledge of different types of crochet opens up even more possibilities to crochet things.
Different Types of Crochet
The best part about crocheting is that there are many different types of crochet to spice things up. Therefore, it never gets boring and opens up for experimentation. To ensure that you enjoy crocheting even more, knowing different types of crochet is certainly helpful.
If you are a beginner, it's a good idea to know at least some of the most popular types of crochet. Once you have mastered the basics, you can expand your skills with the new ones.
Below we've prepared a guide to different crochet types from which you will learn what each style is about. Keep in mind that new crochet styles continue to develop. Thus, we've gathered those types that have already been around in the crochet world for a while.
Hone your crochet skills with new techniques. If you've got basic crochet stitches under your belt, and treble crochet stitch doesn't scare you, try these!
1. Amigurumi
This crochet type comes straight from Japan. The amigurumi revolves around creating small, soft toys made from crocheted yarn. They feature animals and creatures often inspired by pop culture, such as films, comics, or computer games.
Explore HUNDREDS of Free Amigurumi Patterns
The amigurumi type of crochet is perfect for making children's toys, fan items, and unique homewares. There is a range of patterns with which you can make a cute dog, beautiful doll, or favorite cartoon character. Let your imagination fly with amigurumi crocheting!
2. Aran Crochet
Aran Throw Free Crochet Pattern
With this crochet type inspired by traditional Irish patterns, get ready for a strong Celtic vibe. Aran crocheting is distinctive for interlocking cables and chunky texture that works nicely with beanies, sweaters, scarves, and blankets. Due to its prominent braided look, it comes under the name ribbed or cabled crochet. While using crochet patterns, be careful not to confuse the Aran crochet style with the weight of the yarn.
3. Bavarian Crochet
It has a vintage but very fancy look. The Bavarian crochet type employs granny squares to which it owes its traditional character. Crocheters mostly use it to make blankets and shawls, as this type of crochet creates a thick crochet fabric. However, unlike the classic granny squares that feature sharp color changes, Bavarian crochet relies on subtler color blending.
4. Bosnian Crochet
Learn more with HappyBerry Crochet on youtube.com
This crochet type relies only on the crochet slip stitch. It has a knit-like texture that works best with scarves and beanies. The Bosnian crochet creates a dense fabric that requires quite a lot of time to work it. Thus, it is better to stick with crocheting smaller items when you go for this style.
Buying a Bosnian crochet hook can certainly be helpful, but working it with a regular hook is also feasible. On the whole, this style is not particularly popular, given the time it takes to crochet.
5. Bullion Crochet
Learn about Bullion Stitch on Crochetpedia.com
Bullion crochet type works mainly for decorative motifs. It stands out for its 'roll' stitch which results in a very thick and round texture.
Such Motif-style pieces you can use for making for example placemats. You can also bring it into a larger project like a tablecloth. A longer hook will be useful for bullion crochet, as the stitch requires multiple wraps of yarn around the hook.
6. Broomstick Crochet
Broomstick Lace Cowl Free Crochet Pattern
Here we have another type of crochet that carries vintage vibes. Sometimes it comes under the name jiffy lace because of the open weblike pattern. You can create delicate shawls and throw blankets with broomstick crochet. It has an open and airy texture, ideal for all sorts of lacy fabrics.
Initially, instead of crochet hooks crocheters used broomsticks to work yarn, hence the name for this crochet type. Today you can go for a large crochet hook or thick dowel.
7. Bruges Crochet
source: Free Bruges Crochet Lace Tutorial on bananamoonstudio.com
The Bruges crochet style serves perfectly for making lace items featuring intricate crochet stitch patterns. You use it to create summery clothing, such as shawls with gorgeous lacework details. It also works really well for making decorative pieces, including table mats or pillowcases.
8. Clothesline Crochet
source: Crochet Coiled Basket Experiment on darlombfiberart.wordpress.com
With a clothesline crochet, you are ready to make a wonderful hat or basket. To crochet in this style you will need a thick rope or clothesline and a traditional stitch. Items made this way are strong and quite stiff which means that they hold their shape really well. Therefore, it is perfect for making all sorts of baskets, mats, and structural wall hangings for interior decoration.
9. Clones Lace Crochet
Here we go with an Irish crochet lace that works with a distinctive Clones Knot stitch. It adds to the charm of the traditional mesh-like lace texture and you can connect larger motifs with it. Crocheters commonly use the clones lace crochet to make open-work scarves. However, you can also use it to work delicate tops and dresses that will give you a perfect summer look.
10. Cro-hook Crochet
Cro-hook crochet works similarly to the Tunisian style and you need a double-ended hook for it. By using this tool you can make stitches on or off from either end.
It makes it easy to combine two alternating colors simultaneously. This allows crocheters to play around with different shades and create a beautiful mix of colors. Cro-hook crochet style is perfect for making washcloths, scarves, and baby blankets.
11. Filet Crochet
Learn about Filet Crochet on Crochetpedia.com
Filet crochet type employs chain and double crochet stitches. It uses a mesh-like pattern with squares that can be either filled or not filled. Working with filet crochet you can create beautiful jackets, kimonos, handbags, and cushions.
This crochet style can also provide you with unique ideas for a baby blanket. The space within squires can take any form you like including different pictures and images.
12. Finger Crochet
Surprisingly or not, you don't need a crochet hook for this type of crochet. As the name already suggests, when going for the finger crochet style you will use your fingers to create crochet projects.
It is very similar to finger knitting. What you need to do is to weave strands of yarn but in the style of crochet stitches. The finished tension in such projects is quite loose. Therefore, crocheters usually use the finger crochet style to make basic items such as simple string bags or scarves.
13. Freeform Crochet
Learn about Freeform Crochet on Crochetpedia.com
Crocheters with a true artistic soul will fall in love with this crochet type. Freeform crochet does not follow any particular pattern or ready-made plan.
It can come as a great convenience for those who like to improvise things. Otherwise, those who prefer to stick to the instructions may find it tricky and difficult to handle. Freeform crochet makes original and unique art pieces, as it doesn't confine to any specific form.
14. Hairpin Crochet
Braided Hairpin Lace Scarf Pattern Free Ideas
This style is very similar to broomstick crochet. It differs in that you use a traditional crochet hook and you hold the crochet piece between two metal rods. It took its name from the hairpins that crocheters initially used to craft in this style.
Items worked with this technique have a very thin and fine structure. Therefore, hairpin crochet works best for making delicate scarves, shawls and wraps.
15. Micro Crochet
Read about Micro Crochet on Crochetpedia.com
This crochet style loves tiny things. It is a modern technique that involves making very small items. You will need extremely fine yarn and crochet hooks to go for this technique. It requires particular patience and may not work for everyone.
With micro crocheting, you can make tiny embellishments. If you have ever dreamed of wearing a boho-styled talisman then you should also give micro crocheting a try.
16. Overlay Crochet
Mosaic Crochet – Overlay vs Inset
The first thing you do with an overlay crochet technique is to work the base of the crochet. Once you have it, you can add additional stitches on top, giving it a raised pattern. This type of crochet gives wide scope for crocheters to play with color.
17. Pineapple Crochet
Amazing Pineapple Stitch Crochet Ideas and Free Patterns
The pineapple crochet is a specific stitch and shape pattern popular in the 70s. It works well with small pieces like doilies and scarves.  However, it will also be an ideal choice for bigger clothing projects such as tops, shawls, and dresses.
18. Stained Glass Crochet
Fantastic Stained Glass Square Free Crochet Patterns
It is very similar to the overlay crochet style. It differs in that the stitches you work on the top come usually in black, while the base features bright colors. The contrast that results in a stained glass effect.
With this technique, you can achieve a thick and sturdy crochet texture. This makes it a perfect way to craft warm clothing pieces like winter scarves and handbags.
19. Tapestry Crochet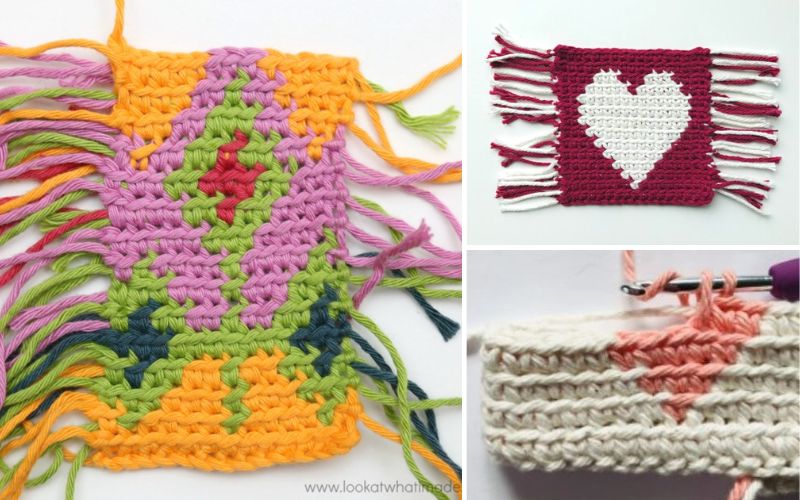 All You Need to Know About Tapestry Crochet
This crochet style is all about color work. Tapestry crochet type employs different techniques to make pieces that feature imagery-based designs with detailed graphic patterns. You can use two or more yarn colors to work them, opening up countless color combinations.
20. Tunisian Crochet
Learn the Basics of Tunisian Crochet
Projects crocheted in Tunisian style look very much like knit items. The method of working stitches is very similar to that in knitting, where you work loops. You will need a long hook with a stopper at the end to work loops on and off it. This technique will allow you to create knit-look items, including blankets and scarves.
Different Crochet Types – Final Tips
Now that you've learned about all the different crochet types you might be sure you won't miss anything about crocheting. Before you get down to crocheting in a particular style, we've prepared a few final tips for you: 
Make sure that you have all the necessary skills to work with a particular crochet type.

Knowledge of particular crochet stitches will be crucial, as different crochet styles use different techniques.

If you are new to crocheting, focus on mastering the common crochet stitches every beginner should pick up first. These will include the slip stitch, single stitch and double crochet stitch.

Check if you have all the necessary tools to crochet in a particular style. Some of them need different crochet hooks. Therefore, it may be hard to work on certain projects without the right tools.
Hope this guide gave you a good insight into different types of crochet. Feel free to try out the ones you like best and just have fun crocheting!