Kids love to go to sleep with stuffed sleeping companions. Indeed some kids can'y fall asleep (or refuse to, you know how it is) without one. Here are some ideas to increase their stuffie collections. After all, if there is room in the bed for stuffies, never mind that your child can't fit. I know mine don't mind the lack of room, but scream and holler when you try to take away even one stuffie.
Sleeping Octopus Free Crochet Pattern
Here is an amigurumi octopus. I like this one, as in this pattern's tentacles are crocheted to the body which makes it safer for the little mollusk fans.  Also, the eyes are embroidered in an easy way which makes the pattern much quicker. The finished octopus is approx. 7 " (17 cm) tall.
Skills: Easy            Designer: Mari-Liis Lille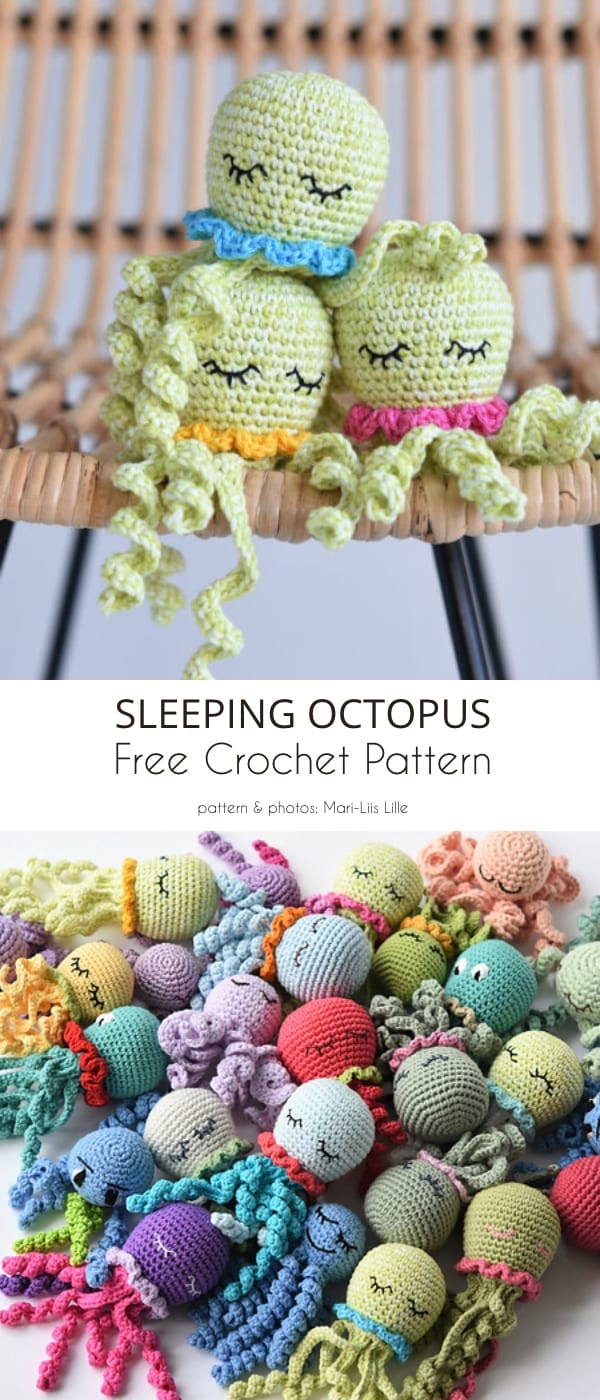 The full article about this pattern is here:
Sleephead Amigrumi Free Crochet Pattern
Here is a lovely amigurumi doll that is really suggestive to the little one. See, dolly's asleep, and you should be too! This is an amazing huggable doll that's easy to make and will be THE ami doll for sleeping with.
Skills: Easy            Designer:  Lanasyovillos official
The full article about this pattern is here:
Advertisements

Sonia The Sleeping Dog Free Crochet Pattern
At home, plush toys are playtime companions, but most of all they are a friend to hug just before sleep. This sleepy little fella is so adorable that he surely will be your child's favourite companion at nap or sleep time.
Skills:  Easy to Intermediate   Designer : Olga Filippova
For more free designs every day follow us on Facebook. Share your ideas and your work on our Facebook group!
[spider_facebook id="1″]
Advertisements