What makes the best free crochet patterns for crop and halter tops?
So, once again we make a ranking of the most poplar halter and crochet crop top patterns. Overall, each one of these fifteen top crochet patterns is equally great, and the order in the list doesn't matter. Of course, you will find a combination of boho and contemporary styles. Undoubtedly, you will find a perfect match for summer crochet top no matter your age or body shape! Make this summer special, for your beach-time as well as crafting enjoyment.
How to wear crochet halter top?
A summer crochet halter top goes well with almost everything, especially with jeans and denim skirts. It also matches thin summer pants or 3/4 pans which can be tight and smooth or quite to the contrary – boho loose. Below, apart form an easy crochet halter top free patterns to follow, you will also get 15 inspirational photos, how to wear your top with the rest of your garment.
How to make crochet halter top pattern?
Just pick up your favourite pattern form the 15 free crochet halter top patterns or free video tutorials below, buy a super soft yarn and pick up a matching crochet hook to start your beautiful crochet project immediately. A cotton yarn is lightweight and breathable, so it will definitely be a perfect fit for your summer halter top.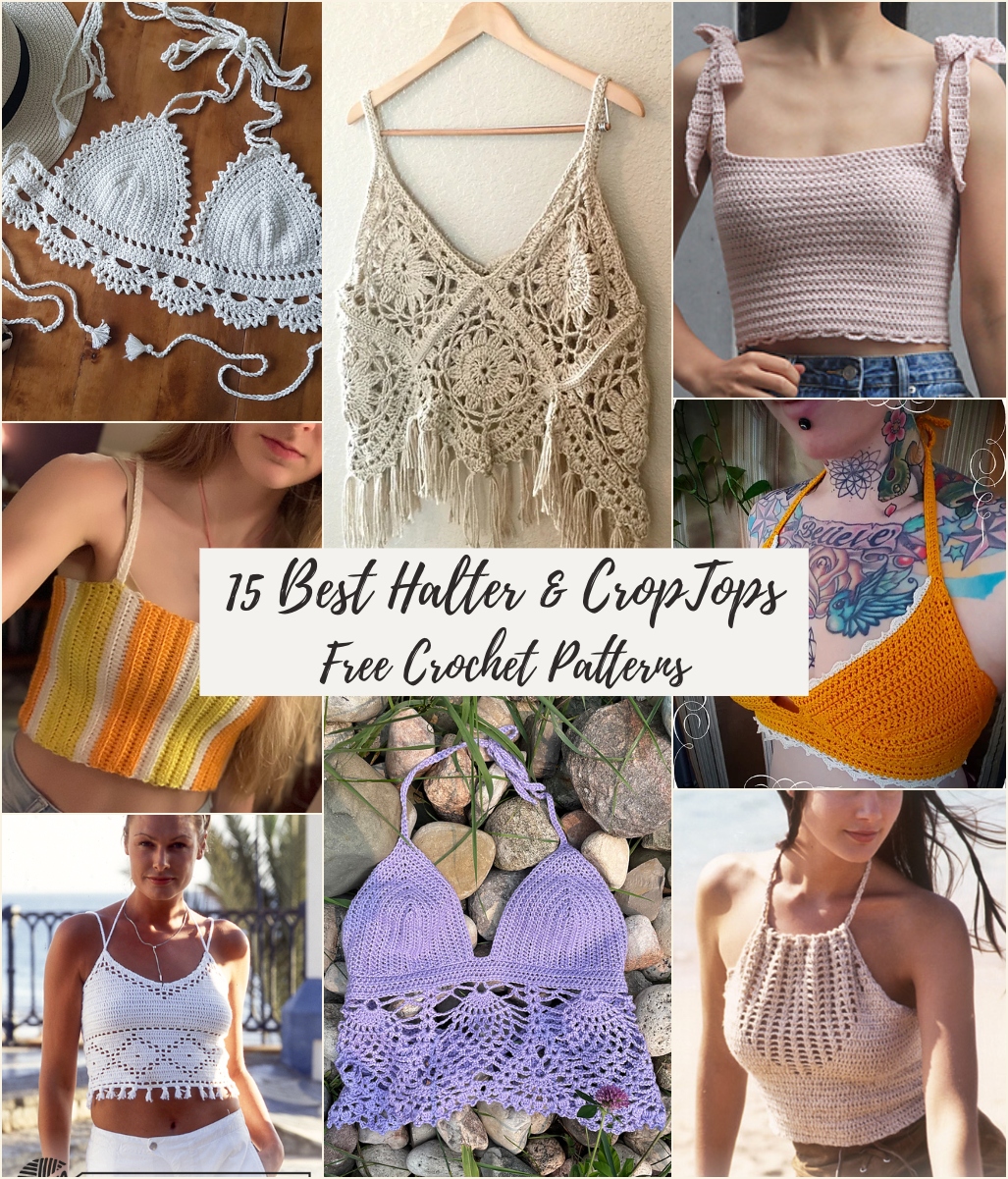 15 Best Halter Tops Free Crochet Patterns:
1. Pineapple Lace Top
So, our halter tops start with the Pineapple Lace summer halter neck top by Melissa Bjerregaard. After all, the pineapple stitch is such a wonderful, versatile technique. Moreover, you can make the bra section custom-sized, to match your body. You can also easily customize length of your top by adding more "pineapple" rows.
2. The Sophia Top
A point often overlooked in creating new beautiful tops is that sometimes minimalism is what you need, less is more. To be sure, the Sophia top fits the bill here and is perfect for a day at the beach.
3. Skylar Ribbed Top
Continuing the extravaganza of halter tops, this one is designed by Grace Forthefrills and is a super easy pattern perfect for a newbie. It uses sing only half double crochets, and consequently this easy crochet camisole works up quickly and is easily customizable to fit any size or body type. Although it is great and popular among teens and young women, it can be easily adapted for kids. There are alteration instructions if you prefer longer tank tops over crop tops
4. Little Grace Top
Next, the little grace top is an absolute joy and one of the simplest halter tops. This wonderful piece is a fun, playful and slightly naughty one tied at the back and simply perfect for sun, surf and sand.
5. Leila Tie Strap Crop Top
However, for those of us that like tube tops, but don't feel comfortable wearing them, here is a fun and comfortable compromise combining aspects of halter tops and tube tops. Doesn't this just cry out "wear me to backyard drinks with friends" to you?
6. Curvy Lady's Favourite Top
That said, for those of us who like to wear a bit less or when we're in that "flaunt it if you got it" mood, this project is an ideal solution. Among our collection of halter tops, it's a particularly fun project and a wonderful base for customization. A pattern perfect for hot summer days.
7. Boho Tank Top
Next, in your quest for the best crochet halter top pattern, why not explore a top in a funky crochet halter top style with fringes, designed by Breann Mauldin. Indisputably, this is especially meant for boho lovers. While the designer calls for Caron Simply Soft, other worsted weight yarns can be used as well.
8. Hepatica Granny Top
Next, while on the topic of halter tops, this halter neck top designed by Anna Erlandsson joins two traditions. Although the bottom is a granny square row inspired by a Swedish spring flower, the rest of the top is in a modern, simple form.
9. Mediterranean Love Top
Although it may seem a little risque, this crocheted top with a bare back by Drops Design is very summery but at the same time quite fashionable. Moreover, with these halter tops, you can finally can tan your back without any lines.
10. Top 'Diamond'
Similarly, this beautiful top is designed by Green Bird and is perfect for any occasion. Consequently, you can wear it both as an undershirt with an open front shirt or a cardigan. While the directions are for a small sized top, you can adjust the pattern to other sizes.
As for most summer crochet garments, the yarn you choose should be lightweight and breathable, so natural yarns will be the best! Choose cotton, linen, bamboo, or blends. These kinds of yarn have yet another advantage, namely – you can wash them in washing machine!
Are crochet halter tops easy enough for beginners?
Yes they are! Of course, each pattern features different design elements, but most of them are mainly made with basic stitches. If you're familiar with these, you'll be ok!
How to choose the right color for halter tops?
First of all, see if you're going to use one color, or more. If there's two or more required, choose the colors that will either complement, or stay in contrast with each other. Consider the colors you like to wear and the rest of your wardrobe – halter top will become a part of it, right? Make it in a hue that will go nicely with whatever you already have.
You may also like: