Hello there, lovely people! Are you celebrating the 14th of February in a crafty way this year? We would love to hear about your festive projects and favorite Valentine's Day crochet patterns! This year, we have prepared a collection of Sweet Pillows for Valentine's Day. Accessories for the home with messages sent straight from the heart are always wonderful gifts, without a doubt. If you want to crochet something special for your significant other, choose the pillow that melts your heart and get to work! The links to the free patterns are under the photos.
You may also like:
Crochet Pillows for Valentine's Day – Free Patterns
Llama Love Pillow
The whole world loves llamas, not only on the 14th of February! This sweet little crochet pillow designed by the brilliant author behind Repeat Crafter Me has really made us happy before Valentine's Day. This pattern is such a great gift!
The original pattern and the photos are on Repeat Crafter Me:
Heart Pillow
This pattern by the one and only Jen Hayes is so elegant! The combination of burgundy red and cream is a classic, undoubtedly. You can mix and match colors freely to create your own dreamy set of hear-shaped cushions.
The original pattern and the photos are on Jen Hayes Creations:
More info on Ravelry here.
Heart Pillow
Heart-shaped pillows never go out of style, trust us! A handmade gift like this one says more than a thousand words, especially on Valentine's Day. Will you stick with this delightful shade of pastel pink? Spin a Yarn Crochet always inspires us!
The original pattern and the photos are on Spin a Yarn Crochet:
More info on Ravelry here.
Bulky Love to Cuddle Pillow
Can you imagine how this fluffy white heart feels? Evidently wonderful, right? If you like to experiment with different fabrics, this pattern by the genius designer from Who's Homemade is certainly for you. Give it a try!
The original pattern and the photos are on Who's Homemade:
Advertisements



XOXO Valentines Throw Pillow
This crochet pillow for Valentine's Day would rock on Instagram, wouldn't it? It looks so modern and cool! If you like designs that are bold in their simplicity, you should certainly crochet this wonder in a timeless color combination of red and pink. XOXO, Clickety Sticks and Your Crochet Patterns!
The original pattern and the photos are on Clickety Sticks:
More info on Ravelry here.
Valentine Kitty Pillow
Every kid loves big toys, the bigger, the better, but this crochet cat can also be a great gift for adults. He looks like a stretched out cat content with life. His long body makes him a perfect roll pillow for any bed. Despite the fact that the pattern meant to create a pillow, I think you can easily accessorize your home by using it, for example, as a window or door draft dodger.
Skills: Easy            Designer:   Lee Sartori
The original pattern and the photos are on .Coco Crochet Lee:
Puppy Pillow
For all big and small dog lovers, this crochet pillow will be perfect. Made with ultra-soft yarn and easy stitches will be a great gift not only for Valentine's Day. This is a very universal pattern, so if you change a few details, it can be a cat pillow as well.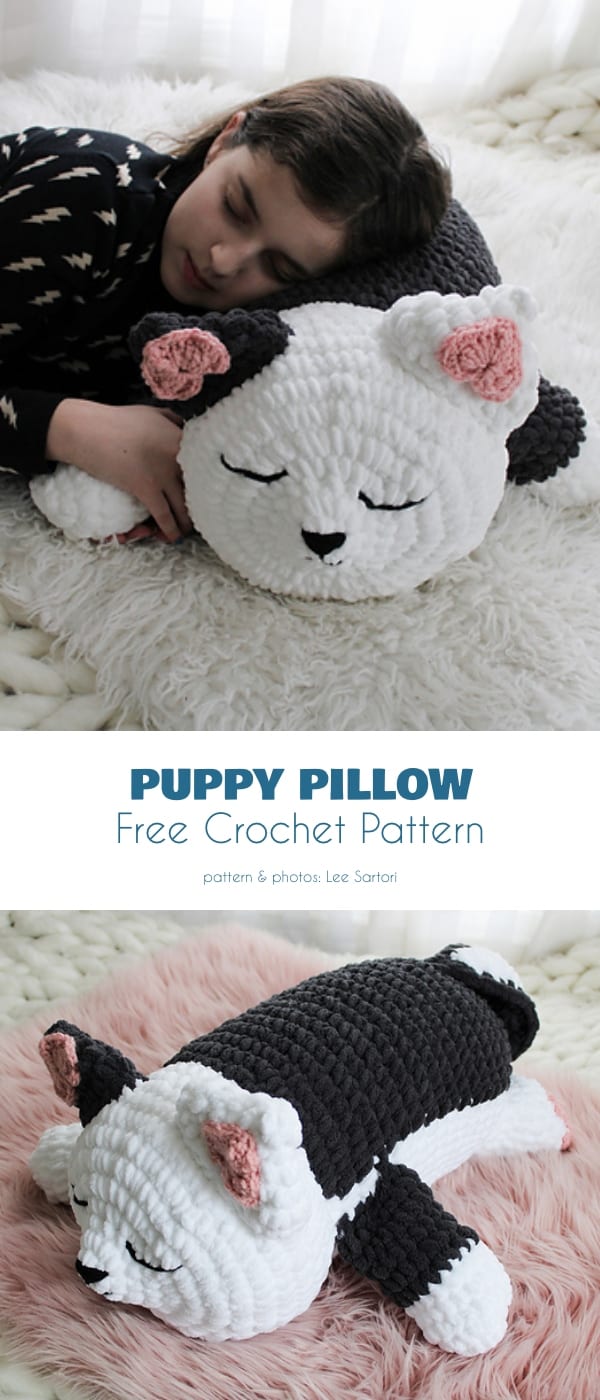 Skills: Easy   Designer:   Lee Sartori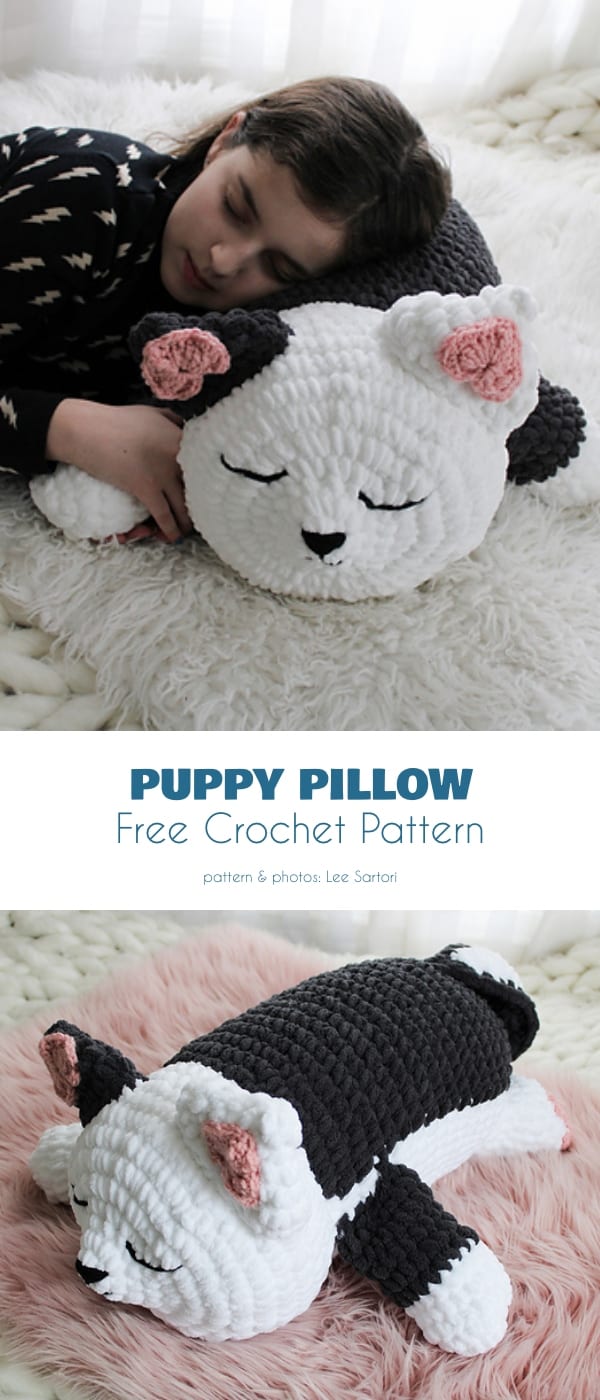 The original pattern and the photos are on .Coco Crochet Lee:
Advertisements