A crochet hook is one of the most essential tools in every crocheter's toolkit. You won't be able to make any project without it. So, when getting into crocheting, it's definitely helpful to know the different crochet hooks that are out there. They come in many styles, shapes, materials, and sizes that can really make all the difference. 
Below we'll discuss all crochet hook types. This way you can make an informed choice between them when looking for the perfect one for you. No matter if you're looking for hook sets, aluminum hooks, steel hooks, or others – we've got you covered.

If you would like to learn more about other crochet tools, check out Crochet Accessories For Crafters.
See Crochet Hook Sizes Chart and Comparison to better know your tools.
photo source: dailycrochet.com
Crochet Hook Styles
There are two main styles of standard crochet hooks – a tapered hook and an in-line hook. They vary much in their shape and may influence your work with yarn. Let's go into these in some more detail.
photo source: okiegirlblingnthings.com
Tapered Hook
A narrow throat and a raised head that extends out past the shaft define tapered crochet hooks. The yarn slips off it more easily which some crocheters may find useful while others annoying. 
A tapered hook has a rounded head that makes yarn less likely to split. It can be especially helpful when working with cotton yarn prone to splitting. What's more, a shallower throat means that you don't have to make such great turns with your wrist to work stitches. This is also partly why tapered hooks come as highly recommended for beginners.
In-Line Hook
This type of hook has an inline throat which is the same width as the shaft. Such a shape allows us to create uniform stitches, so it's a good choice for beginners. Crocheters who struggle with getting the right tension often go for in-line hooks. 
Its pointy head makes it easier to slip through stitches. Therefore, it's perfect to work with finer weights of yarn. Inline crochet hooks have a much deeper throat that helps keep the yarn in place but may require more wrist movement.
What Are Ergonomic Hooks?
Crocheting involves repeating the same movements. Therefore, no matter how enjoyable the activity is, you may experience discomfort in your hand after crocheting for a long time. Working with a standard crochet hook in such a case can take all the fun out of it. 
Fortunately, among the different types of crochet hooks, there are ergonomic ones designed primarily to prevent hand fatigue. Their enlarged grip sits better in the hand and helps alleviate any pain or discomfort you may experience.
photo source: crochetcoach.com
Ergonomic crochet hooks come in the two standard styles described above. You can easily find both tapered and inline hooks fitted with an ergonomic grip. And what if you already have your favorite crochet hook but would like to turn it into an ergonomic one? No worries, you can buy the ergonomic handles separately and place it over an existing crochet hook.
Crochet Hook Materials
Apart from the shape, crochet hooks also come made of different materials. Metal, plastic, and wood appear to be the most common, but you can also find bamboo or acrylic crochet hooks. 
Each material offers slightly different qualities that can affect the crocheter's comfort. However, personal preferences matter a lot here too. So, let's find out what types of crochet hooks are there to choose from.
You may also like Crocheting Vs. Knitting: Which Craft Is Easier For You?
Wood
Wooden crochet hooks make the most traditional but also the most expensive of all materials listed here. They feel naturally warm to the touch and have a very smooth surface. If you find them too costly, bamboo hooks can prove an excellent substitute for wooden hooks.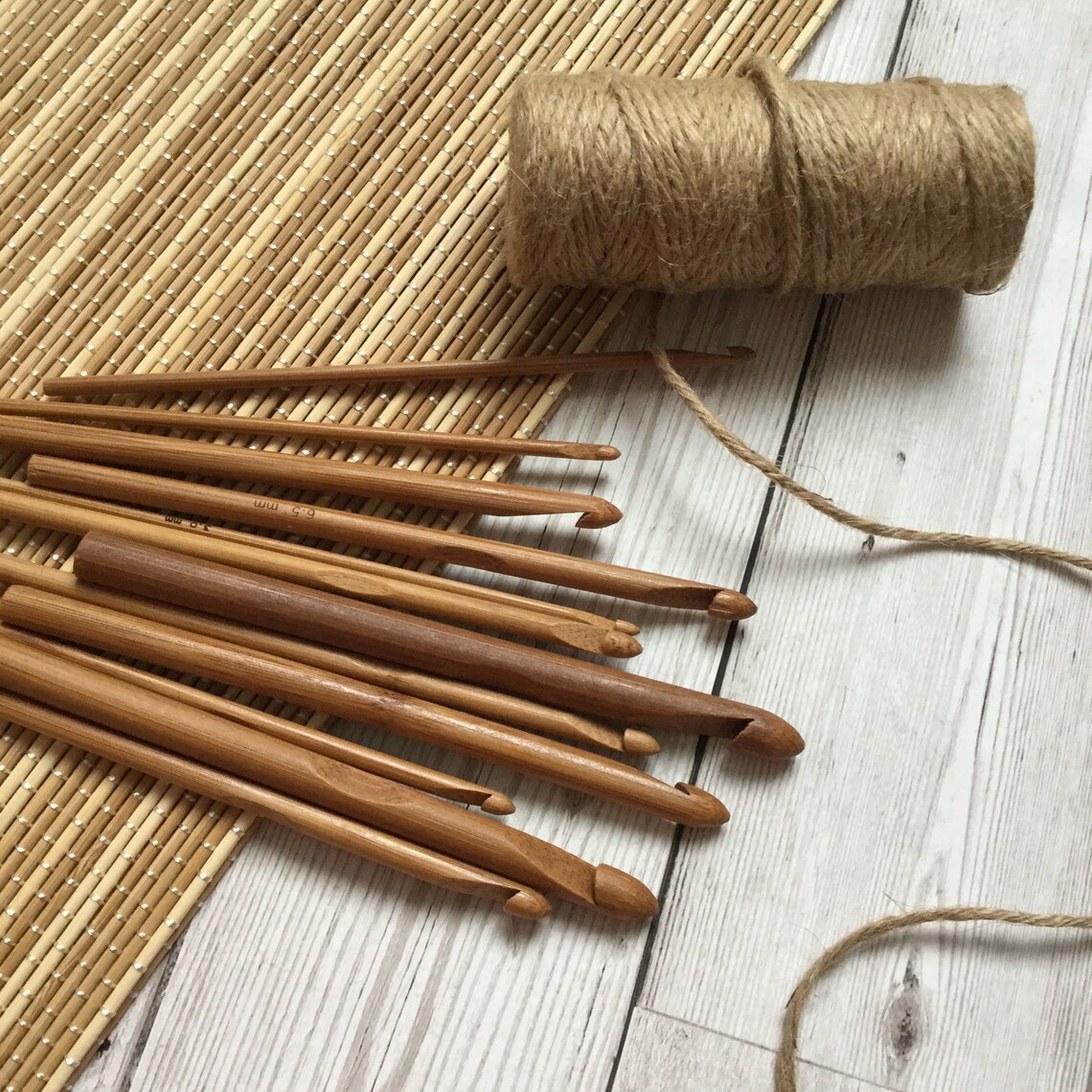 photo source: etsy.com
Metal
Metal crochet hooks are the fastest to work with. This is because they are extremely smooth so the yarn glides on and off very easily. 
Experienced crocheters find them the most comfortable, but beginners may like them as well. For those who tend to crochet things too tightly, the glide it provides can help you get the tension right. They also have a cold feel which may not go well with everyone. 
The aluminum crochet hooks are a more popular choice than the steel ones. They are lighter to hold while their lower price makes them more affordable.
photo source: ozyarn.com.au
Plastic
Plastic crochet hooks comprise the cheapest option in this list. They are very light in hand which makes crocheting with these the least likely to cause you pain in your wrist. This is especially helpful when working on really large projects. 
They come as an ideal choice for beginners because their slight texture allows for better control of the tension. Some crocheters forgo plastic crochet hooks as they are prone to develop imperfections that can pull the yarn when making stitches.
photo source: alibaba.com
Specialized Crochet Hooks
With standard crochet hooks, you can work comfortably on many projects. However, you will also find ones designed specifically for particular crochet techniques where regular hooks would not work. Would you like to make an afghan blanket or perhaps a lace garment? Take a look at the types of crochet hooks below that you'll need to make these projects.
You may also like A Guide To Different Types Of Crochet
Tunisian Crochet Hooks
Tunisian crochet, also known as Afghan crochet, combines elements of crocheting and knitting. Projects made with this technique have a very dense fabric confusingly similar to knitted ones. To work with this method crocheters use a longer crochet hook with a stopper on the end. Its elongated design allows for making multiple stitches at once without them falling off it.
photo source: craftsy.com
Broomstick Lace
Broomstick lace is a unique crochet stitch used to produce all sorts of lacy fabrics. The technique originated in the 19th century and involved the use of a broomstick, hence its name. Nowadays crocheters employ an elongated crochet hook together with a broomstick tool to work with this technique. This allows for making very long loops to create wonderful eyelet crochet projects.
photo source: etsy.com
Crochet Hook Sizes
Crochet hooks are available in multiple sizes, ranging from 2 mm to 16 mm. Why are there so many of them? It's so that you can use a variety of yarns, from lace to super bulky, to crochet your projects. 
If you want to achieve the desired effect, you need to use a hook size matching the yarn weight. This will ensure that your crocheted items will stay true to the crochet pattern and look the way you want. It's also important to remember that crochet hook sizes can vary not only between the US and the UK sizing systems but also between manufacturers.
Whether you are new to crocheting or not, a thorough understanding of crochet hooks will help you make informed choices. The right tools will improve not only the ease of work but also the quality of crocheted projects. So don't hesitate – get a crochet hook that works best for you and enjoy crocheting!