It dipped below freezing today, and the kids need to go to school
What better way to keep little (and big!) noggins warm than a fun, slouch hat that's stylish yet super casual and playful? After all, like adults kids like to look good as well. Why not, therefore, make a hat befitting your little playground king or queen? These are all quite easy slouch hat free crochet patterns, consequently if your brood is greater than one it won't be too time-consuming to make a whole bunch of them, highly customized to individual tastes.
The Xoxo Slouch Hat
This spectacular hat will be the perfect addition to your winter outfit. The Bobble Stitch and Half Double Crochet together make a texture that's diversified and intricate-looking. However, don't worry if you are not familiar with these stitches, since they are well explained in the pattern. The Xoxo Slouch Hat is topped off with a pom-pom at the top, thus making it even more fancy.
Stitches Used:
Single Crochet (sc)
Half Double Crochet (hdc)
Double Crochet (dc)
Bobble Stitch (bs)
Camel Stitch
Crossed DC
Slip Stitch (sl st)
Half Double Crochet two stitches together (HDC2tog)
You may also like:
Skills: Easy to Intermediate   Designer:Kelsie Weeks
The full article about this pattern is here:
Advertisements

Love Bug Slouchy Hat
Here is a next slouch Hat free crochet pattern for a crazy, modern slouch hat with a pom-pom. The hat will indeed be a trendy and joyous addition to your winter attire. It's perfect for snowball fights with your kids and waltzing around town on a cold, sunny day. This easy pattern is a definite gem!
Skills:  Easy    Designer:  

Megan Meyer
The full article about this pattern is here:
Advertisements

Argyle Beanie & Slouch
There are two timeless clothing motifs that will never be quite out of style, even if they are  at times less popular: argyle and paisley. Although paisley doesn't really work for hats, these argyle beanies and slouches are proof that this motif is good for any item of clothing, not just sweaters and socks. These hats come in a plethora of sizes and, of course, can be made in a multitude of colors. Truly, how about making one to suit every mood, or a different one for every day of the week or… [fill in your preference here]. To summarise, this is a lovely and easy project to produce much needed wooly hats (toques, for our Canadian friends).
Skills: Easy   Designer : Jennifer Pionk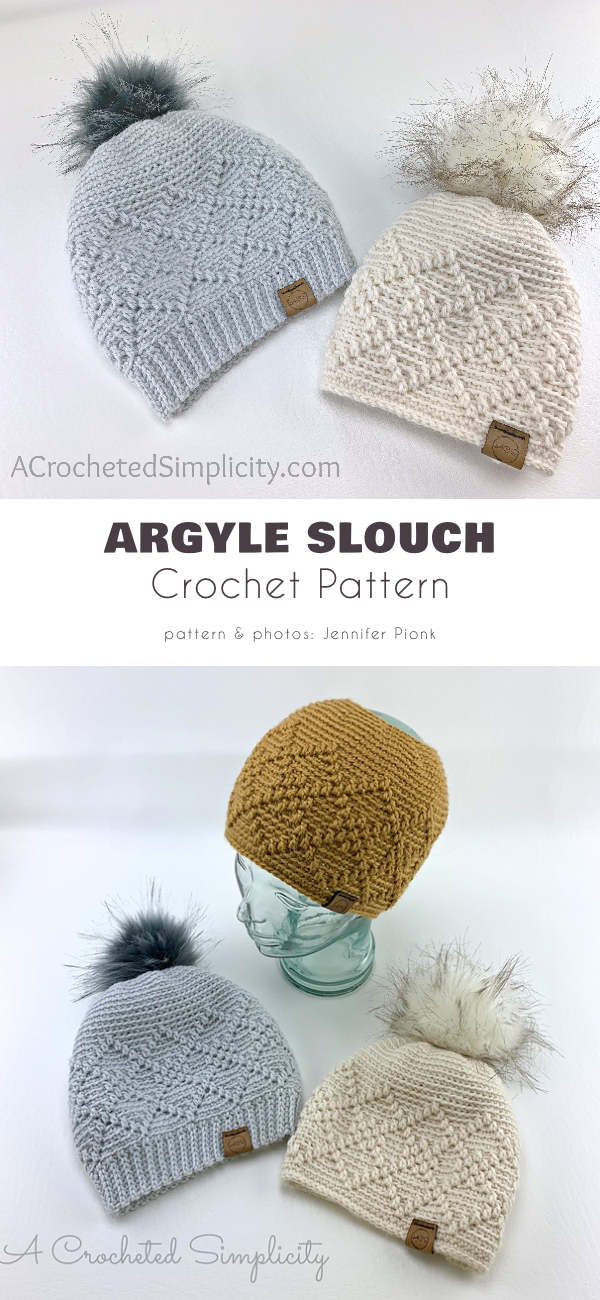 The full article about this pattern is here:
Advertisements