Crochet Daffodils Patterns are here for all spring lovers to enjoy!  Is it any wonder that daffodils have inspired William Wordsworth? They are beautiful, evocative of spring, and quite unmistakable. Let them inspire you as well. They translate into crochet stitches very easily and can be turned just about into any form of crochet decoration or item. They can serve on their own as a complete accessory (brooch, hairpin, etc.) or a decorative touch on a larger item (on a bag, blanket, pillow, or anything else. You could even make them into a bouquet by giving them a rigid stem (for example from a green pipe cleaner). Let yourself be inspired, and make your very own field of daffodils.
I wandered lonely as a cloud
That floats on high o'er vales and hills,
When all at once I saw a crowd,
A host, of golden daffodils;
Beside the lake, beneath the trees,
Fluttering and dancing in the breeze
William Wordsworth
You may also like:
Crochet Daffodils – Free Patterns for Flowers
Daffodil
This pattern by brilliant designers behind Our Little Craft is out of this world! Trust us, we have seen many patterns for crochet flowers before. This one surely deserves a place in your collection of go-to crochet projects for spring.
The original pattern and the photos are on Our Little Craft:
The photos are on Instagram here and here.
The pattern is free for a limited time only!
Advertisements

Daffodil Bouquet
Who has ever crocheted a whole bouquet of blooming flowers? If you haven't experienced this fun process before, this spring is certainly the time! This pattern by the genius team creating for Yarnspirations will guide you to success.
The original pattern is on Yarnspirations:
The photos are on Ravelry here.
Advertisements

Daffodil Flower
The wonderful artist behind Moara Crochet is famous for her patterns for flowers, undoubtedly. Have you tried following her instructions before? Spring is evidently the perfect time, right? We will certainly make a bunch of these delicate crochet daffodils as soon as we can!
The original pattern is on Moara Crochet:
More info on Ravelry here.
Advertisements

St David's Headband
Crochet bouquets are not the only way to use your daffodils patterns, without a doubt! Buntings, wreaths, and headbands are great ideas as well. Every queen, no matter the age, would love wearing a DIY flower crown like this one by Cathrinskey.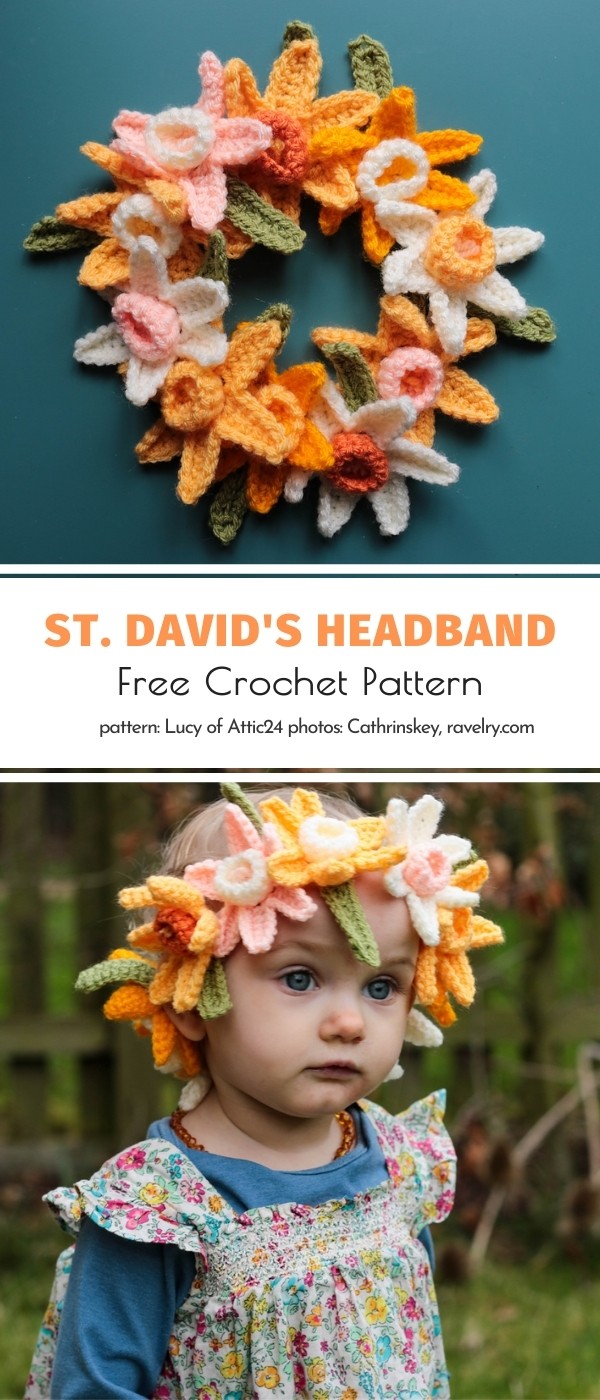 The original daffodil pattern is on Attic 24:
Advertisements



Info about this project and the photos are on Ravelry here.
Advertisements

Daffodil Bulb
Here is a just sprouted daffodil, just raring to grow towards the sun. This is certainly a perfect project for those of us who love daffodils and are waiting for spring. This lovely flower will be a wonderful touch of color in your own home or a greatly appreciated gift for someone else. With or without a flowerpot.
Skills:  Easy      Designer: Yarn Blossom Boutique
The original pattern and the photos are on Ravelry:
Advertisements

Crochet Spring Daffodils
Not many patterns for crochet daffodils are that highly realistic, evidently! This life-sized daffodil will surely be great for a display in a darker corner, or in a store window or diorama. This is a great pattern if you need realistic flowers, but real ones won't do. For more free designs every day follow us on
Facebook. 
The links to the pattern and the video tutorial are below.
Visit Happy Berry for the free pattern or watch the video tutorial here:
Daffodil Easter Bauble
All daffodil patterns above can be a part of the summer decor for your home. However, if you are looking something tailored especially for Easter, you have to try this one. The Daffodil Easter Bauble will be great decoration to hang on a pedant or door knob, but you can also hang it outside on the porch or a tree.
Skills:  Easy      Designer: Cat Venner
The original pattern and the photos are on the Crochet Cloudberry:
Advertisements

For more free designs every day follow us on Facebook. Share your ideas and your work on our Facebook group!
You may also like:
Quick Bunny Applique Free Crochet Patterns
Easter Bunny Egg Free Crochet Patterns