Hello there, our lovely homemakers! We have news! Crochet Baskets for Spring Organizing are here! Are you excited for the first days of spring? Without a doubt! We have decided to help you start the new season with fresh energy. Spring is the time for changes and new adventures, right? Surely! If you do not have time for proper redecorating, you can always add some accessories that will change the style of your interiors. Crochet baskets are evidently ideal for that! Make a couple of them in different colors and sizes. The links to free patterns are under the photos.
You may also like:
Cool Crochet Baskets for Spring – Free Patterns
Calista Basket
Divine Debris always surprises us with original crochet patterns, not only for baskets! How awesome is this chunky, sturdy wonder? It will look great in every interior as it is minimalist and so chic. What colors are you going to use?
The original pattern and the photos are on Divine Debris:
More info on Ravelry here.
Jessie Stash Basket
What a wonderful color! If you would like to spice up your minimalist interiors, this pattern by genius Toni Lipsey is certainly for you. With a set of crochet baskets like that, your stash will be organized as never before!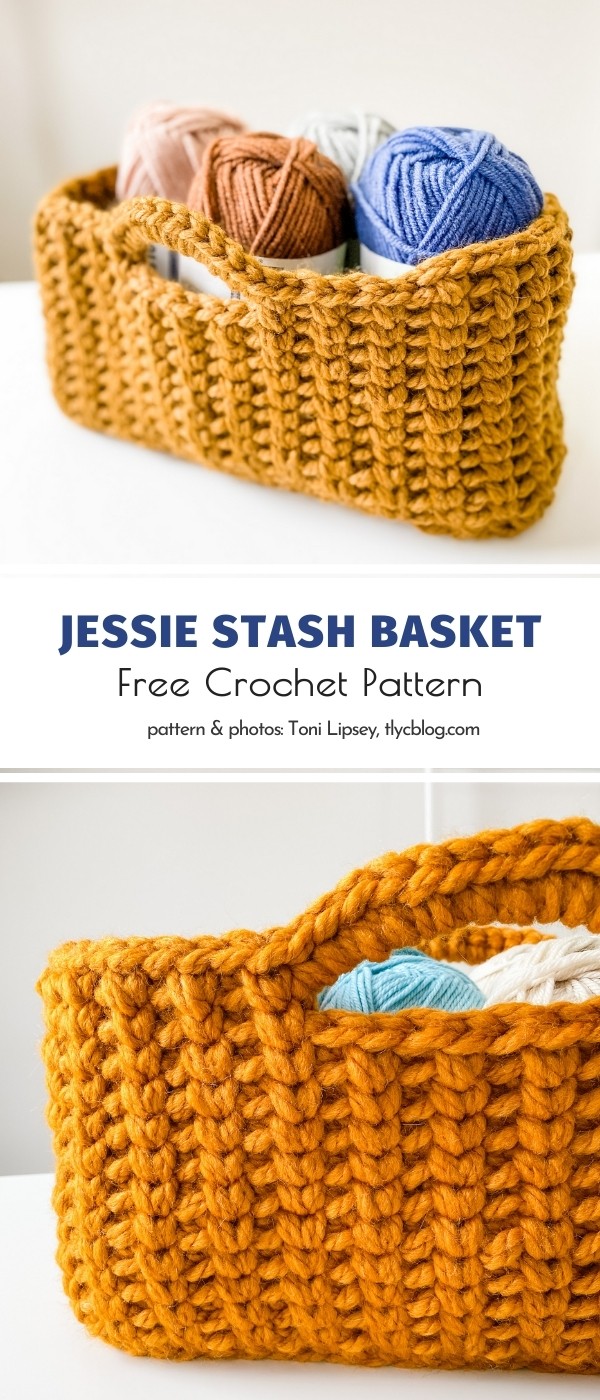 The original pattern and the photos are on TL Yarn Crafts:
More info on Ravelry here.
Basket for your Plants
Love is in the air in the online community of crochet lovers, evidently! These baskets by Winding Road Crochet certainty prove our observation. You will enjoy looking at these cool accessories not only in February. See for yourself!
The original pattern is on Winding Road Crochet:
The photos are on Linds Dale's Instagram here and here.
Advertisements



Papyrus Basket with Fringes
Every crocheter certainly loves fringes in all shapes and forms! Would you agree with our bold statement! Don't even try to deny it. This pattern by Britta Kremke is a perfect example of simplicity with a cool twist. Give it a try!
The original pattern and the photos are on Ravelry:
Easter Egg Basket
This pattern is a must-have for the Easter season ahead of us! And every single one that comes after, undoubtedly. Crochet this adorable basket following the directions of brilliant Bethany Dearden. You will need it every spring!
The original pattern and the photos are on Ravelry:
Spring Baskets
These beautiful baskets by Elisa Valoroso are a nice change from the usual heavy-sided crochet baskets in that they have light and airy sides delineated by tulips, instead of thick, dense stitching. The baskets are usable as decoration on their own or can be made in sets for a purpose, for example as serving baskets at the Easter table. You can also use them on the sideboard to hold candies or anything else you wish.
Skills: Easy      Designer:  Elisa Valoroso
The original pattern and the photos are on Melarossa Creazioni:
For more free designs every day follow us on Facebook. Share your ideas and your work on our Facebook group!