Spring is upon us, and it will soon be dime to doff your winter coats and switch to shoulder wraps and shawls. Why not crocheted ones? They're beautiful, comfortable and lots of fun to make and experiment with. Make, enjoy and have a blast customizing these amazing patterns for your own look. A link to the free pattern is below photos.
Carina Mosaic Shawl Free Crochet Pattern
The Carina Mosaic shawl is a beautiful shawl with mosaic-like tiles and bands of colors. It's a reasonably thickly stitched garment, so it'll b good for chilly days and evenings. While the room to experiment with colors is limitless, the golden and purple color set is truly beautiful. We think you'll like this one a lot.
Skills:  Intermediate      Designer: Sylwia Kawczyńska
Go to the pattern:
Advertisements

Sunset Orchid Shawl Free Crochet Pattern
Below you will find a free pattern for an evening shawl that will be a wonderful start to your spring season and take you through to your vacations and beyond, to cover your arms and shoulders  against the evening chill in the fall. Sunset shawls are a beautiful projects which allow you get ready for summer. The Sunset Orchid Shawl pattern will give you lots of possibilities to personalize colors and create your unique combination.
Skills:  Intermediate      Designer:  Ellinor Widéen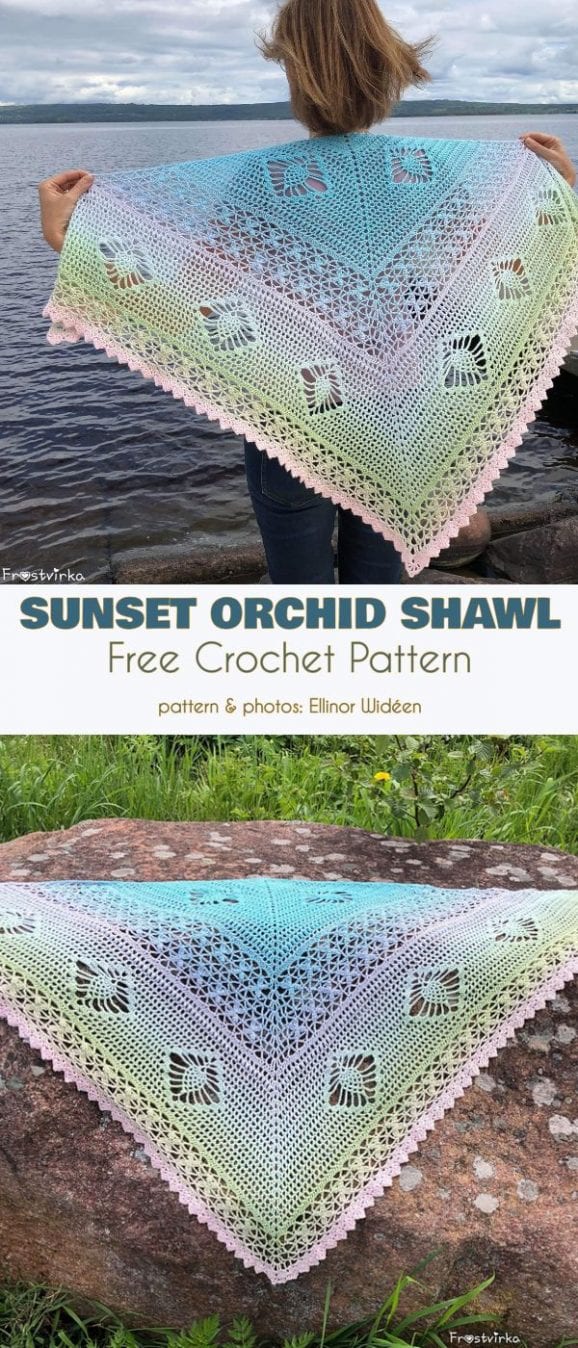 For more free designs every day follow us on Facebook. Share your ideas and your work on our Facebook group!
Go to the pattern:
Advertisements