The holiday season is just around the corner, and what better way to get into the festive spirit than by decorating your home with charming crochet Christmas trees?
Among many Christmas decorations, the Christmas trees have their special place, because they are the epitome of winter and are probably the most recognizable decoration. You can place them almost anywhere, from the hallway to the Christmas dinner table, so don't wait and make one for yourself. They can be green, white, or you can let your imagination free and add your own creative touches and embellishments. A crochet Christmas tree is also a great idea for a Christmas gift, because they will win the hearts of both kids and adults. Let's explore a collection of free crochet Christmas tree patterns that will make your holiday season extra special.
You may also like:
A collection of 15 Free Crochet Christmas Tree Patterns:
1. Bobble Tree Sweaters
If you want to add a cozy and whimsical touch to your holiday decor, the Bobble Tree Sweaters pattern is a perfect choice. Designed by MJ's Off The Hook Designs, this pattern is as cute as it is very festive. These little sweater ornaments feature textured bobbles that mimic the look of a warm and snug holiday sweater.
Skills: Easy        Designer:  MJ's Off The Hook Designs
photos by MJ's Off The Hook Designs
Find this free crochet pattern on Mj's off the Hook Designs blog.
2. Tabletop Tree Cones
For those looking for a stylish and space-saving Christmas tree option, the Tabletop Tree Cones are an elegant choice. Designed by Ling Ryan and available on Hooked on Patterns blog, these crochet trees add a touch of sophistication to your holiday decor. They are perfect for small spaces, tabletops, or as centerpieces.
Skills: Easy        Designer: Ling Ryan
photos by Ling Ryan
Find this free crochet pattern on Hooked on Patterns blog.
3. Christmas Tree
The Christmas Tree pattern by Helen Free is a classic and timeless design that will instantly bring the holiday spirit into your home. You can decorate it with ornaments, lights, and a tree topper to make it your own. It's a perfect project for those who love traditional holiday decor.
Skills: Easy        Designer:  Helen Free
4. Rustic Farmhouse Tiered Trees
If you adore the rustic and farmhouse-style aesthetic, you'll fall in love with the Rustic Farmhouse Tiered Trees pattern by MJ's Off The Hook Designs. . The layered design and rustic color palette make these trees an ideal addition to your farmhouse decor.
Skills: Easy        Designer: MJ's Off The Hook Designs
5. Christmas Tree
It's Christmas time in the… everywhere. As it approaches, it's time to decorate. These lovely 3.5″ trees are a great way to cough-cough… spruce up your Christmas wonderland. They will function well as decorations on the tree proper, or on a wreath, or as part of a Christmas diorama, on your table top or a window.
Skills: Easy       Designer: TLH Patterns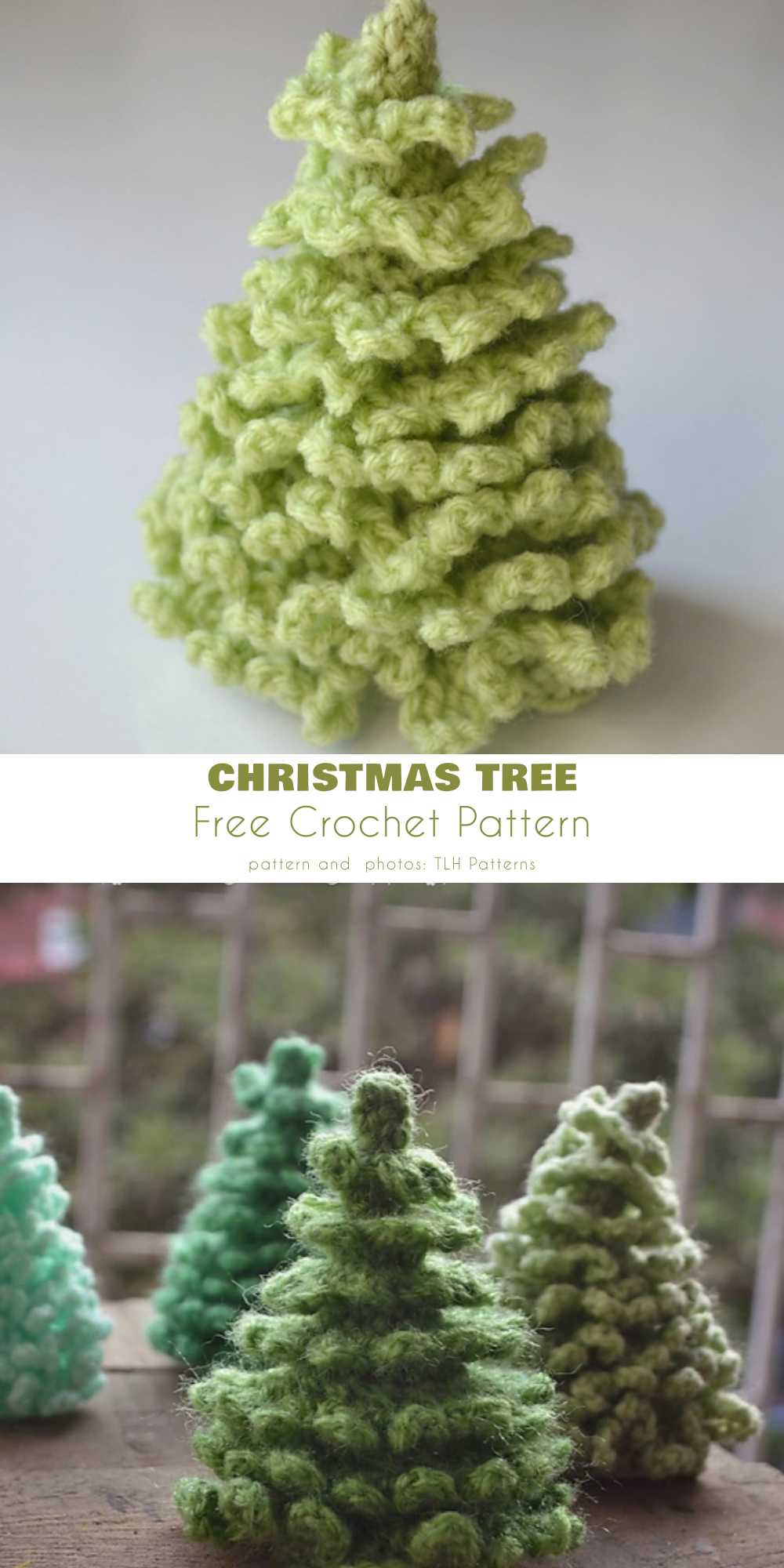 6. Bobble Stitch Christmas Tree Trio
Bobbles galore! The designer behind See Love Share decided to make a decoration that consists entirely of bobble stitches. I must admit that it looks amazing, especially if you add some lights to it and pin a decoration on top.
Skills: Easy        Designer: See Love Share
These simple Christmas trees are one of the easiest crochet decors you can make for this years' festive season. All you need is a durafoam cone and scrap yarns in at least two colors. One or two evenings and you will have a fantastic handmade decoration that will make your table or windowsill even more beautiful.
Skills: Easy        Designer: Kara Gunza
These Christmas Tree will be a perfect addition to your Holiday decorations, because they are simply timeless. You can either stand them up on your table or cupboard, or you can make ornaments and hang them on the Christmas tree. If you run a business, they will make a great addition to a window piece or Holiday display. Other than that, they are fun and attractive in their own right.
Skills: Easy Designer: Tonya Bush
9. Penny the Pine Tree
Penny the Pine Tree measures 7" (18 cm) tall from base of pot to top of star. It is perfect decor, but you can use it as a pincushion as well! If you are a fan of amigurumi, or anything kawaii, this cutie will win your heart. Don't wait for the New Year to start working on new skills, because you will be able to make this decor even if you've never tried amigurumi before.
Skills: Easy Designer: Moji-Moji Design
As an alternative, or addition, you should explore the more amigurumi – style crochet Christmas Tree Ami – it's also a great way to put your Christmas spirit on display. It's plump, green and decorated with colorful mini-pompoms, so it's a foolproof way to bring a smile on everyone's faces.
Skills:  Easy               Designer: Holly Faith Salzman
photos by Holly Faith Salzman
Find this free crochet pattern on furlscrochet.com, or read more on ravelry.com.
11. Christmas Tree with Pot
Why limit yourself to just one Christmas tree? Indeed, let's make more, and keep them all around the house! These handmade beauties by Eleonora send yet another important message: that the trees should be where their place is – in the soil. Keep your trees planted (both handmade and the real ones) and move them to your garden once the festivities are over!
Skills: Easy        Designer: Eleonora Cugini (Elendipity)
12. 3-in-1 Reversible Christmas Tree
However, if you cannot decide what kind of decoration to make this year, go for the reversible one! Can you believe that this snowball easily transforms into a full-fledged Christmas tree decoration? This design by Skein Spider is so cool you just have to explore it!
Skills: Easy        Designer: Skein Spider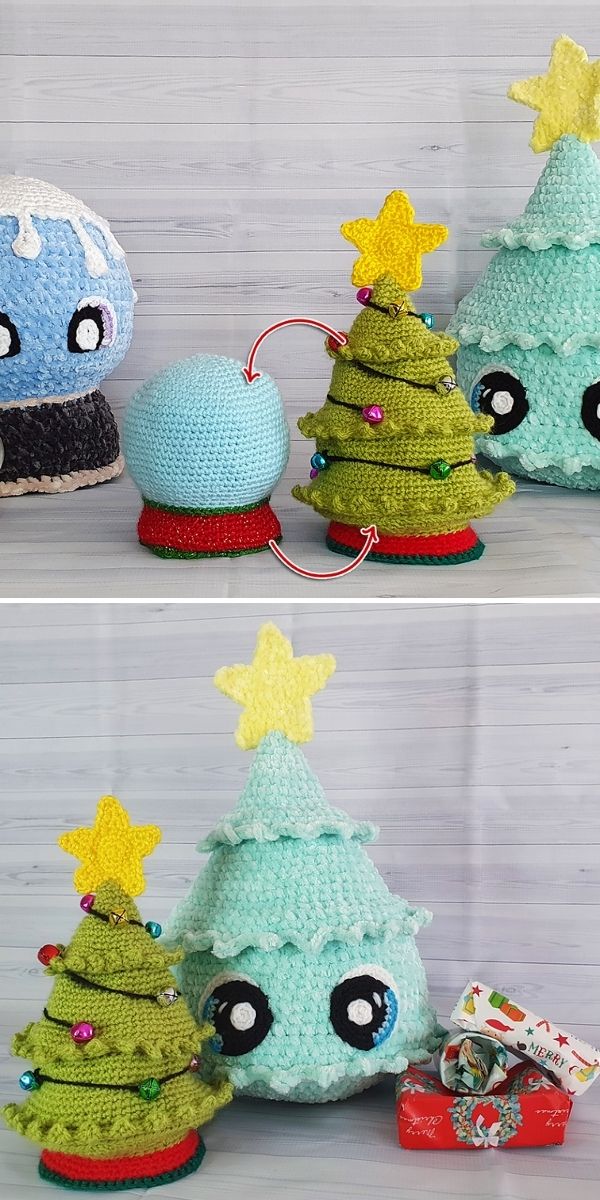 Be sure to explore our Crochet Tree Skirt ideas, because they will make your festive time truly magical.
Do you have some leftover yarn? Great, because here's what you can make with it! Just take a peek at the photo.
What I love about them the most is how versatile they are, and how different can they look depending on the colors. What's more, Jessica decided to put a pom-pom on top instead of a star. Adorable!
Skills: Easy        Designer: Jessica Gore
photos by Jessica Gore
Find this free crochet pattern on thesweatercollective.com, or read more on ravelry.com.
14. Bobble Christmas Tree
Ready to practice good ol' bobble stitches? What you see in the photo is one of the fastest projects to make, because it uses bulky yarn. Tonya realized that what we need is a fast and easy design, and she delivered in spades! These rustic trees will look amazing on your windowsill, or as a table decoration.
Skills: Easy        Designer: Tonya Bush
photos by Tonya Bush
Find this free crochet pattern on nanascraftyhome.com, or read more on ravelry.com.
15. Tiny Lights Christmas Tree
Are there any amigurumi fans here? If you want to get familiar with basic amigurumi techniques and practice some increasing and decreasing rounds, this little tree will be perfect. Gootie decided to make the simplest decoration, and it works great. Not only is this easy to make, but it also looks great in lots of different color combos.
Skills: Easy        Designer: Gootie (Agat Rottman)
As the holiday season approaches, dive into the world of crochet with these free Christmas tree patterns. These projects offer a creative and enjoyable way to decorate your home while adding a personal touch to your holiday celebrations.
Whether you prefer the traditional look, a touch of whimsy, or a farmhouse vibe, there's a pattern here for everyone. So, grab your crochet hooks and get ready to add some festive charm to your holiday season!
See our 35 Free Crochet Hat Patterns, so that you are warm and cosy this year.