When fall switches shifts with the summer, we all get this feeling for warm colors, soft yarns and cosiness. As if we wanted to mimic the changing weather and nature all around, and go with the flow of months that will take us to winter. There are many kinds of Fantastic Shawls for Fall, because it all depends on how you feel and what you search for. Will it be delicate and lacy cover or dense and chunky shawl? It's all up to you. One thing is certain – we are now looking for warm, juicy colors that feature rusty reds, browns and yellows. Combine them with other colors, sure, but let them play the main part in this show, just like the colorful leaves grab our attention in the first month of fall. Such shawl or scarf can be a lovely gift, too. Think about all of those, who are dear to you, and consider making this accessory to celebrate their existence. Links to free patterns are under the pictures.
You may also like:
Skills:  Easy           Designer:   Andrea Cretu
For more free designs every day follow us on Facebook. Share your ideas and your work on our Facebook group!
Advertisements

Fall is Coming Shawl F

ree Crochet Pattern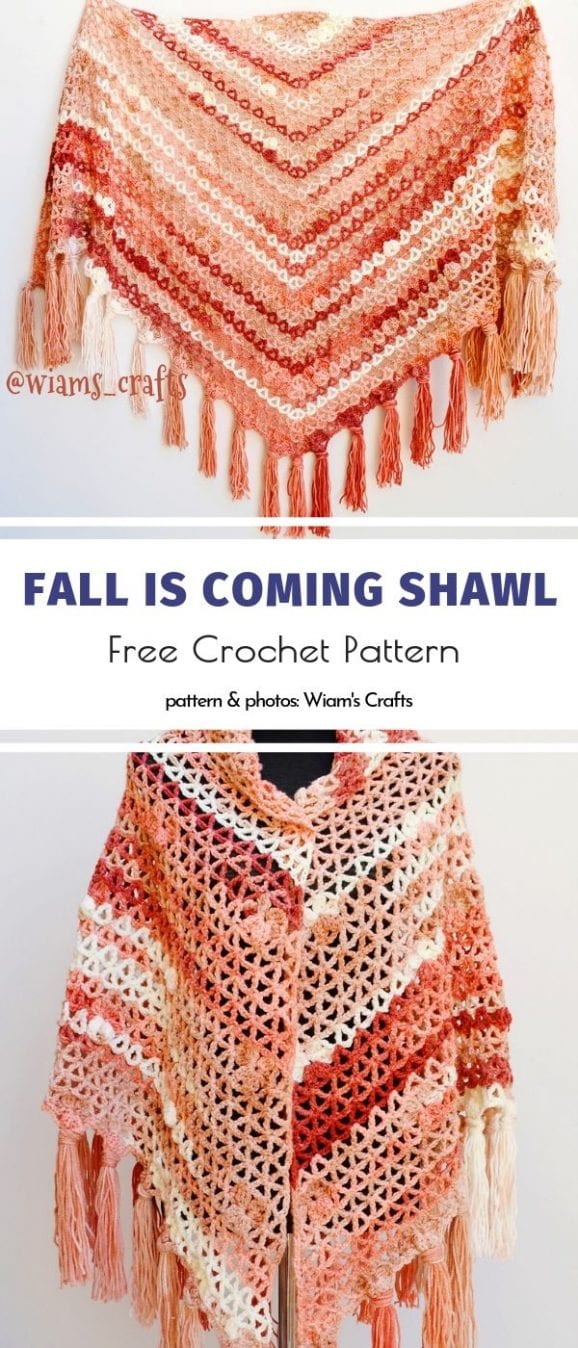 Lovely openwork of this lacy shawl is decorated with little flowers, which are hiding among flowing colors.
Sponsored Links
Go to the pattern: Fall is Coming Shawl
Advertisements

Genara Shawl

Free Crochet Pattern
Elegant Genara shawl features beautiful color palette, which reminds me of foliage and wood.
Go to the pattern: Genara Shawl
Advertisements

Fritillary Shawl

Free Crochet Pattern
Delicate like a butterfly, this shawl is a show-stopper! It looks perfect in rusty colors!
Advertisements



Sponsored Links
Go to the pattern: Fritillary Shawl
Advertisements

The Fall Shawl

Free Crochet Pattern
This crescent shawlette combines deep plum violet with fun speckled yellow. Edging is beautiful and easy to pull off!
Sponsored Links
Go to the pattern: The Fall Shawl
Advertisements

Bronwyn Shawl

Free Crochet Pattern
This soft and cosy shawl is big enough to cover your upper body. It's a timeless accessory that will come in handy during winter months as well.
Sponsored Links
Go to the pattern: Bronwyn Shawl
Advertisements