Hello there, beautiful people! Guess what? We are diving into the internet today in search of the most Adorable Amigurumi Fish patterns. Do you want to join us?
We bet you do! After all, we are getting ready for a fascinating underwater adventure. Why do we love these kinds of patterns so much? Well, because they are beginner-friendly, absolutely sweet, and not that time-consuming at all. Sounds awesome, doesn't it? Yes! Crochet fish are perfect toys not only for the children, but also for pets. They can also decorate our tables, window sills, and desk like a dream. All you need to do to enjoy an original decor element is put a crochet fish and some seashells in a jar. Simple as that! Are you ready to find your favorite? Let's go!
You may also like:
Little Amigurumi Fish in Bright Colors with Free Crochet Patterns
Amigurumi Fish
Oh, the adorable roundness of this crochet fish has melted our hearts! How awesome is the shape of this toy designed by Laughing Mouth? If you are as crazy about is as we are, give it a go ASAP. Don't forget to check out the rest of the author's genius Instagram feed.
The original pattern and the photos are available on @laughingmouth's Instagram here:
The top photo is on Instagram here.
Fish Amigurumi
We adore all the projects by Loops and Love crochet, no doubt about it. This little amigurumi fish is no exception! If you are after beginner-friendly projects that take little time to finish, you should certainly give this pattern and try,
The original pattern and the photos are available on Loops and Love Crochet here:
More info is on Ravelry here.
Striped Fish
Colorful stripes are always a good idea, right? No matter the circumstances! Whether you're crocheting a casual shawl or a cute amigurumi fish, you can never go wrong with a juicy mix of bright colors complementing one another like a dream. The author of this pattern, Elisa's Crochet, certainly knows it!
The original pattern and the photos are available on Elisa's Crochet here:
Rainbow Fish Amigurumi
This is an easy and quick project by Kate Wood which allows you to use up scraps of yarn! It will be a great addition to your fish collection. You can also combine it with an amigurumi cat to create a lovely and funny set.  You can make it in rainbow colors or use more traditional golden hues. The rainbow-colored one below looks like a siamese fighting fish. Make two and have them "duke it out". Enjoy!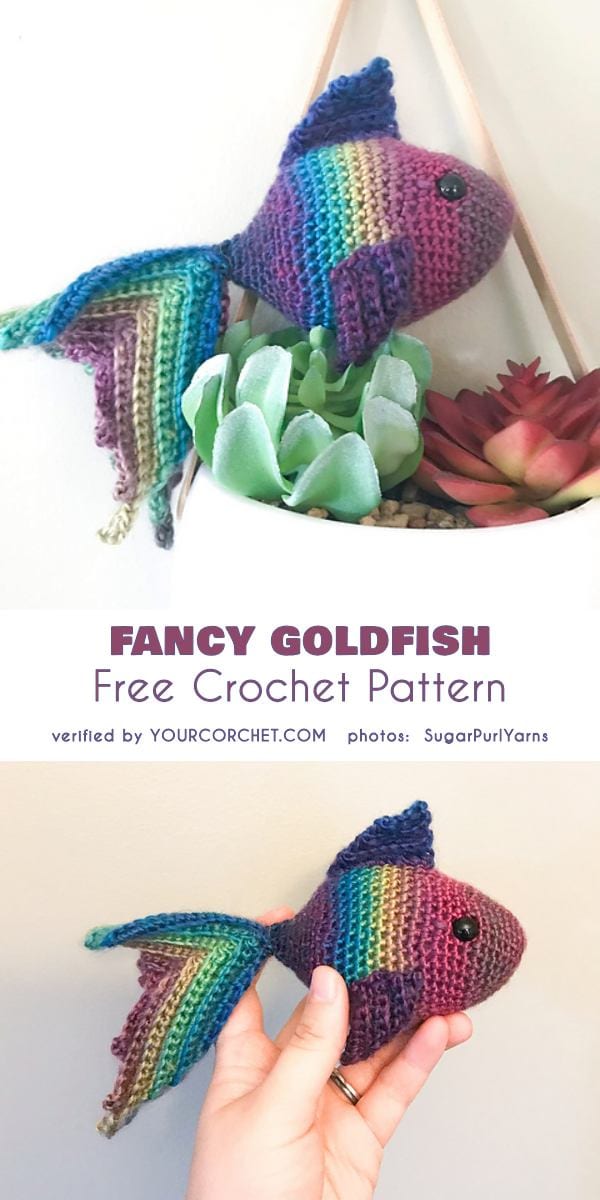 The original pattern is available on Ravelry here:
Info about this version by  Brittany Wisneski and the photos are on Ravelry here.
Angler Fish Sunny
This is evidently the most fabulous crochet fish we have seen in months! Natura Crochet is the uncontested queen of patterns for colorful toys and decorative figurines, undoubtedly. This is a paid option, we know, but we couldn't resist sharing it with you right this instant! What colors will you go for?
The original pattern is available on Etsy here:
More info and the photos are available on @natura_crochet's Instagram here and here.
For more free designs every day follow us on Facebook. Share your ideas and your work on our Facebook group!