In light of the approaching holiday, here are some Easter Basket Ideas to help you decorate the home and to help your little ones gather as many eggs on Easter Sunday as their little hands will carry. Indeed, it's hardly worth it going into the backyard, if your arms are not bending under the weight of all those chocolate eggs and bunnies. So, here are some fun and attractive free patterns to help you have as perfect an Easter as possible. Overall, they're fun, easy and so very useful, as they can double as gift bags!
But let's talk about the versatility of crochet baskets, shall we? Are you excited for the first days of spring? Without a doubt! We have decided to help you start the new season with fresh energy. Spring is the time for changes and new adventures, right? If you do not have time for proper redecorating, you can always add some accessories that will change the style of your interiors. Crochet baskets are evidently ideal for that! Make a couple of them in different colors and sizes. Happy Easter! The links to free patterns are under the photos.
Free Easter Basket Crochet Patterns
Easter Egg Basket
This easter crochet pattern is a must-have for the season ahead of us! And every single one that comes after, undoubtedly. Crochet this adorable basket with handles following the directions of brilliant Bethany Dearden and learn the magic of tapestry crochet. You will use it in so many future projects, because it's one of makers' favorite crochet techniques!
photo by Bethany Dearden on ravelry.com
Find this free pattern on whistleandivy.com, or read more about it on ravelry.com.
Bunny Basket
Don't put your eggs… actually, put them into only one basket. Especially in the adorable bunny easter basket crochet project. This is a fun Easter themed pattern with adorable bunny ears. You can use this easy to make basket to store your painted Easter eggs, or just as a fun place to put something festive or decorative.
Skills:  Easy           Designer:  Lion Brand Yarn
photo by TraceyNicole on ravelry.com
Find this free pattern on lionbrand.com, or read more about it on ravelry.com.
Lamb Cup Mini Basket
Since some families set the children's goodies out on the table or a sideboard, why not make little baskets to hold small, colorful and decorative doses of candy. Of course, you can put other things in them as well, but I really recommend you to fill it with sweets or easter gifts and see it disappear! Everybody loves little lambs, chicks and other cute animals, right?
photo by Tonya Bush on ravelry.com
Find this free pattern on nanascraftyhome.com, or read more about it on ravelry.com.
Mini Easter Baskets
Why not go for tiny-tiny crochet basket pattern this year? They are perfect for Easter egg hunt! Fill it with little eggs or your kids' favorite jelly beans, and let the fun start. This pattern is a fantastic scrap-busting project, because it requires very small amounts of yarn and you'll end up with an adorable easter decoration.
photos by Jennifer Ackerman-Haywood on ravelry.com
Find this free pattern on craftsanity.com, or read more about it on ravelry.com.
Mini Crochet Easter Basket Free Pattern Ideas
Egg Basket
UPDATE: Sorry, a free pattern is not longer available.
Well, who said that the Easter Bunny has to have a full basket of eggs? Why not just one, in this oh, so adorable single-egg basket. These baskets are a perfect decor for your Easter table, or egg carriers for those tiny bunnies in your life. Easy and quick to make, you can get ahead of the Easter rush and make as many as you want in short order. They will also make a great addition to your seasonal amigurumi collection.

photo by CraftyLady on ravelry.com
This pattern was available on ravelry.com, but no longer is.
Free Crochet Easter Basket Patterns for Spring
Spring Baskets
These beautiful colorful crochet baskets by Elisa Valoroso are a nice change from the usual heavy-sided projects. They have light and airy sides delineated by tulips, instead of thick, dense stitching. The baskets are usable as decoration on their own or can be made in sets for a purpose, for example as serving baskets at the Easter table. You can also use them on the sideboard to hold candies or anything else you wish.
photos by Elisa Valoroso on ravelry.com
Find this free pattern on melarossacreazioni.wordpress.com, or read more about it on ravelry.com.
Calista Basket
Divine Debris always surprises us with original free crochet patterns, not only for baskets! How awesome is this chunky, sturdy wonder? It will look great in every interior as it is minimalist and so chic. This basket will be perfect easter decor if you use the right colors.
photo by Divine Debris on ravelry.com
Find this free pattern on divinedebris.com, or read more about it on ravelry.com.
Jessie Stash Basket
What a wonderful color! If you would like to spice up your minimalist interiors, this pattern by genius Toni Lipsey is certainly for you. With a set of crochet baskets like that, your stash will be organized as never before!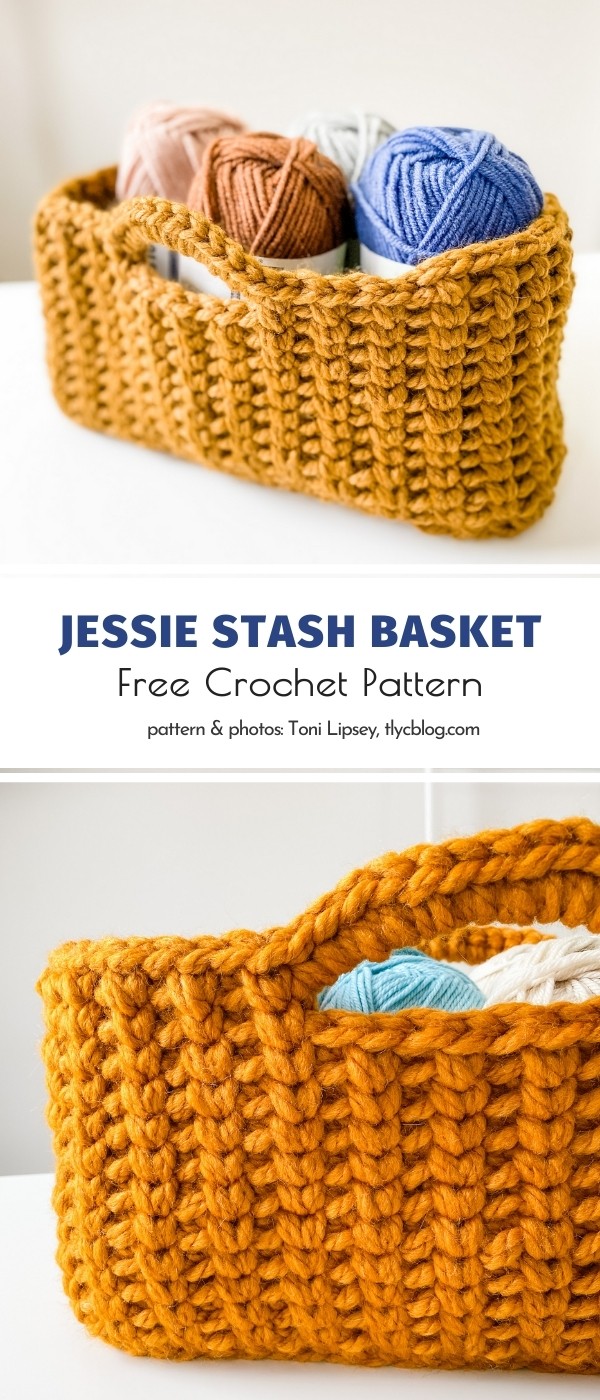 photos by Toni Lipsey on ravelry.com
Find this free pattern on tlycblog.com, or read more about it on ravelry.com.
Basket for your Plants
Love is in the air in the online community of crochet lovers, evidently! These baskets by Winding Road Crochet certainty prove our observation. You will enjoy looking at these cool accessories not only in February. See for yourself!
photos from Linds Dale's Instagram here and here.
Find this free pattern on windingroadcrochet.com, or read more about it on ravelry.com.
Papyrus Basket with Fringes
Every beginner crocheter certainly loves fringes in all shapes and forms! Would you agree with our bold statement! Don't even try to deny it. This pattern by Britta Kremke is a perfect example of simplicity with a cool twist. Give it a try!
photos by Britta Kremke on ravelry.com
Find this free pattern on ravelry.com.
For more free designs every day follow us on Facebook and share your ideas and your work on our Facebook group!