Crochet flower appliques… do we have to say more? Flower appliques are a great way to jazz up any project, whether it be a crocheted blanket, a sweater, or anything else, including things that are not crocheted themselves. Spring is right around the corner, so we are getting ready! This collection of Charming Flower Appliques will surely make your craft-loving heart beat faster! We hope you have plenty of colorful yarn scraps in your stash. You will certainly need them! Even beginners will easily master these genius patterns, without a doubt. Don't be intimidated! It's time for new adventures! The links to free patterns are under the photos.
You may also like:
Simple Flower Appliques – Free Crochet Patterns
Easy Flower Free Crochet Pattern
This easy crocheted flower is a lovely applique that's really great, because it's a flower with voids that highlight the structure, but has no border, frame, or background that would interfere with the project beneath. It really is wonderful as a decorative accessory and eye-catcher. The pattern is easy to follow because it is made as a video tutorial.
The video tutorial is on YouTube:
Applique Flowers

Free Crochet Pattern

What a delightful pattern! Aren't you enchanted? We were so happy to see it published by Gathered. We adore all the subtle colors that complete one another like a dream. What would you do with a set of these appliques?
The original pattern and the photos are on Gathered:
Darling Flower Face Round Free Crochet Pattern
We have just become big fans of Tender Warm Creations! How wonderful is this pattern for little floral appliques? We are absolutely enchanted! You can use these wonders as decorations or face scrubbies.
The original pattern is on Tender Warm Creations:
How to Make Crochet Flowers
Could this pattern for crochet flower appliques get any more adorable? We certainly doubt that! If you are looking for something super easy and relaxing, you have just found your match. What colors are you going to use this time? My Crochet Space rocks!
The original pattern and the photos are on My Crochet Space:
More info on Ravelry here.
Decorative Floral Appliques – Free Crochet Patterns
Mother's Day Flower Brooch
These little gems are making our jaws drop every time we look at them! Don't you feel the same? You are certainly on your way to the craft store already. Decorate your appliques with shiny beads. It will make them even more elegant! We adore Little Doolally so much.
The original pattern and the photos are on Little Doolally:
Dahlia Free Crochet Pattern
The patterns by Golden Lucy Crafts are always so charming! We adore crocheting all the little appliques she designs and decorating our projects. A set of crochet dahlias will lift your spirits this spring! Get them ready!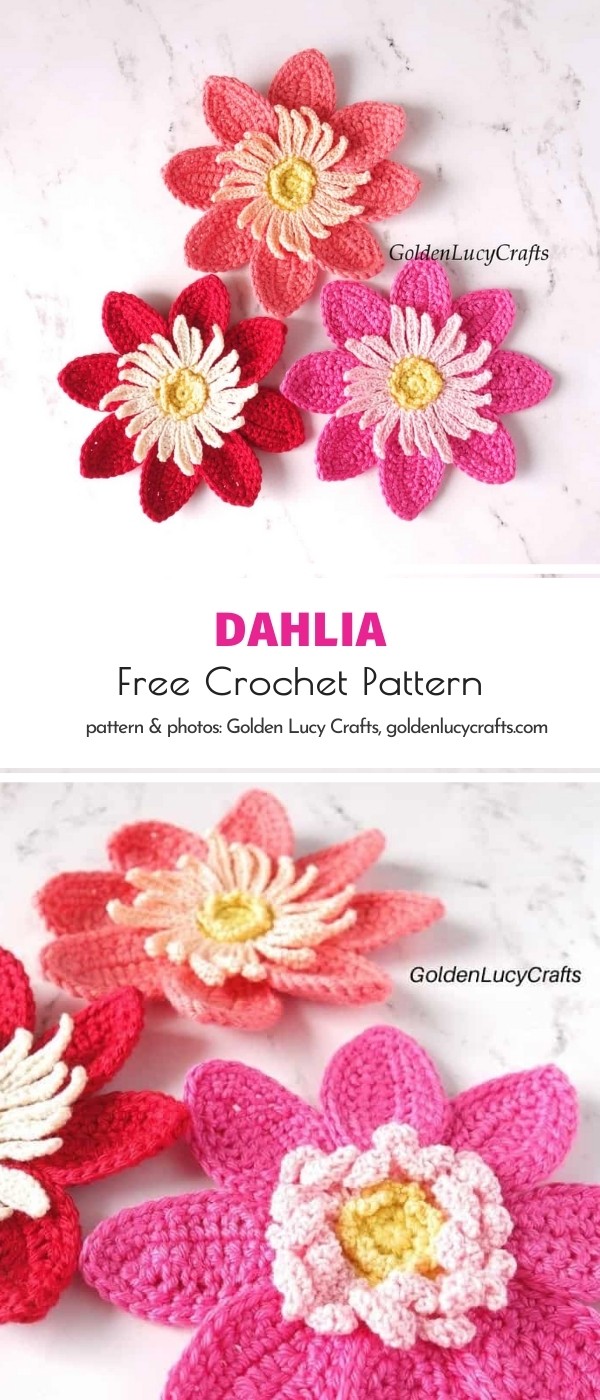 The original pattern and the photos are on Golden Lucy Crafts:
More info on Ravelry here.
Flower Applique Free Crochet Pattern
This Flower Applique also has no background as such, but the flower is somewhat 3D. Well, call it 2.5D, and the lowermost layer of petals is its own backdrop against the foreground petals. This pattern leaves you lots of room to experiment with color combinations in order to match just about any other project or item.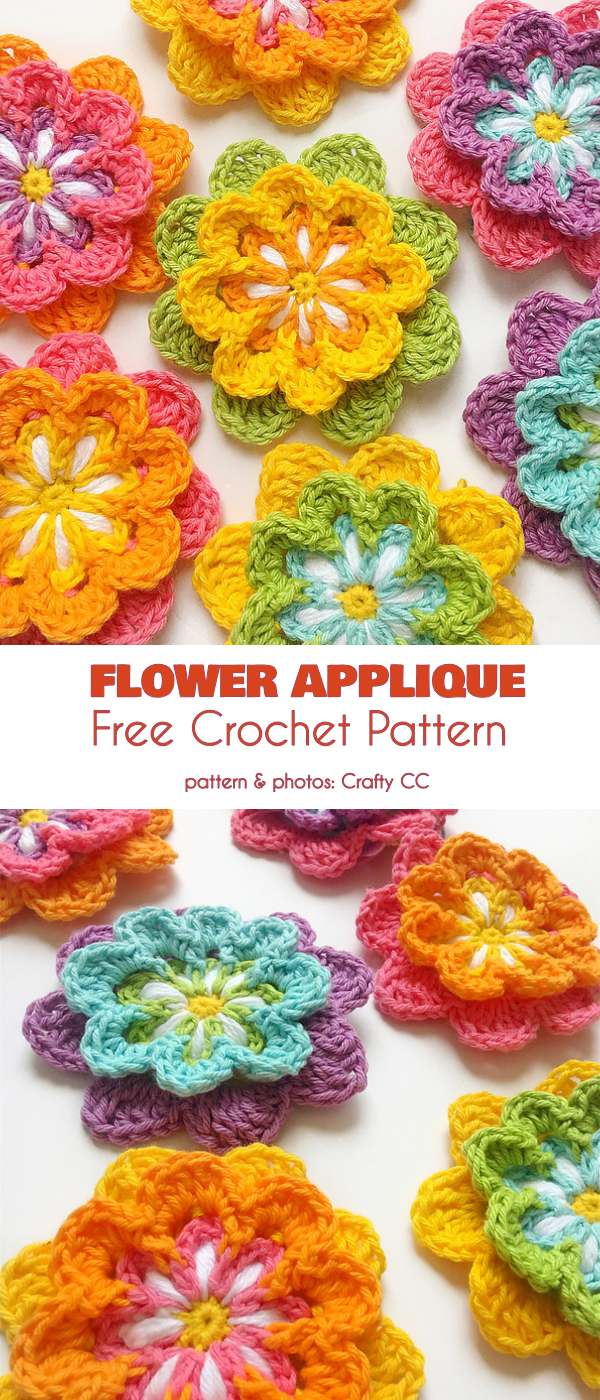 The original pattern and the photos are on Crafty CC:
For more free designs every day follow us on Facebook. Share your ideas and your work on our Facebook group!