Hello there, beautiful people! Are you ready for brand new free patterns for Amigurumi Elephants? A very small and low-cost project which will certainly bring good fortune for the maker and recipient. Who wouldn't be exciting, right? Here you can find different elephant patterns! Let's start with Percy the Elephant and MeiMei Baby Elephant. Both projects are hand-sized, and you can use any handy yarn-stash to make them. If you are a newbie, we recommend you start with Percy; intermediate crocheters making a MeiMei Baby Elephant will be glad to know that there is no sewing at all! What about the other amigurumi elephant patterns we've found? They are pure joy, without a doubt! Pick one that suits your level and needs. You certainly won't be disappointed! The links to free patterns are included under the photos.
You may also like:
Amigurumi Elephants – Free Crochet Patterns
Sunny the Elephant
What a charming little lady! Sunny is certainly excited for spring and so is her designer, brilliant Carolyne Brodie/ Are you waiting for the new season too? Yes! You can make it come even faster with this delightful crochet pattern! Trust us!
The original pattern and the photos are on Ravelry:
Advertisements

Balthazar the Sailor Elephant
Are you ready for a new adventure this spring? Balthazar evidently can't wait to start sailing! Grab the hook and crochet this elephant for your little boy or girl. They will certainly be interested in joining the ocean trip!
The original pattern and the photos are on Octopus Crochet:
Advertisements

Elle the Elephant
This pattern by Tiffany Horton published on Café del Craft stole our hearts in! Elle's eyes are making us want to cuddle her forever! We bet your little elephants in the family will feel the same. Crochet Elle for each of them, you will surely be adored!
The original pattern and the photos are on Café del Craft:
More info on Ravelry here. The bottom photo is on Instagram here.
Advertisements

Abba the Elephant
Isn't this pattern for a sweet amigurumi elephant absolutely one of a kind? Just look at Abba's charming little face, huge head, and adorable roundness! She is ready to melt hearts, undoubtedly! Crochet her as a gift for someone special!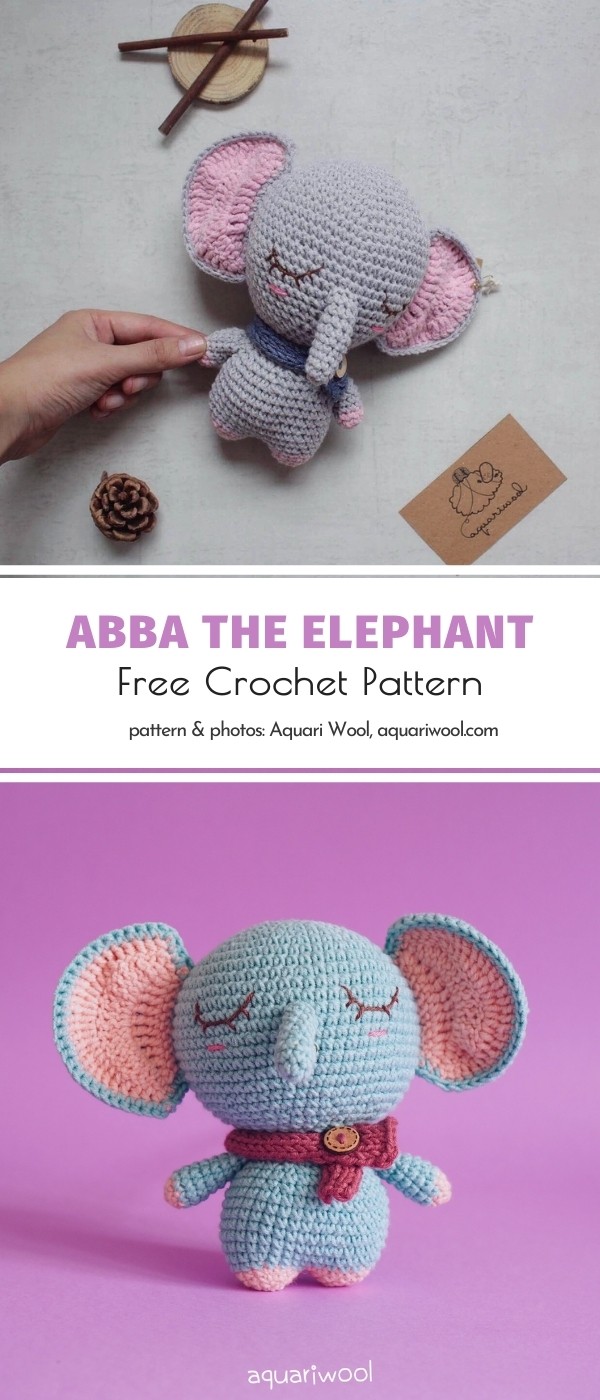 The original pattern and the photos are on Aquari Wool:
Advertisements

Percy the Elephant
Meet Percy, the most friendly miniature amigurumi elephant ever! Aren't you absolutely in love with these tiny cuties? You can certainly relax while working on this pattern by Irene Strange. On top of that, it would be an awesome stash-busting project! So convenient, right?
The original pattern and the photos are on Ravelry here:
Advertisements

MeiMei Baby Elephant
This free amigurumi elephant pattern is so universal! And cute! MeiMei can be a charming table decoration, but you can also make a bunting or sew two together to make a plush toy. The possibilities are endless! Dedri Uys rocks, evidently!
The original pattern and the photos are on Look at What I Made here:
More info on Ravelry here.
For more free designs every day follow us on Facebook. Share your ideas and your work on our Facebook group!