Hello, crochet-lovers! We want to start today's post by asking you about your precious library of stitches. We hope it is growing steadily! If you haven't added anything new to it recently, worry no more! Here we come to your rescue with this selection of the best Arcade Stitch Crochet Projects. Have you heard about this exciting technique before? You probably have because the effects we can achieve with it are truly spectacular. If you want to start your adventure with the arcade stitch but you feel a bit lost and confused, we are here to guide you! Are you ready to discover some wonders?
You may also like:
For more free designs every day follow us on Facebook. Share your ideas and your work on our Facebook group!
[spider_facebook id="1″]
Arcade Stitch Ideas
– Article by Crochetpedia
The author behind Crochetpedia has surprised us once again with an exciting stitch idea.  Read this comprehensive guide to the Arcade Stitch filled with tips and inspirations before you start working on your next masterpiece!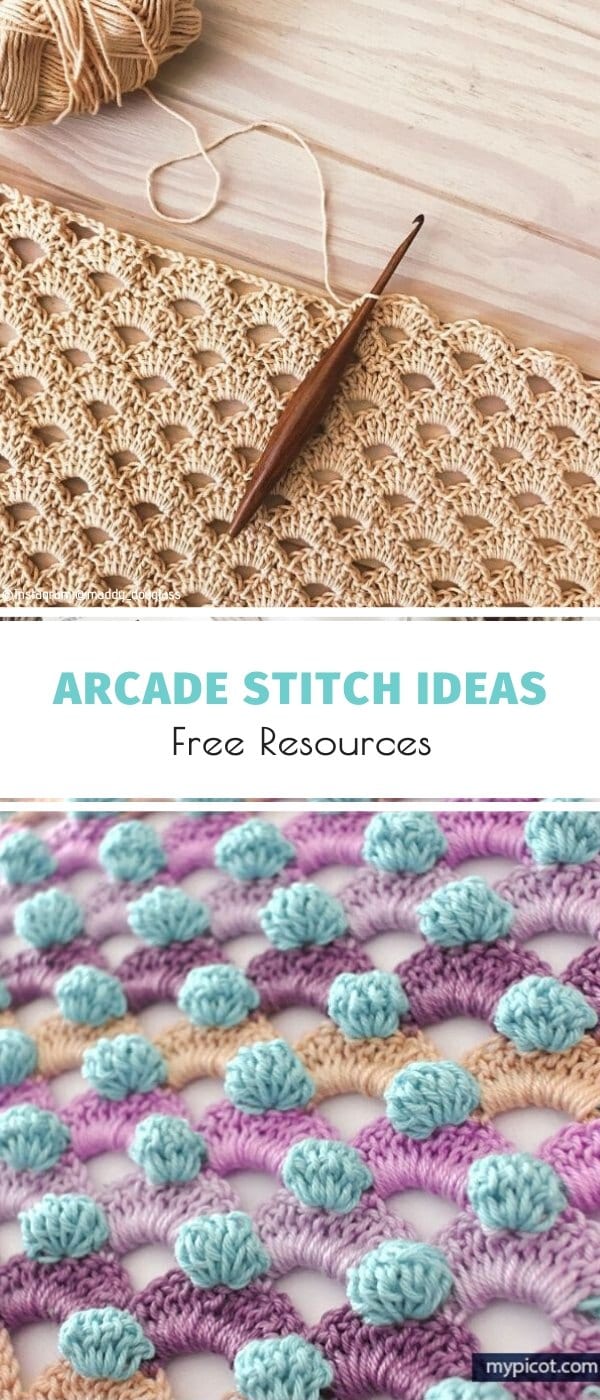 Go to the article: Arcade Stitch Ideas.
Advertisements

Arcade Stitch
Are you wondering what colors to use for your first arcade stitch project? We definitely recommend neutrals. Beiges, greys, and browns are always a good idea since you simply can't go wrong with them! Why? Because they are timeless and very versatile!
Go to the author's profile here: the.crochetbae, the photo is here.
Advertisements

Happy Monday Arcade Top Free Crochet Pattern
Every day will be filled with happiness and style if you spice up your wardrobe with this beautiful crochet top. You are going to feel so fabulous wearing it, trust us on this one! What can be better than a handmade piece of clothing vibrating with feminine charm?
Go to the full article about the pattern and to the photos: Happy Monday Arcade Top.
Arcade Stitch Throw Free Crochet Pattern
This is a very original variation of the fabulous stitch we are talking about today. If you have tried one of its basic versions already, now it is time to take things to the next level. What do you think about this arcade stitch gone big?
Go to the full article about the pattern and to the photos: Arcade Stitch Throw.
Advertisements

Amethyst Wrap Free Crochet Pattern
All the fancy ladies are going to fall head over heels in love with this elegant wrap. If you are a fan of handmade fashion, you are certainly going to appreciate the beauty of this elegant accessory. We love this mix of neutral colors!
Go to the full article about the pattern and to the photos: Amethyst Wrap.