It's summer time and ice cream time, because who doesn't love both!?
We're here because we all love crochet, right? True enough, however, we all love a cone or bowl of our favorite cold treat. Regardless of whether it's plain vanilla, or a double chocolate 6-flavor sundae with sprinkles and a cherry on top, it's all yummy. Therefore, why not combine your two loves, and express your preference by making an ice cream themed crochet accessory? Thus, please have a look at our collection of crochet amigurumi ice cream ideas and become inspired to "icecreamify" your crocheting. Ice-cream goes very well with birthdays too. Every one of the amigurumis with an ice-cream is a great idea for a memorable birthday gift. Links to free patterns are under the pictures.
Kitty Ice Cream Cone
We have crochet, and better still we have ice cream. However, how can we make it better? I know: cats! This amigurumi has EVERYTHING, and we know you will love it too.
The Ice Cream Snail was a funny and adorable CAL. Consequently, since this amigurumi is so wonderful, why not revisit it and have some fun? Certainly, I'm sure you will enjoy making it in prep for hot summer days. Lastly, this is a great project to make a kid's softie, because it is large-ish.

The full article about this pattern is here:
Ice Cream Snowman
You will love this funny and cute snowman. It looks like a real ice-cream cone with chocolate topping and a little cherry on the top of the head. The ice cream amigurumi will be a perfect gift for any one (and who doesn't like Ice Cream?), but it can also be an adorable baby rattle. So scrumptious-looking, you will have to stop yourself from licking it 😉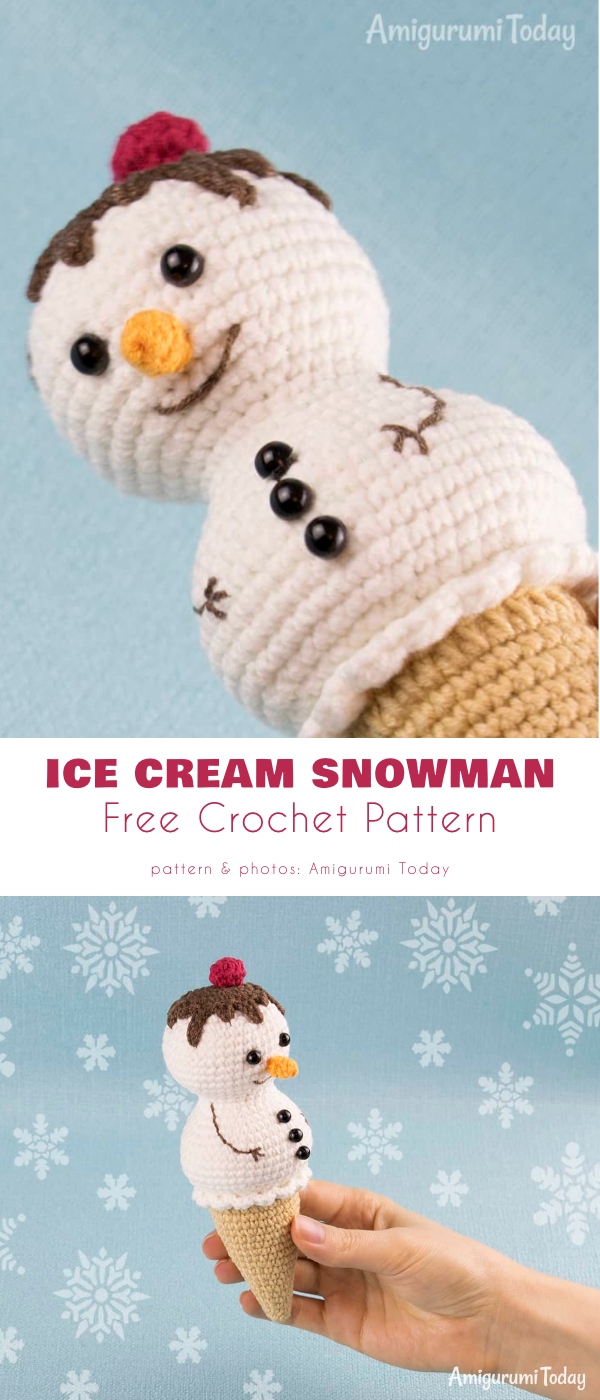 The full article about this pattern is here:
Wonder the Birthday Dragon
Get your hands off of my ice cream! And, just to make sure, here is a sundae guarded by a dragon. Never mind gold, ice cream's the real treasure. This cute dragon is a great idea for a memorable birthday gift.
 The full article about this pattern is here: