The pocket shawl crochet pattern is a hit!
These fun free crochet shawl patterns have taken the world by storm.
What's more, beginners will find it easy enough to attempt these simple crochet pocket shawl patterns.  Thus, here are some wonderful examples of how varied these great patterns can be. Additionally, you can wear these spring shawls all year long, spring and summer, fall and winter.
Choose one of the best crochet hooks for beginners to make one of these free crochet shawl patterns and crochet away!
Crochet Pocket Shawl Patterns
1. Bring Back Spring Pocket Shawls Free Crochet Pattern
What I love about wrap patterns is that they are useful all year round. Especially if you pick a summer shawl pattern, like this one. Tonya's design uses simple stitches to achieve an elegant and interesting look. Happy crocheting!
Skill level: Easy   Designer: Tonya Bush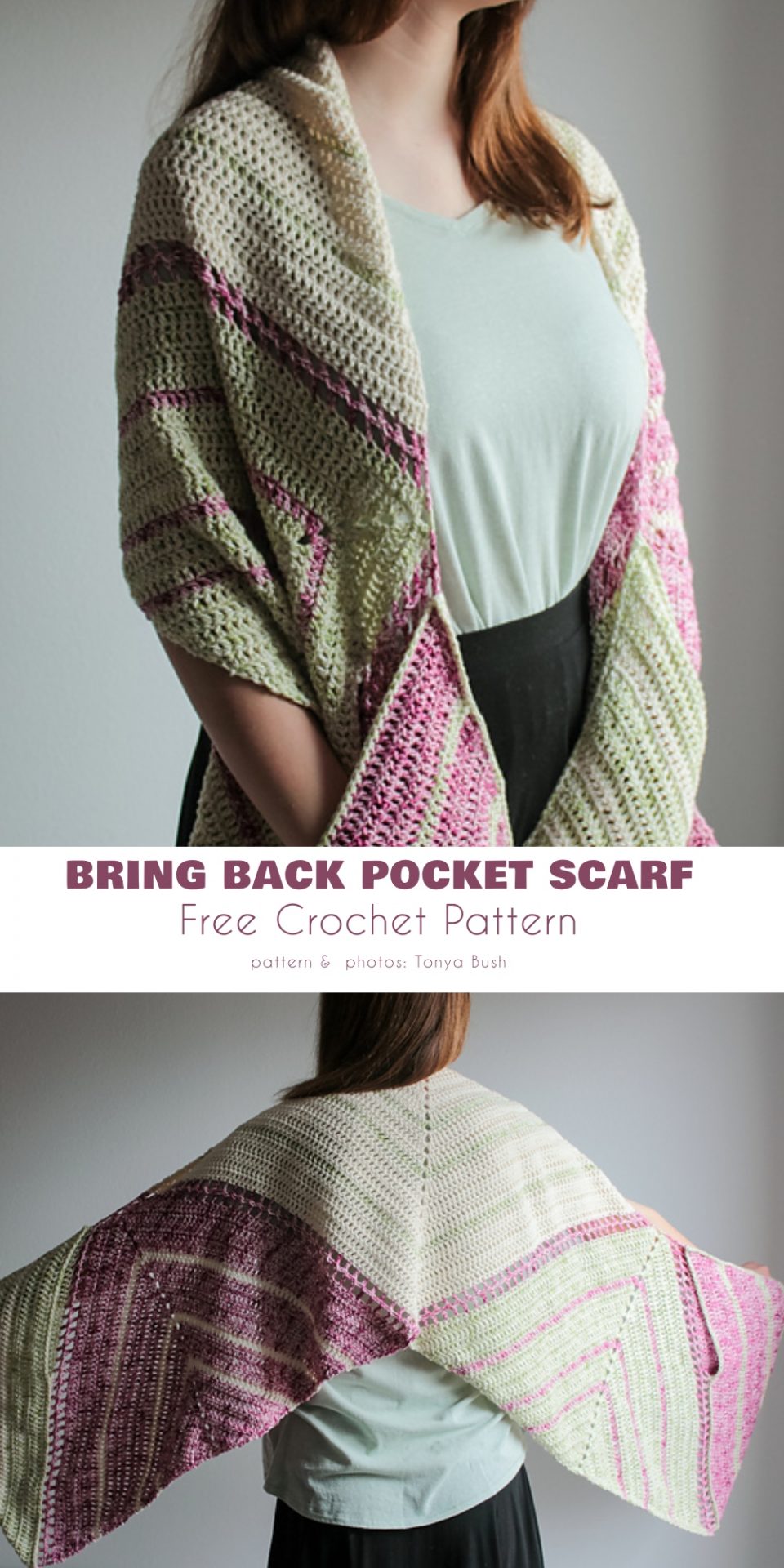 2. Snowflake Pocket Shawl
This pattern will be a perfect Christmas gift. The pattern includes the snowflake hat and a pair of mittens, so you can make a beautiful set. Free patterns are often quite boring and plain, but not this one – take a look at Justina's snowflakes in the photos.
Skills: Easy   Designer: Justina Kirkwood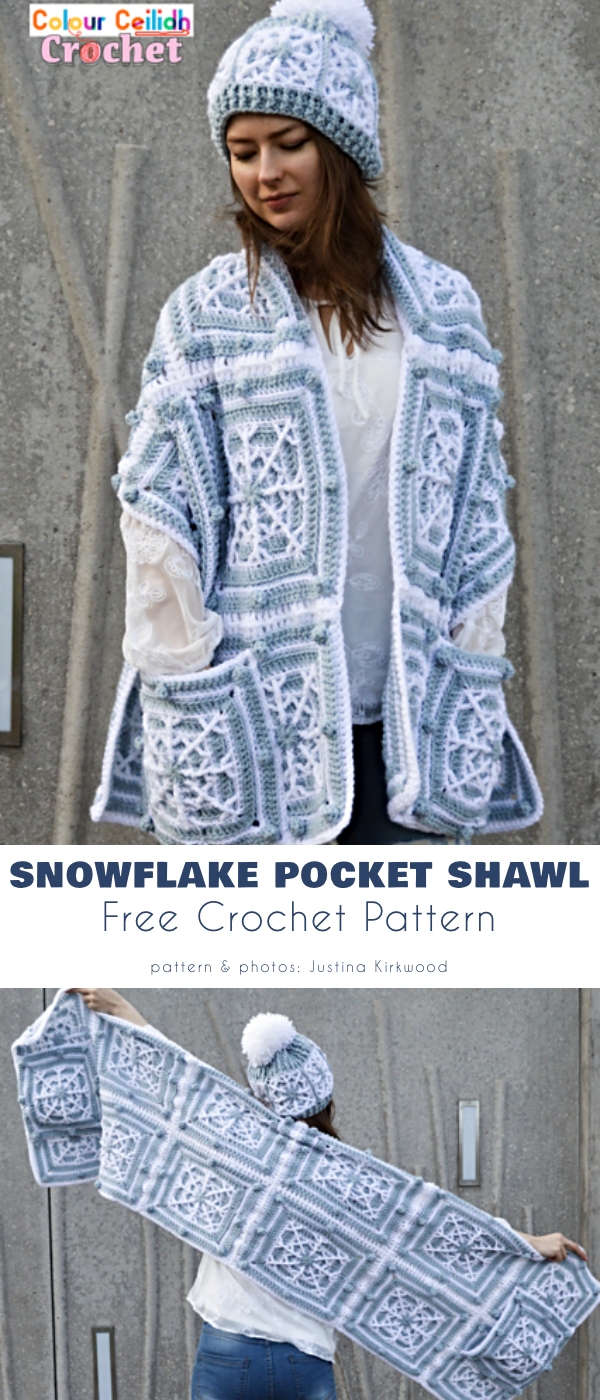 3. Marjorie Pocket Scarf
This crochet pocket shawl will be a perfect choice for all those who love CALs because it's about building the crochet community. See Tonya's blog post to learn more about this free crochet pattern, or buy an ad-free pdf.
Skills: Easy   Designer: Tonya Bush
4. Friendship Pocket Wrap
This free crochet pattern is simple and uses basic stitches, such as single crochet. This simple crochet project is smoother and lighter which makes him great for a cooler summer evening.
Skills: Easy   Designer:  Merri Purdy
5. Friendship Pocket Wrap
Although this project doesn't use only single crochet, it's still among the easy patterns in our collection. Use the best quality yarn to make it and you'll end up with timeless accessories in your wardrobe. Worsted-weight yarn or lighter will be great for this pattern. To make things more interesting, this easy pocket shawl design uses a star stitch and crossed double crochet stitch.
Skills: Easy   Designer:  Merri Purdy
6. Lazy Diamond Boho Pocket Shawl
Undeniably, this kind of elegant lightweight yarn shawl is a must this season. If you haven't decided yet, here is an easy pocket shawl in boho style. It has fringe, so if you decide to do it, tapestry needle or yarn needle will come in handy. Crystal created helpful video tutorial to accompany her free patterns, so be sure to check it.
Skills: Easy   Designer:  Crystal White-Van Cleemput
Find this pattern on ravelry.com.
7. Turkey Trot Crochet Pocket Shawl
Even if you already have done a few pocket shawls, it is worth it to add this one to your collection. This crochet wrap will give you a modern touch and will go perfectly well with lots of different outfits thanks to original stitch and elegant yarn.
Skills: Easy   Designer:  Marly Bird
Find this pattern on marlybird.com.
8. 6-day Sideways Pocket Shawl
All fans of the 6-day Kid Blanket design will be delighted with this project. A well-known chevron motif gives this shawl an intriguing look. It is also a good excuse to mix a few color tones into your design. These pockets are simply folded ends of the scarf, but be careful to make them the same length. You can crochet the two parts together and make a border, or use a simple running stitch.
Skills: Easy   Designer:  Betty McKnit
Find this pattern on bettymcknit.com.
9. Delicate Pocket Shawl
This is a great interpretation of the easy pocket shawl.  It is a lightly stitched, very airy design that has just the right combination of crochet stitch patterns. Use light yarn for this project and don't forget to add fringe – weaving in yarn ends won't be a problem here!
Skills: Easy   Designer:  Kathryn Kurylo
Find this pattern on ravelry.com.
10. Harvest Moon Pocket Shawl
The Crochet Harvest Moon pocket shawl pattern may look complicated if you are a beginner, but it is designed with very repeatable crochet stitches. If you're familiar with back loop stitches, post stitches, and single crochet ribbing, this will be a piece of cake for you. The finished size is approximately 56″ by 16″, but you can always change the foundation chain to adjust the width, or crochet a few more rows to change the length.
Skills: Easy   Designer: Carrie M Chambers
11. Cuddly Cat Crochet Scoodie with Pockets
Here is another pattern that you can add to your crocheting projects. It will definitely be a great way to push any blues away. Even worsted weight yarn will make it super comfy, although this pattern uses bulky yarn. If you're familiar with basic stitches such as single crochet or half double crochet,
Skills: Easy   Designer: Tamara Kelly
12. Thermal Pocket Shawl
Here is a slightly warmer model of the pocket shawl. This pattern is meant for long autumn evenings or winter days. If you're not into using patterns on your computer or tablet, always consider buying an ad-free pdf.
Skills: Easy   Designer: Witherun Style
Find this pattern on ravelry.com.
13. Amazing Grace Pocket Shawl
And here is the next project – the Amazing Grace Pocket Shawl. This shawl, in contrast to others, will be a perfect accessory for any summer outfit, in particular a summer dress.
Skills: Easy   Designer: Elena Hunt
Find this pattern on beatriceryandesigns.com.
14. Penelope Pocket Shawl
If you like pocket shawls but don't feel you're quite ready to take on some of the patterns, here is one that is very beginner-friendly. Albeit the Penelope shawl is an easy pattern, it still has a lovely, well-pronounced texture and exciting cut. Additionally, more snazziness is to be had by adding the lovely buttons as an accent on the pockets.
Skills: Easy   Designer: CrochetDreamz
15. Pocket Shawl
Here is another fashionable pocket shawl pattern made by Naztazia. If you are a newbie and haven't started a pocket shawl project yet, this quick and easy crochet shawl pattern made with simple stitches is particularly recommended. Furthermore, there is a step-by-step tutorial video included together with the pattern to help you.
Skills: Easy   Designer: Naztazia
Find this pattern on naztazia.com.
16. Shawl with Pockets
Here is another pattern for a pocket shawl. This shawl will be great, especially for an autumn evening or a cooler day. In fact, it's just perfect for a country outing to enjoy the last of the fall sun.
Skills: Easy   Designer: Carrie M Chambers
Find this pattern on crochetwithcarrie.com.
17. Side-to-Side Shawl
Here is a project for all those who like to follow a written pattern supported by a video tutorial. Certainly, this is easy to follow, and the well-explained rectangular crochet shawl pattern.
Skills: Easy   Designer: Erini Wasef
18. Stay at Home Pocket Shawl
This shawl can be made with wooden buttons which give it a poncho-like look. The buttons are optional and you can still make it as a simple wrap.
Skills: Easy   Designer:   Jess Coppom
Find this pattern on makeanddocrew.com.
19. Watson Waffle Cardigan/Pocket Shawl
The Watson waffle cardi uses the repeating and soothing texture of the waffle stitch. This technique can be very elegant, but you need to use high quality yarn. Remember to keep the stitch count in check and consider adding granny square pockets instead these simple ones.
Skills: Easy   Designer: Lakeside Loops
20. Crisscross Pocket Shawl
The crisscross pocket shawl is one on the playful side. It's a great pattern for those of us who like to combine colors to highlight a texture.
Skills: Easy   Designer: Laurel Hampton
21. Hip Granny Pocket Shawl
Simple crochet scarf can be transformed by the addition of granny square pockets. As you can see in the photo, if you use of the same colors of yarn as the base, it will look great. Add some fringe to it and you're ready to go!
Skills: Easy   Designer: Dayna Perry
22. "Checkmate" Pocket Scarf
Checkerboards are a great way to add some visual depth to a plain surface. Although this is by no means a plain scarf, the checkerboard motifs on the pockets and hoods really give it some pizzazz.
Skills: Upper beginner   Designer: passionatecraft2
23. Pine Gap Pocket Shawl
Here is the next pocket shawl pattern: delicately textured with puff-stiched diamonds. It is a great project if you want to advance your skills but still make a fancy item at the same time.
Skills: Easy   Designer:  Jessica Underwood
24. The Gotto Godda Wrap
Hey, beginners, this project is for you. Grab your crochet hook and some yarn, and you'll be ready to make this lovely scarf by Carlie. Delicate mint color may not be for everyone, but hey – who said you have to make just one? Crochet a bunch to have some choice.
Skills: Easy   Designer: Carlie Liedtke
25. The Rustic Pocket Shawl
This shawl is made using the moss stitch with a ribbed border. This will be an ideal casual shoulder wrap for a cool springtime outing or a lovely sit-down evening at home.
Skills: Upper Beginner   Designer:  Serena Castellanos
26. Texture Message Pocket Shawl
This toasty pocket shawl will keep you warm during cold evenings. Its intriguing linear textures give this wrap an elegant look. So you can use it as a casual top layer no matter if you are working online or on-site.
Skills: Intermediate   Designer: Yarnspirations
V-stitch Pocket Shawl – no longer available.
UPDATE: 2/05/23 A free pattern is no longer available.
Skills: Easy   Designer: Lovie Hood
This pattern was here: loviemadeit.com
For more free designs every day follow us on Facebook, or share your ideas and work on our Facebook group!
FAQ
What yarn to choose for a crochet pocket shawl?
It depends on what kind of shawl you're going to make – types of yarn have various qualities. You can go for thick and warm winter yarn, or a lightweight and flowy yarn for a boho shawl. If you want it to be heavier, go for wool or acrylic yarn. When in need of a drapey one, choose lightweight wools, silk blends, or even cotton yarn.
If you're wondering how many skeins of yarn you need for your perfect pocket shawl, take a look inside your crochet patterns' notes. All free crochet patterns should tell you how much and what type of materials you need – for example, what size of crochet hook to use for a stitch pattern.
Which pocket shawl pattern will be the best for beginners?
The easiest way to add pockets to the shawl is to just fold the ends of it upwards and sew it in place, so that's definitely a way to go! Truthfully, however, most pocket shawl crochet patterns are easy enough for beginners. If you're looking for a quick project, choose the ones with as few details as possible and basic crochet stitches.
Why are pocket shawls better than regular rectangular shawls or triangle shawls?
Well, because… they have pockets 😉 But seriously, this little detail makes them much more fun to wear. You can put your hands inside when you are cold, or keep necessities inside when going for a quick walk.