The lighter side of wrapping up.
Although summer is generally quite toasty, sometimes there is an evening chill and at other times there is a wind off the water at the beach. Thus it's great to have a light and airy shoulder wrap, which nevertheless is pleasant and cosy to wrap up in. Therefore, for such occasions, there's absolutely nothing better than an airy cocoon cardigan. Consequently, we have put together a small selection of patterns for you to explore this worthwhile theme. Indeed, you will also find your friends and family will want this garment as well, so unless you can say no, you will be making more than one.
Daphne Cocoon Cardigan
Overall, the Daphne is a lacy cardi with alternating bands of different voids.Moreover, despite the lightness, it's got a lovely drape, which is essential to a good shoulder wrap.
Skills: easy      Designer:  Sincerely Pam
The full article about this pattern is here:
Advertisements

Handkerchief Cocoon Free Crochet Pattern
Here is another idea for a cardigan for on cardi wrapping up in. This handkerchief cocoon cardigan has stitched together corners that make them stay on your arms as you wear it, keeping this beautiful cardi on your shoulders. The beautiful, lacy back is greatly complemented by the denser outer edge that retains the structure around the arms and neckline.
Skills: easy   Designer: Tamara Kelly
The full article about this pattern is here:
Advertisements

Movie Night Cocoon Cardi
Lastly, there's few better things than a comfortable night at home with a movie. Indeed, getting the ambiance right is a must. Therefore, this wrappable cardi is an absolute cherry on top and a perfect accompaniament.
Skills: intermediate      Designer:  Alexandra Tavel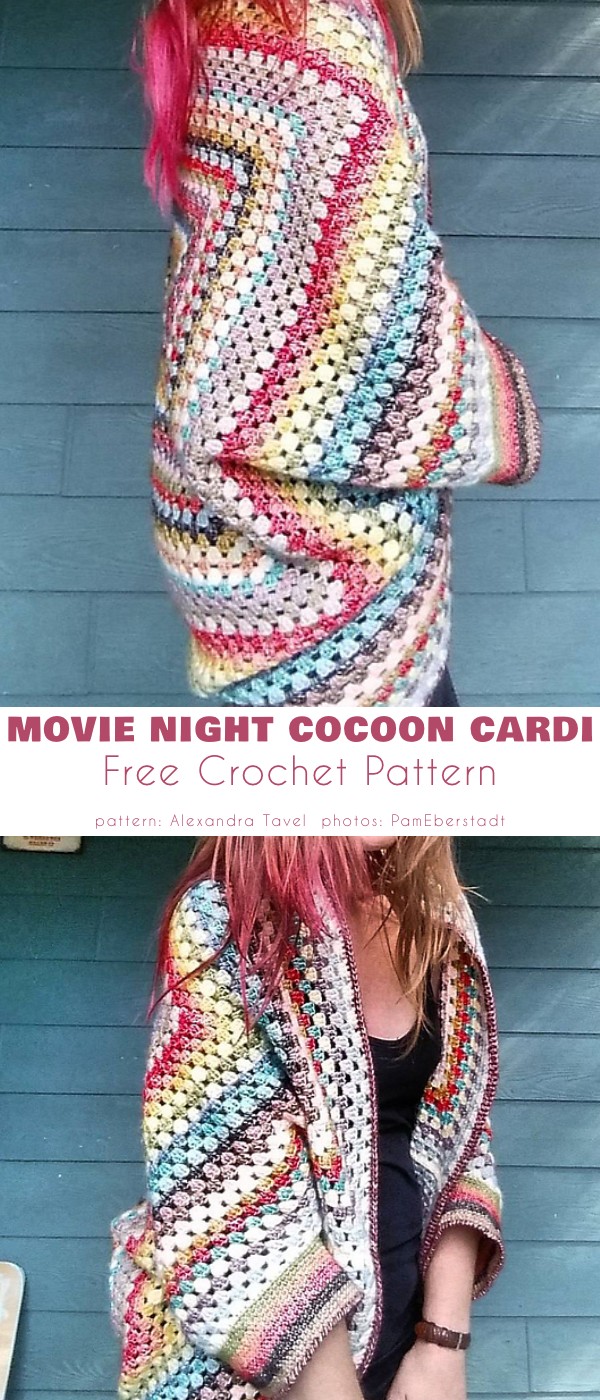 The full article about this pattern is here:
more info about PamEberstadt's project on Ravelry.