Christmas and New Year's are a year away
Thus, before we get into the other holidays of the year, it's time for to concentrate on other projects. To this end, I think we should work on some more personal ones. Of course, one of the very best is a temperature blanket, which is a really great therapeutic aid for the post-holiday blues. Additionally, they are a method of putting your emotions into a project as well as a memory aid and reminiscence driver in the future. Furthermore, in addition to all that, they are simply good fun and very, very beautiful in their own right. So, even if you aren't in a good head space, a temperature blanket will definitely put you there.
You may also like:
Crochet Wall Hanger Free Patterns
Hanging Decor Ornament Free Crochet Patterns
Temperature Blanket
To begin with, here is one based on the Circles in Squares Solid Grannies pattern. Overall, this pattern is particularly good for this application because of the discrete and button-like squares that capture each discrete moment.
The original pattern and the photos are available here:
Circles in Squares Solid Grannies
More info about temperature blanket version of this pattern on Ravelry.
Advertisements

Ultimate Temperature Blanket
However, some of these wonderful projects need more hues, or a more gradient transition from color to color. Therefore, here is a pattern with a more gradual color transition to precisely dial in how you are feeling.
The original pattern and the photos are available on YouTube:
more info on Ravelry.
Advertisements

2023 Crochet with Me Temperature Afghan CAL
CALs are a great way to make a temperature blanket and share them with friends and colleagues. Thus I'm so happy that the 4-season Annual Afghan CAL is continuing in 2023. Indeed, this has got to be a tradition by now, doesn't it?
The original pattern and the photos are available on Beatrice Ryan Designs blog:
Primrose Hexagon Blanket Free Crochet Pattern
Next, instead of stripes, circles and gradients, perhaps it's time for some hexagond. To this end here is a temperature blanket made of small, regular hexagons. Indeed this one is perfect, because the hexes can be added as needed – an ever-growing emotional barometer. Moreover, each one is color adjustable and fun.
The original pattern and the photos are available here :
Interlocking Circles Temperature Blanket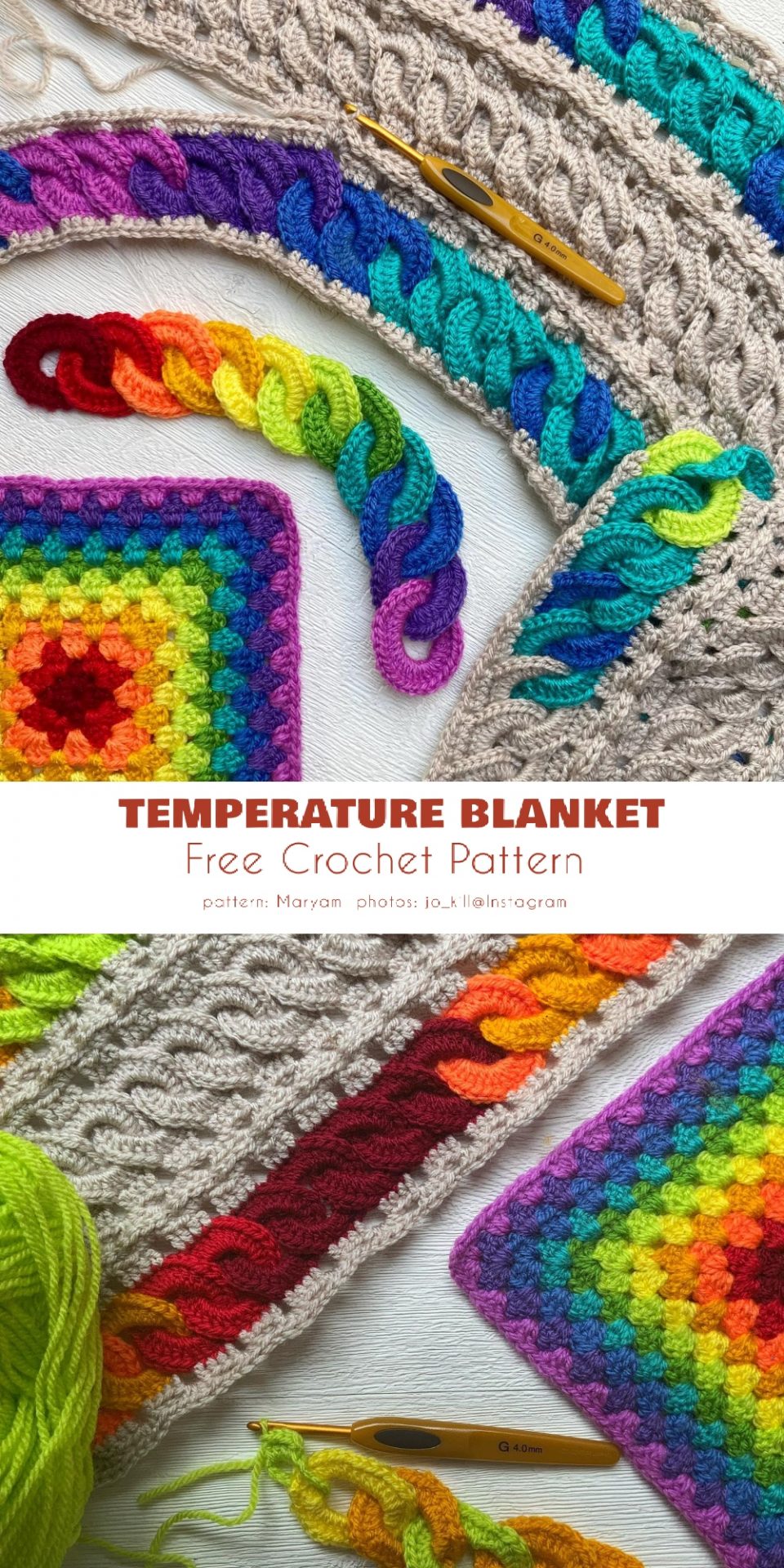 The full article about this pattern is here:
For more temperature blanket ideas visit our previous post:
Advertisements