Cushion your holidays
So, are you thinking of how to make the holidays more comfy and homey? Well, look no further, because here are 5 Christmas pillow ideas that take Yuletide coziness to the next level. While the tree, the table and the outside seem to get all the attention, the furniture always seems to be the bridesmaid. Therefore, let's change this now and make our furniture (armchairs and couches) a Christmas extravaganza. Better still, these are quite simple patterns that even beginners can attempt  and expect to succeed at. Thus, there is no reason not to give them a whirl.
Advertisements

Farmhouse Truck Christmas Pillow Cover
To begin with, this first pattern is a traditional image of an old-style pickup bringing home a tree. Overall, the mosaic-like quality gives it an interesting texture and a pleasant old-timeyness.
Designer: Briana K Designs
Go to the pattern:
Farmhouse Truck Christmas Pillow Cover
Advertisements

Oh Xmas Tree Pillow Cover
Next, we have this tree done in lovely rainbow yarn and minimalistic geometric designs. Thus, this Christmas pillow is perfect for a more modern decorative theme.
Designer: Ana Morais Soares
Go to the pattern:
Advertisements

Reindeer Pillow
Next, here is another mosaic-like Christmas pillow with a lovely reindeer just raring to go. In particular, I like the starry night layout.
Designer: Raine Eimre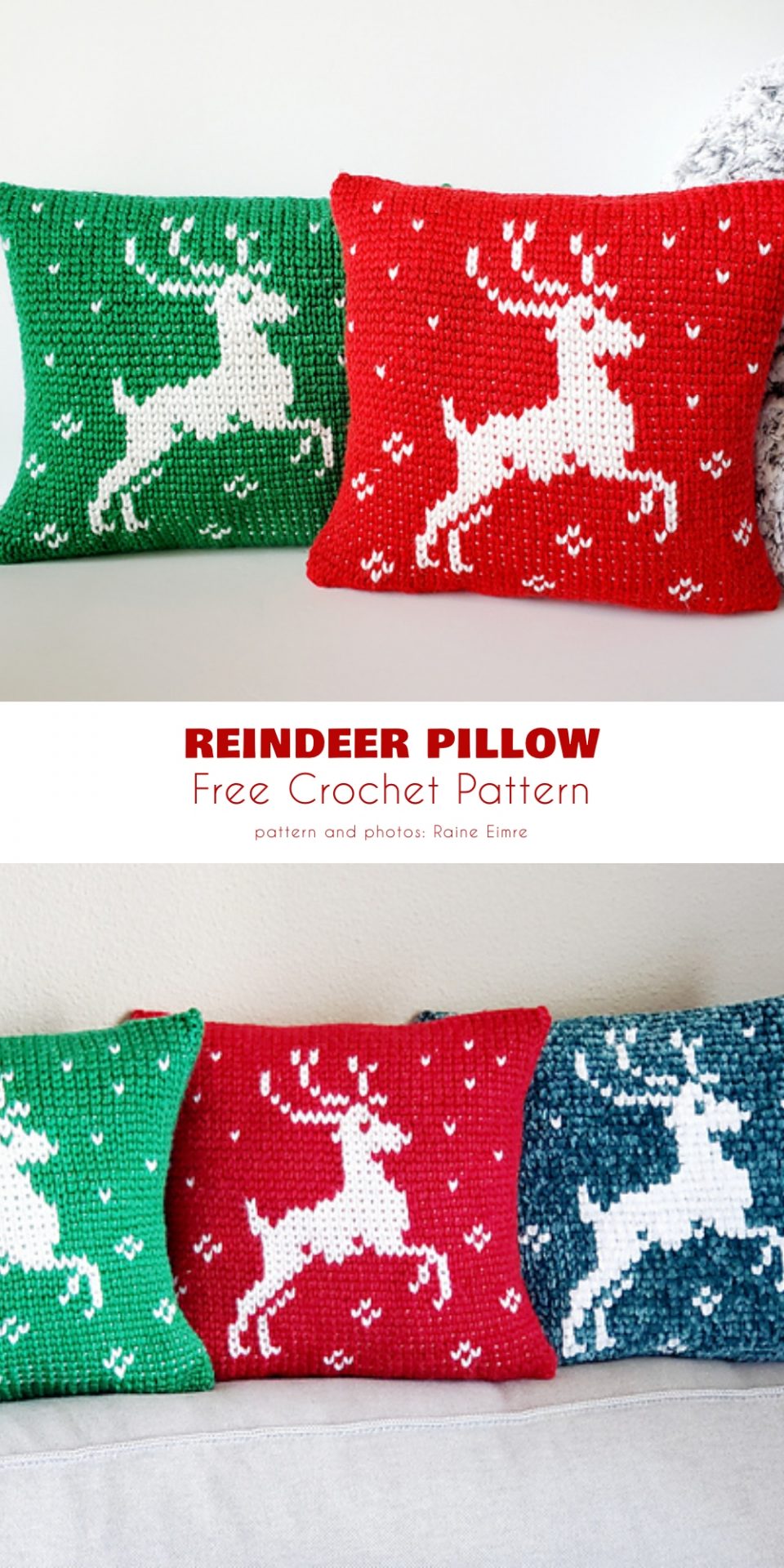 Go to the pattern
:
Advertisements

Santa Pixel Square
Of course, a Christmas pillow is a perfect place to use geometric layouts and pixel-like techniques. Therefore, here is a very digital, yet traditional looking Santa square.
Designer: BebaBlanket
Go to the pattern
:
more info about project photographed here.
Advertisements

Mosaic Pillow
Finally, a Christmas pillow doesn't have to have a traditional picture design on it. Indeed, an abstract design such as the following one is also great. Moreover, it's also fabulous year round.
Designer: Madlandia Forever
Go to the pattern:
If you like this post, you may also like:
Advertisements

For more free designs every day follow us on Facebook. Share your ideas and your work in our Facebook group!
Advertisements