Pullovers are great projects for crocheting, because of the  great room for customization and variability they leave the crocheter.
Each one can be as unique as you wish, an expression of your individuality and mood. The same applies to wearing them: choose each one based on how you feel, your wardrobe choice or the occasion as you please. It's all about you.
Sum of its Parts Pullover Free Crochet Pattern
This pullover is a wonderful pattern made of smaller pieces that are then stitched together. Its lower hem wonderfully offsets the diagonal patterning of the body. This is a loose-fitting, flowing garment that will be a great addition to your summer wardrobe.
Skills:  Easy    Designer:  I Need It Crochet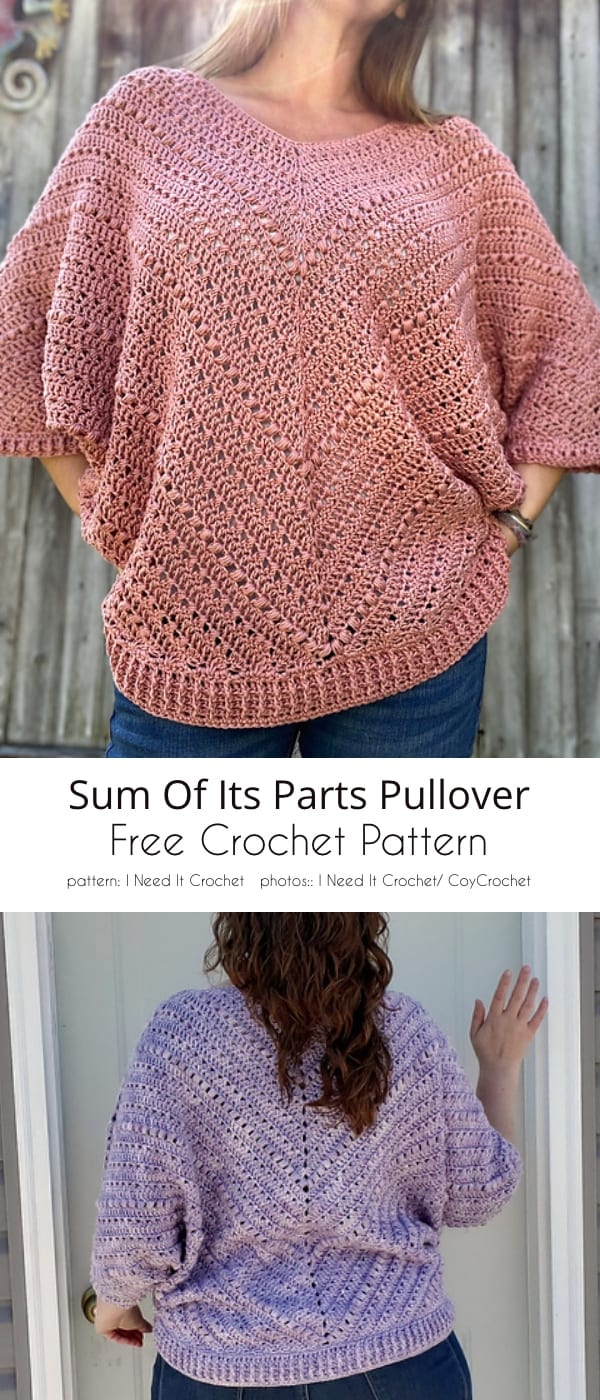 The full article about this pattern is here:
Advertisements

My Precious Sweater Free Crochet Pattern
"My precious" is a wonderful example of  how to use the Raglan method to produce a beautiful sweater. In this case, the yoke is longer than usual and then the three portions of the sweater are worked individually. This sweater has no seams. The diamond pattern gives it a beautiful texture that seems to flow on the oversized garment.  A link to a free pattern is at the end of the post. 
Skills:  Easy           Designer: By Katerina
The full article about this pattern is here:
Advertisements

Weekend Snuggle Sweater Free Crochet Pattern
The weekend snuggle sweater is a slim fitting, but bulky stitched, comfortable and warm sweater with a very simple, traditional stitch. It's simplicity makes it beautiful, with the only decorations being the hemmed cuffs and lower hem…. and of course you. This is a lovely garment, easy to make and quick to work up. You will be well pleased with this one, and so will anyone you give it to.
Skills:  Easy        Designer:  Grace forthefrills
The full article about this pattern is here: