Although is hot outside, winter will be upon us soon.
Therefore, it's time for some crocheted, toasty socks. To this end here is a collection of the best free patterns for these amazing crocheted foot casings.  Of course, both colors and yarn gauge are your choice, and thus the possibilities for variation are also endless. Indeed, why stop at yourself, and not make a pair or several for everyone? Moreover, if you have a large family, engage the young 'uns in the manufacturing: your own family sweatshop 😀 However, if they can't contribute with the hook, get them to ball your skeins or buy yarns of varying kinds… or unravel old projects to reuse the material. Both yarns and helping hands are much prized in a sock-adjacent economy.
Spiral Socks
These thick, chunky and wonderful crocheted socks will keep your feet warm on a cold floor. Likewise, they are also great instead of slippers if it's a bit cold for going barefoot. Better still, they're easy absolutely  sky-s the limit in terms of colors – the wilder, the more enjoyable.
Skills:  Easy        Designer:  Katharina Lerch
The full article about this pattern is on Ravelry:
Advertisements

Herringbone Socks
These stretchy crocheted socks are made using the Herringbone Half Double Crochet stitch. Moreover, the pattern is available in five sizes from Women's 5 to Men's 13. Consequently, Herringbone Socks will be great idea for a last minute gift for anyone.
Skills:  Easy        Designer: Ashlea Konecny
The full article about this pattern is on hearthookhome.com blog:
Advertisements

Ultimate Socks
Here is the base Ultimate crocheted sock. Undoubtedly, you will note that they possess a proper bend at the ankle and a genuine heel cup. Without a doubt, this is a project lives up to its name.
Skills:  Easy        Designer:  Dorothy Hardy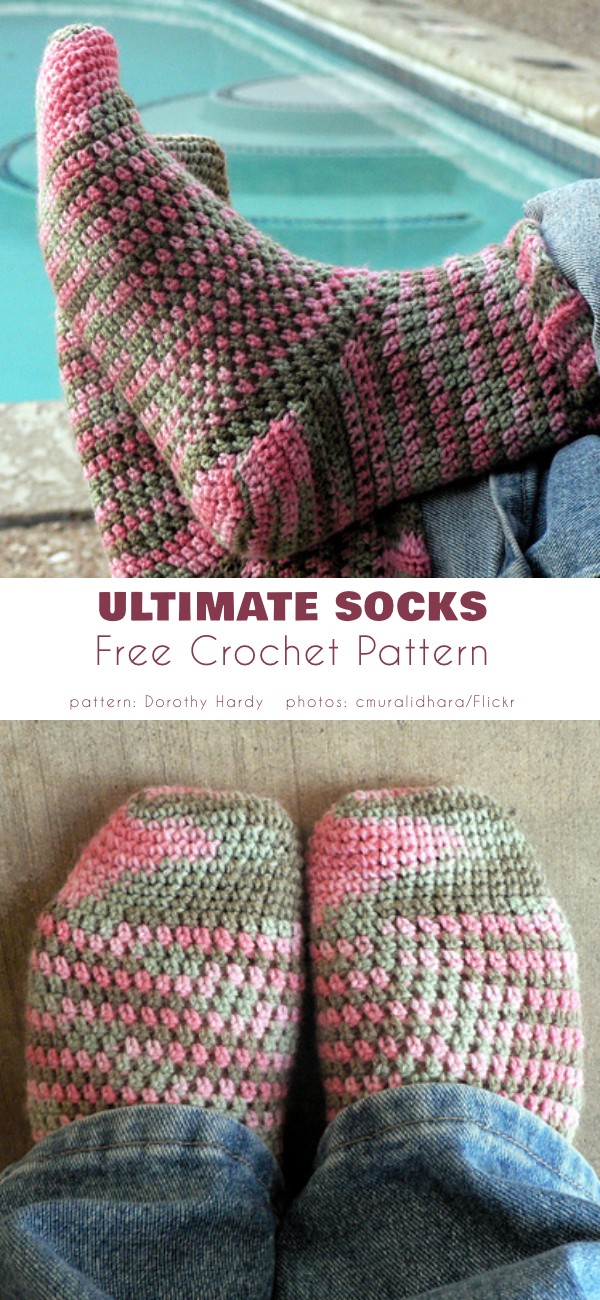 The full article about this pattern is on interweave.com blog:
More info about project photographed on Flickr.
Advertisements

Satisfaction Socks
These beautiful socks can be made using a single crochet stitch. Easy and quick, they'll be a great addition to your home outfit.
Skills:  Easy        Designer:  Amy Kate Sutherland
You may also like:
For more free designs every day follow us on Facebook and share your ideas and your work on our Facebook group!