Whether they're sweet little tweeters or majestic eagles, birds are a great crochet theme.
Here are some cheerful, fun little birdies to put a smile on your face. To begin with, these sweet bird amigurumi free patterns are a great start to your avian ami adventure. They are fun, easy and, above all, so adorable! Indeed, what could be cuter than little amigurumi birds in a myriad colors and shapes? Not much, as can be seen In order to prove it, here are some little ami birdies to cheer you and yours right up.
Blu the bird is looks like a cousin of the the famous blue twitter bird, but MUCH cuter. This is a fun little pattern with a lovely rose decoration around the neck. The whole pattern is given a complete look by it's absolutely adorable little nest. Blu is truly a great pattern that will be appreciated by all. If you do make one (or a bunch) of these for the youngest of the homebound, please consider making crocheted eyes for safety.
Skills:  Easy    Designer:  Yarn Society
The full article about this pattern is here:
Advertisements

 Crochet Bird
This sweet little bird is a lovely and fun pattern that will warm the heart of even the biggest grump. This teensy guy has a lovely frilly tail and head fringe, but is still easy in that the basic structure is that of two amigurumi ovoids. Quick, easy, and capable of using up yarn ends. Awesome!
Skills: Easy    Designer : Amigurumi Today
For more free designs every day follow us on Facebook. Share your ideas and your work on our Facebook group!
The full article about this pattern is here:
Advertisements

Sweet Bird Amigurumi Free Crochet Pattern
I am absolutely blow away by how cute and sweet this little tweety is! There's not an adult, not to mention a kid who wouldn't want to have one of these all to themselves.
Designer: Tiny Curl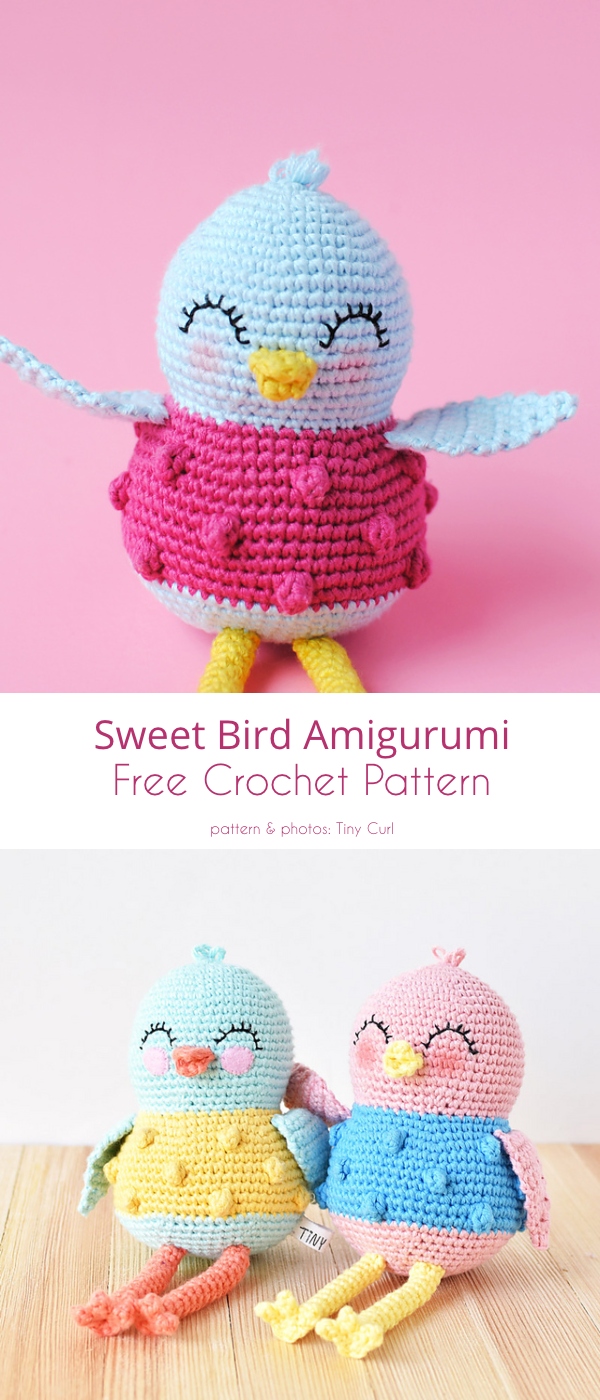 The full article about this pattern is here:
[spider_facebook id="1″]
Advertisements