Hot days will come faster than you think. Let's prepare in advance to fully enjoy the Summer!
Sleeveless tops are a must, so why not look both extravagant and elegant all at once? See our crocheted summer top guide to pick out something for yourself. Each top can be crocheted to a longer length and transformed from a bikini top to a halter top or sleeveless top. Or, if you feel a little more risqué, you can make them as skimpy as you wish. I will add new propositions for the realization to this post periodically, so be sure to visit Your Crochet again. I'm sure each one of us will find something for herself to show off this summer. Enjoy! See our propositions for the best photos, as well as free and paid patterns. Links to the patterns are below.
The Sophia Crop Top Free Crochet Pattern
Here is a classic crocheted bikini top with an adjustable cup size and and a lovely frilly lower edge. It's a great little piece which you can make in many colors or in monochrome. It's a great idea for a piece of beachwear for tanning.
The full article about this pattern is here:
Summer Festival Top Free Crochet Pattern
For a less skimpy, but no less cool top, try one of these halter tops. They are somewhat less revealing, but are nonetheless great for the beach or being out on the town at a beachside city. The upper, blue crochet top is from the free Summer Festival pattern created by DROP Design – visit the 
pattern site
. In the lower photo, you can see the beautiful and really unique project by
Naztazia
.  Using multicoloured yarn she made  'Summer Festival' even more summer! You can find her free patterns and video tutorials on
Naztazia's youtube channnel 
or see this halter top on
Ravelry.
Photos: Drops Design (upper)/Naztazia (lower)
Racerback Camisole Free Crochet Pattern
The Racerback Camisole is worked in the round from the bottom. This is a great top with a full front and a bold cut down the back. It's also an easy and highly customizable project, so you can easily adapt this one to your size and taste..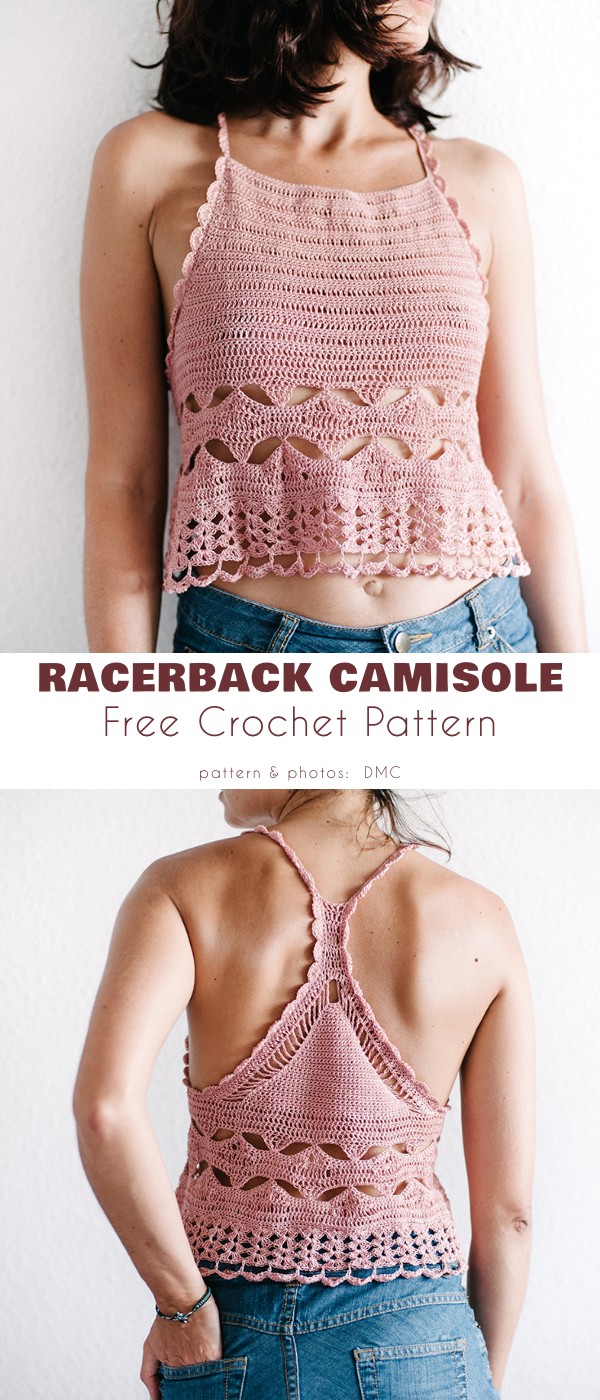 The full article about this pattern is here.
Advertisements

Curvy Lady's Favourite Halter Top Free Crochet Pattern
Looking for more? See this Curvy Lady's Favourite Halter Top. This pattern can be easily customized and allows you to find your perfect length and edge so you can also really match it to your favorite look and feel. This is a great project if you want to experiment with lengths and fits.
The full article about this pattern is here:
Finally it you looking something more universal see the Peaks Tank Top below.  This project is easy to make, the top is light, airy and revealing enough for the beach, but still enough cover to wear around town.
The full article about this pattern is here:
Advertisements

Aphra Bralette
And finally, a simple Aphra Bralette, which will be perfect for a beach trip or a sunny day on the backyard.
The full article about this pattern is here:
FAQ
What yarn to use for crochet summer top?
Choosing the right yarn for crochet patterns can be a challenge, but once you know something about yarn types, it becomes easier. Natural yarns, such as cotton, linen, bamboo, or blends will be great for summer garments, such as summer tops. Why? Because they are breathable, lightweight and take water easily.
Which summer top patterns to choose as a beginner?
Depending on your skillset, choose the ones that are slightly out of your comfort zone! Most of the patterns are quite simple and use basic crochet techniques, but often have nice details. If you've never tried lacy patterns, be sure to try them, because they are easier to crochet than you think.
How to style crochet summer top?
Summer tops are among the most versatile garments! You can style them with jeans or shorts for everyday look, or add heels and a skirt for evening attire. Summer tops often feature openwork, so make sure you've got a nice bra underneath, if you choose to wear one. Crop tops will be a perfect choice for summer festivals!
You may also like:
For more free designs every day follow us on Facebook and share your ideas and your work on our Facebook group!