Kids pillow need to be playful, fun and colorful.
These are all qualities you want for a child to have in their life, and so the items you surround them with should support that. These pillow crochet patterns are an attractive and fun way to decorate you kids' rooms and get them to enjoy their personal space. They will also be great for comforting a child at bedtime, so that they fall asleep faster and with less fuss.
Daisy Pillow Free Crochet Pattern
This is a fun pillow (and placemat!!) project that is a great way to decorate your child's room. The pillow is quick and easy to make, and additionally can be modified to be suitable for those little explorers who mostly use their mouths to experience the world. The pattern is easy to follow and works up quickly.
The full article about this pattern is here:
More info about Bekkfek's project
Advertisements

Unicorn Cushion

Free Crochet Pattern

This unicorn cushion is THE perfect gift for your little Agness for whom the world revolves around unicorns. You can couple this with unicorn amigurumi, unicorn blankets and unicorn-themed clothing. They're fluffyyyyyyy!
The full article about this pattern is here:
Advertisements

Puppy Pillow Free Crochet Pattern
For all big and small dog lovers this pillow will be perfect. Made with ultra soft yarn and easy stitches will be a great gift not only for Valentine's Day. This is vary universal pattern, so if you change a few details, it can be a cat pillow as well.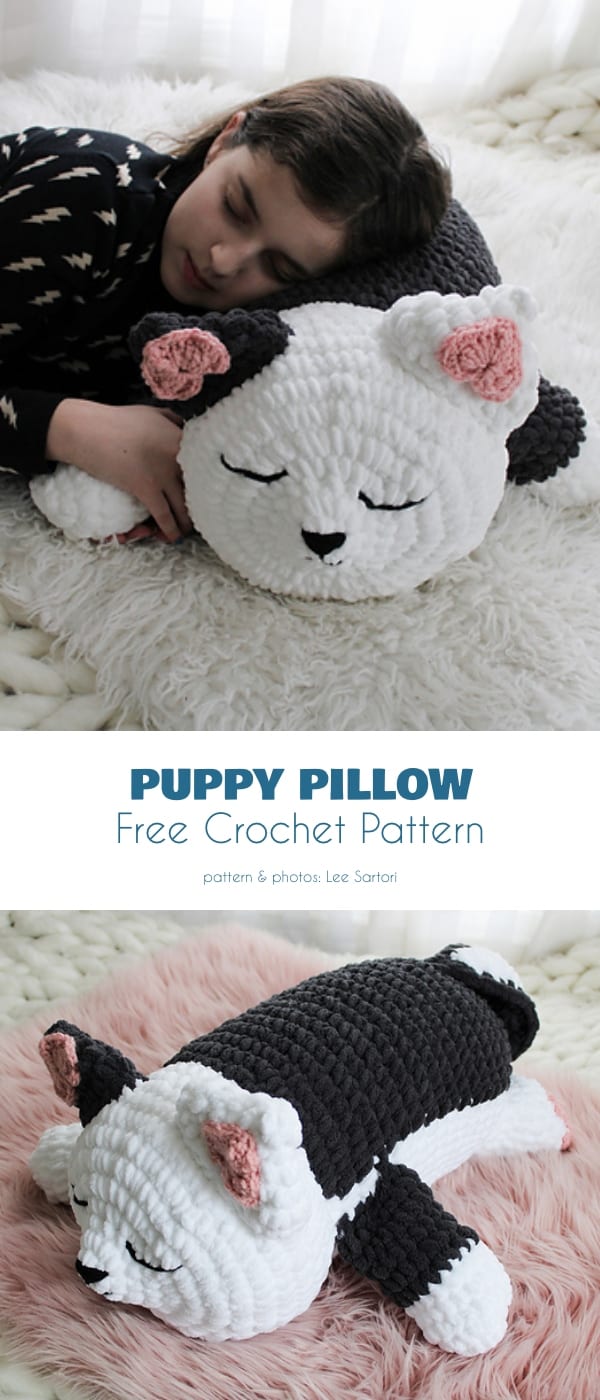 The full article about this pattern is here:
Kitty Pillow Free Crochet Pattern
Every kid loves big toys, the bigger, the better, but this crochet cat can also be a great gift for adults. He looks like a stretched out cat content with life. His long body makes him a perfect roll pillow for any bed. Despite the fact that the pattern meant to create a pillow, I think you can easily accessorize your home by using it, for example, as a door draft dodger.
The full article about this pattern is here: