What time is it? It's time to go SHOPPING!!!!
Next to crocheting, shopping has to be one of my favorite pastimes. Better still, shopping for crocheting supplies is even more rewarding. However, how cool would it be to go shopping for crocheting supplies AND to do it with your own crocheted shopping bag, eh?  Of course, you can also use these crocheted bags as everyday, ho hum, mundane market bags as well. Regardless of reason you make them, you can be sure you will be doing it in style, with your own unique brand stamped into these wonderful market bags.
Laica Market Bag
The Laica market bag is a wonderful example of interspersing lacy, airy crocheting with more densely stitched sections. Consequently, you'll see a dense bottom and handles, and decorative sides and a universe of room to customize.
Skills:  Easy        Designer: K.A.M.E. Crochet by Krisztina Anna Matejcsok-Edomer
The full article about this pattern is here:
The Happy Market Bag
Are you happy and you know it, and you really want to show it? Crochet a bag! Overall, this has to be one of the most playful designs I have ever seen for a bag. Therefore, express your happiness!!
Skills:  Easy        Designer: Megan Meyer
The full article about this pattern is here:
Advertisements

Rainbow Runner Tote Bag
Here is a more traditional lacy tote bag. It's prefect for shopping, since the stitching allows it to fold up really small. Indeed, if you need to drop in at the green grocers after work, the rainbow tote will be your perfect companion: capacious when needed, and hiding demurely away when not.
Skills:  Easy           Designer:  Tamara Kelly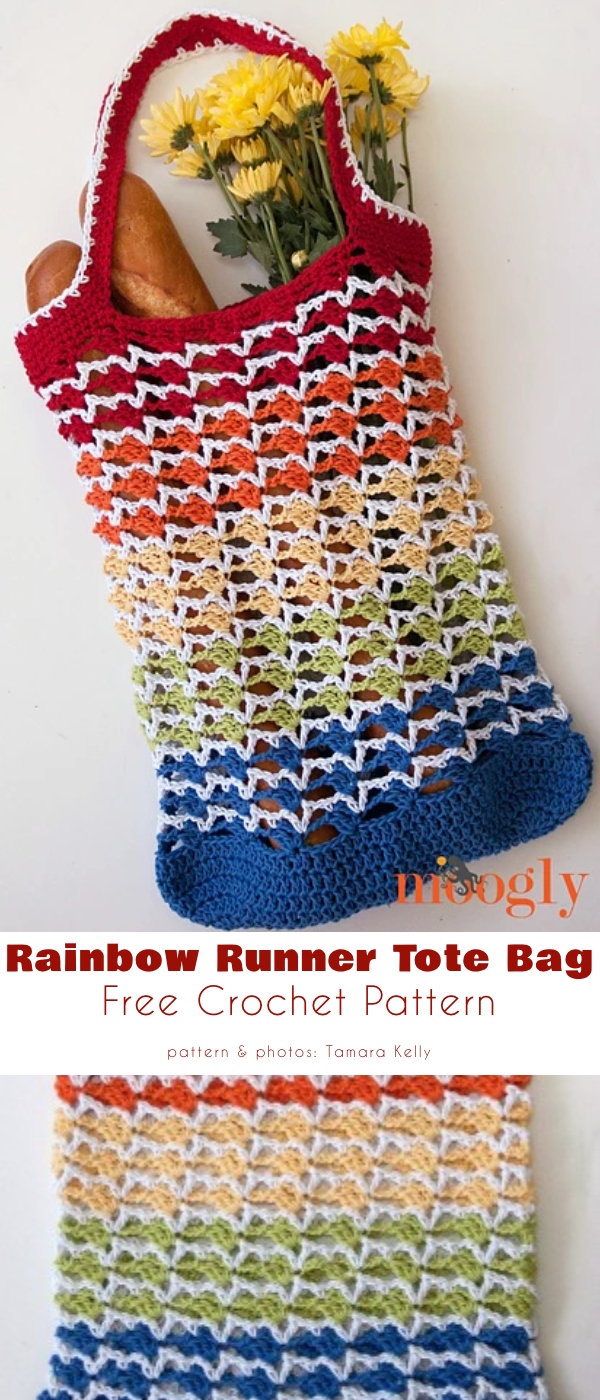 The full article about this pattern is here: