Monochrome blankets are elegant, but may sometimes seem a little bland. Multicolored blankets are fun, but may be a bit loud for some occasions. Stripy blankets are a good middle ground, especially if the stripes are not too garish. A blanket with several stripes is also very elegant with a splash of fun, but does not require lost of expensive colorful yarns, so you can make the decorations using yarns that you have at home. See below for two examples of striped blanket projects that will be great for these times.
After the Storm Baby Blanket Free Crochet Pattern
Like it says on the box, this is a blanket that's perfect after the storm. The storm is over, at least here, the rain's finished, but it's still a bit cool, so you need to wrap baby up snugly. This diagonally-striped blanket is a beautiful, slightly thicker baby cover, with a wonderful edge and border. It shows an interesting application of the C2C stitch, and is not too much of a challenge. This will definitely be a great baby blanket, but you could also make it larger and have it for yourself.
Skills: Easy           Designer :  Sarah Blackston

The full article about this pattern is here:
Berry Stitch Baby Blanket Free Crochet Pattern
The berry stitch blanket is a soft and drapey striped blanked which nonetheless is a lighter project very appropriate to the spring. This is an easy project, but it's appearance and texture totally bely this fact. It's a very worthwhile project that will also add a splash to, but not overpower, a modern interior.
Skills: Easy           Designer :  Daisy Farm Crafts
The full article about this pattern is here:
Pillow Soft Blanket Free Crochet Pattern
This throw is a delicate and cushy mix of the yarn and stitch. It is very soft, so it will also be perfect as a baby blanket. The blanket is designed in stripes of differing widths utilizing three hues, however it is intended to be tweaked to your taste, so use the same number or as few as you prefer (imply: utilize one shading to truly underline the texture).
Skills: Easy     Designer: Carla Mitriani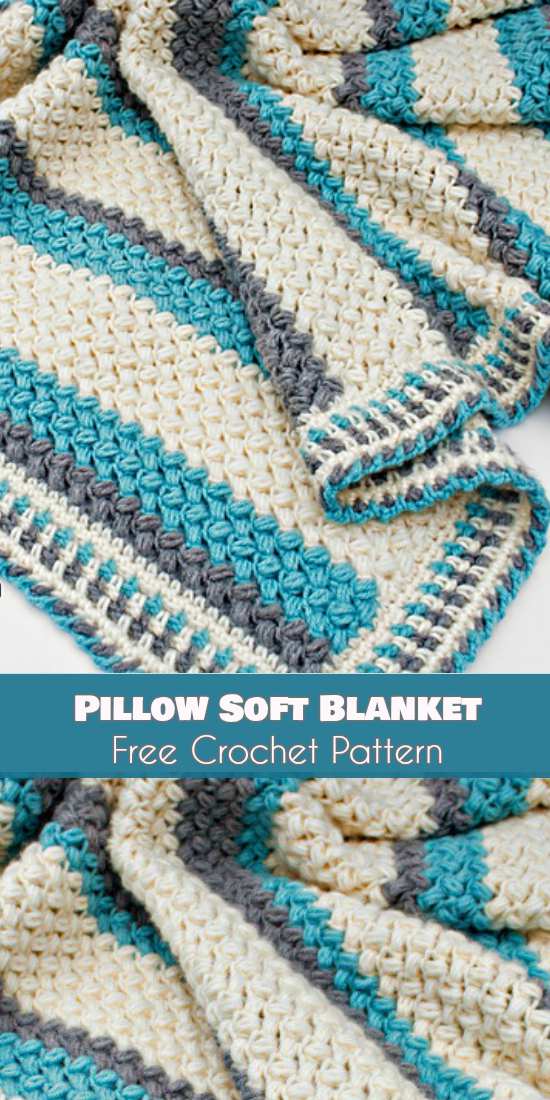 The full article about this pattern is here: