Minimal approach to Christmas is more and more popular, and I am a big fan of it myself! Why make your home full of flashy colorful decorations, when you can easily bring winter spirit with fewer and more subtle ornaments. Handmade items are a lovely way to make this festive time even more special, because you create a tradition instead of borrowing someone else's. Unique designs made by you can become treasured family memorabilia, passed on through generations. Another amazing thing is, that these decors are very easy to make, so beginners, try them! Links to free patterns are under the pictures.
You may also like:
Skills:  Easy           Designer:   Andrea Cretu
For more free designs every day follow us on Facebook. Share your ideas and your work on our Facebook group!
[spider_facebook id="1″]
Little Winter Star F

ree Crochet Pattern

Just four rounds are enough to make a cute star-themed ornament. Fill it with filler and don't forget to add beads and tassels. Scraps of yarn are perfect for this quick project!
Go to the pattern: Little Winter Star, this version can be found here.
Advertisements

Pointsetta Snowflake Free Crochet Pattern
Pointsetta is the most known winter flower, and this fantastic snowflake uses it as an inspiration. When working with geometric lacy designs, be sure to block it afterwards and even add a little bit of stiffening, so it holds the shape.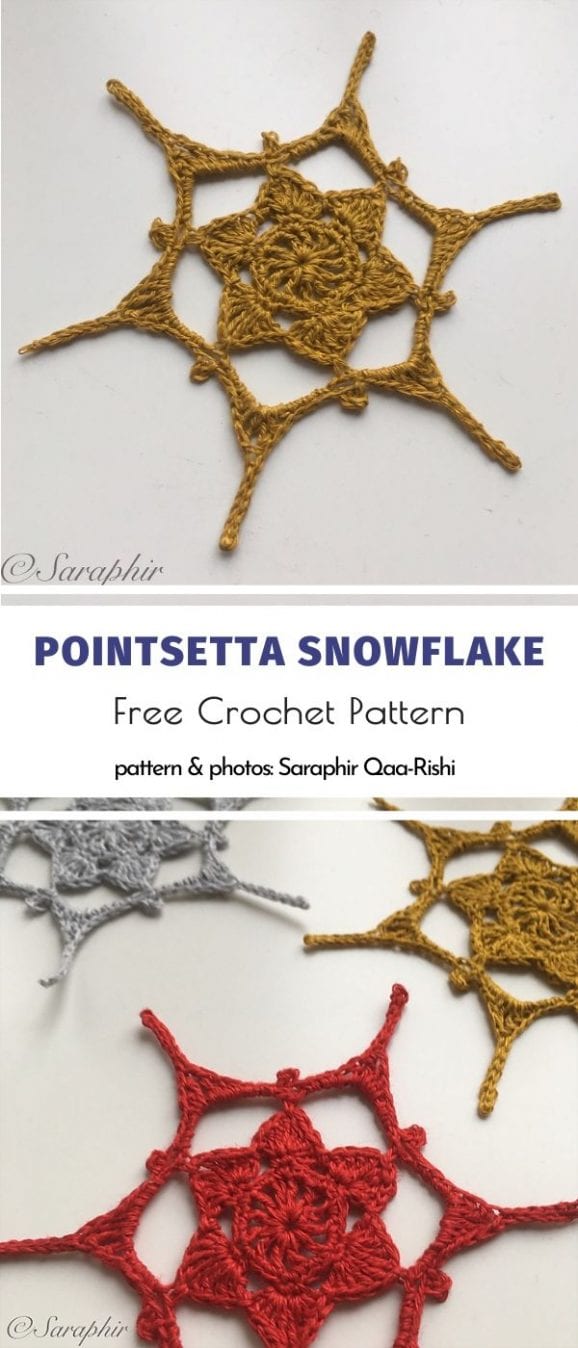 Go to the pattern: Pointsetta Snowflake
Advertisements

Bobble Christmas Tree Ornament Free Crochet Pattern
Easy bobble stitch is enough to create this minimalist ornament. It will look cute when hanging on a Christmas tree, or joined with others in a bunting. Consider adding it to presents, too!
Go to the pattern: Bobble Christmas Tree Ornament
Advertisements

Heart Christmas Bauble Free Crochet Pattern
Why buy new baubles when you can refresh your old ones? That's right, make a cute crocheted cover for your baubles with tapestry crochet technique.
Go to the pattern: Heart Christmas Bauble
Advertisements

Frosty Flower Bunting Free Crochet Pattern
This decoration can hang in your home all winter! It looks stunning in white and blue, reminding me of frosty mornings. Easy to make triangular bunting will look great on the wall, door or over your window.
Go to the pattern:  Frosty Flower Bunting
Advertisements

Christmas Tree Wall Hanger
With this modern boho decor you can make Christmas wall hanger, or Christmas tree decor. Additionally, you can use this pattern as a wreath on you front door.
Go to the pattern: Christmas Tree Wall Hanger
Advertisements