Are you looking for a free pattern for an easy afghan to make?
You came to the right place. Whenever you're a crochet enthusiast looking for an entertaining and rewarding project or just starting your crochet journey, we have just the right granny square afghan pattern for you. And it is free!
Crocheting afghans is not only a fantastic way to chill and de-stress, but it also allows you to make gorgeous and comfy blankets that can be treasured for many years. Whether you're a newbie or a skilled crocheter, this collection of easy Afghan patterns is created to inspire and help you reach your goal and succeed in your project. So grab your crochet hook, choose your favourite yarn, and let's dive into the world of Afghan crochet together!
Can a beginner make a crochet blanket?
Absolutely! Beginners can certainly make afghans. While some afghan patterns may appear intricate and complex, you will find plenty of beginner-friendly options here.
With a little time and some patience, you'll soon master beautiful the beautiful Afghan art form to snuggle up in or gift to loved ones. So, don't be discouraged by the challenge. Just grab your crochet hook and start your crochet journey immediately!
What would be an easy afghan pattern for beginners?
All the following free crochet afghan patterns are chosen for the beginner skill level. They use basic stitches and simple beginners' techniques. Also, they have clearly understandable instructions making them easy to follow. This lets you gain confidence gradually and consistently master new skills.
Below is our list of the best free Afghan crochet patterns that you can find. Whether you are a beginner or a crochet pro, you can find the right pattern here.
So, sit down crochet hook in hand, and let's get going. Remember, the key to completing any crochet project is to be patient, follow the instructions, and give yourself time to practice. Happy crocheting!
Easy Ripple Afghan
A ripple afghan is always a very popular item as it is eye-catching and colorful.
Although straight lines are fun, these wavy ripples are so much more enjoyable and rich. Use a yarn weight chart to match textures.
Go to the pattern: Easy Ripple Afghan
more info also on Ravlery.
Chunky Feather and Fan Afghan Free Crochet Pattern
The Chunky Afghan is thick but airy. You can wrap it around yourself while sitting in your favourite chair and enjoy the evening chill. It is a fun project to complete so I hope this pattern will become one of your favourites.
Also, the blanket size is adjustable, so that you can make this as big as you want. I would also encourage you to play around with colors. There's just so much room for customization there.
Go to the pattern:
more info also on Ravlery.
Modern Granny Afghan
It's a granny afghan, but granny's put on her air pods and has gone to Starbucks for a salt caramel frappucino. This means it's a modern take on a timeless classic. It uses interwoven blocks instead of squares. As a result, you get a more cohesive and interesting texture without a traditional granny square look.
Likewise, the size is also easily adjustable, and this project can be sized using both yarn weights and rows numbers. It can be a baby blanket, a giant bedspread or anything in between.
Go to the pattern:
more info also on Ravlery.
Drop in the Pond
To show the true versatility of this classic, here is another granny variation. Based on easy and repeatable stitches, you will get an a quick, fun and airy blanket with an interesting appearance. It's super easy to personalize with just about any hue variant. I would recommend making a few test swatches to figure out your optimal color choices and their order.
Go to the pattern:
Stashaholic's Brain Dead Afghan
Looking beyond the très amusant name, this is a lovely afghan pattern with a gorgeous, shingled texture. The pattern is designed to use up an existing yarn stash, instead of buying a bunch of new stock. Of course, the reason we would use up the yarn stash is so that we can buy more yarn, which may make the last point a bit self-defeating.
Go to the pattern:
Stashaholic's Brain Dead Afghan
more info also on Ravlery.
Beautiful Shell Afghan
We haven't looked at a square-based pattern yet, so I'd like to fix this glaring omission now. Thus, here is one such project. Start by crocheting small squares and join them together into a blanket when you have enough of them. You can customize your afghan by choosing different colors and arranging the squares in various patterns.
Elsewise, you can incorporate squares made using a different pattern… or even of a different size – so long as the sizes are even multiples of one another. However, this shell square is still one of my favorites.
Go to the pattern:
more info also on Ravlery.
Grannie Goes Large
As we all know, granny is a classic crochet motif that is very easy to make. It is also extremely repeatable. The best way to customize your afghan is by choosing different colors and arranging them in interesting designs.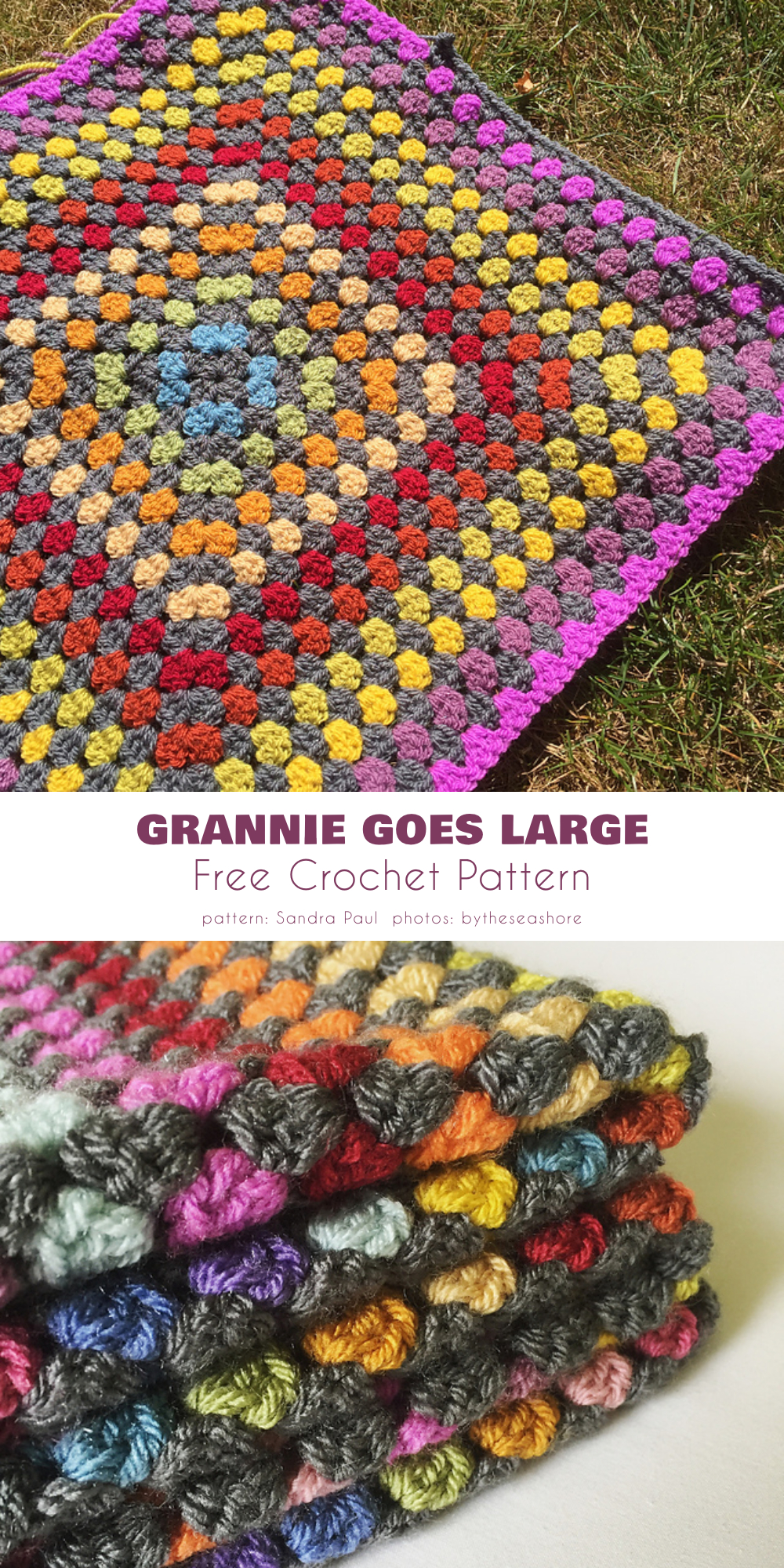 Go to the pattern:
more info also on Ravlery.
Block Stitch Afghan
It may look complicated, but if you see how this blanket is made, you will surely want to give it a try. Based on double crochet stitches, I bet it will quickly become your favourite.
Go to the pattern: HOMEMADE@MYPLACE
Battenberg Blanket
Here is the next square blanket. Start with small squares using basic stitches. Once you have enough squares, join them together with a whipstitch or slip-stitch. The voids setting out 90 degree squares neatly offset the colored squares at 45 degrees to them.
The original pattern and the photos are available on Ravelry:
To see more details about yarn used to make photos' project go here.
Granny Stripes Blanket
Finally, here is a real classic: a granny stripes blanket but it also has a modern take on it. This too is a great pattern to use up yarn ends, as you can implement many colors into this pattern, a bit at a time.
Go to the free pattern: