Are you looking for something something special? The Drexel, Wynn and Woven Hearts Beanie patterns definitely fit the bill. These three beautifully textured patterns allow you look outstanding and impress friends, family and other crocheters with your mad skills. That aside, they will be very fun projects to make in their own right. A link to the free pattern is at the end of the post.
Wynn Beanie Free Crochet Pattern
To make this intriguing looking beanie, you should be familiar with back loop stitches which are used throughout the pattern create the wavy ridges. Thanks to them, the hat is very elastic and fits a variety of head sizes.
Skills: Intermediate          Designer:  Harlee Wentworth
Go to the pattern:
Advertisements

Woven Hearts Beanie Free Crochet Pattern
Beautiful things should be advanced, so if you are not familiar with the puff stitch, shell stitch and front post double crochet, treat this project as a challange and opportunity to master these skills. Both your efforts and the new hat will surely be complimented by your friends and family.
Skills:  Intermediate        Designer:  Karen Lucas
For more free designs every day follow us on Facebook. Share your ideas and your work on our Facebook group!
Go to the pattern:
Advertisements

Drexel Beanie Free Crochet Pattern
UPDATE: A free version of this pattern is not longer available.
The Drexel beanie is a classically shaped pompom beanie with a richly textured exterior. Made with a bulky yarn, it will keep your noggin warm and toasty, but still attractive and stylish. It would also be a great idea for a present. Who wouldn't want a beautiful hat such as this?
Skills: Intermediate          Designer: Toni Lipsey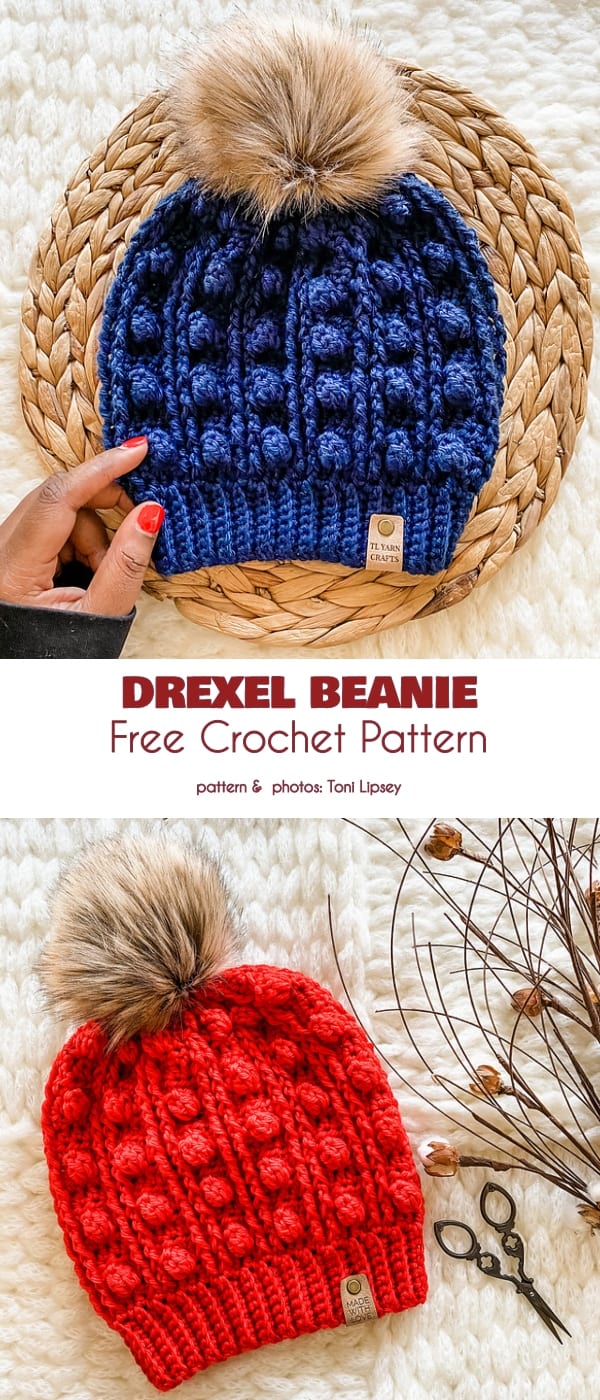 Go to the pattern:
Advertisements