Baby bear says Grrrrrrr!
Don't believe me? See here for yourself. These bear baby hats are just the thing for your little teddy to keep their head warm and play at being a bear. There is something cute about a hat with ears, because babies and kids look incredibly adorable in them. If you want to make one, here are a few free crochet patterns for bear hats for a baby or a toddler, so it is a great way to pick a pattern you may want to try. These hats, too, will make for great photo-ops for your little ones. Oh, and remember that we've got plenty free crochet hat patterns in our collections!
Baby Bear Hat
A cute and simple baby bear hat is a beginner-friendly pattern and works up very fast. It's so simple and quick, that you can easily make a few of them in different colours to match baby's winter/spring/autumn outfits.
The full article about this pattern is here:
Advertisements

Brown Bear Hat
Brown Bear Hat is a modification of a Baby Bear Hat Free Crochet Pattern by Mary Hodges. It's the most realistic reassembly of the real bear, except not a scary, but a friendly one. Below the photos, you will find links both to the original pattern and modifications.
The full article about this pattern is here:
Read more about project photographed and possible modifications on Ravelry.
Advertisements

Bernat Bear Hat
This ear-flap bear hat is not only cute will additionally cover little ears against cold weather. It a simple pattern, which only needs a cute circular ear and a little applique to convert it into a cute happy (or happy napping) bear.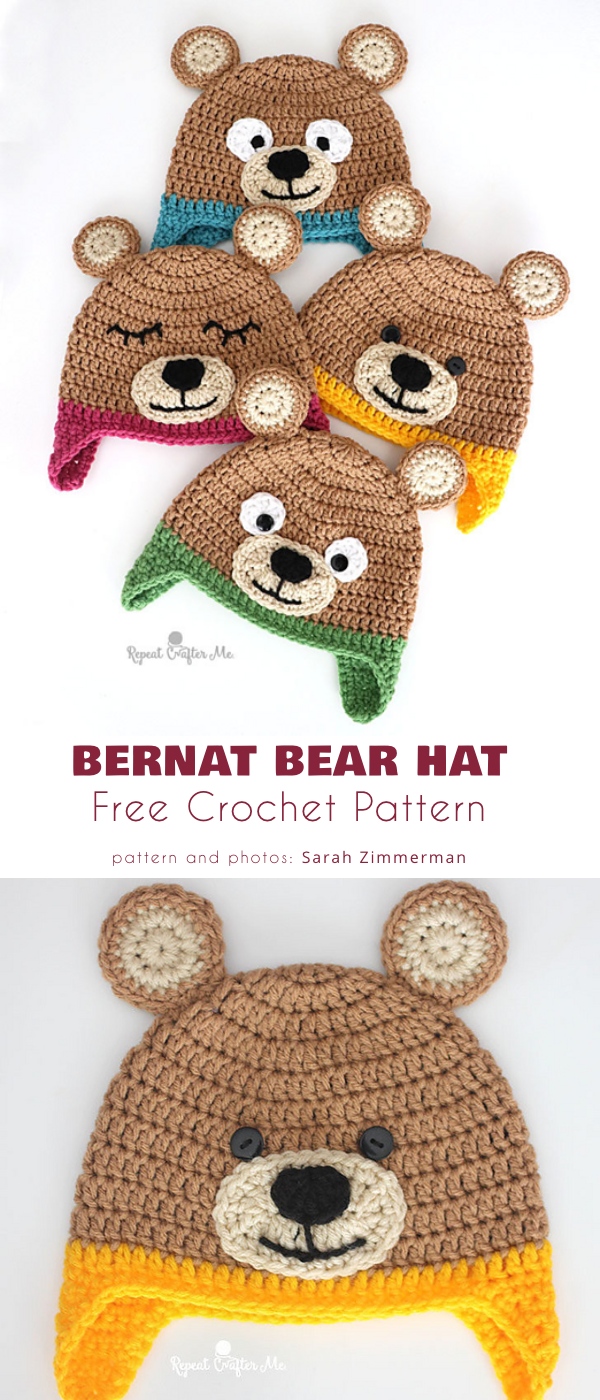 The full article about this pattern is here:
Advertisements

Baby Jacket Set
This beautiful set below consist of a jacket and baby hat. The set is adorable, and additionally there are small ears on top of the hat, which make the whole set even more cute. The pattern is very easy, so there is no excuses even if you are a newbie.
Skills: Easy     Designer:  Yarnspirations Design Studio
The full article about this pattern is here:
You may also like:
Heart Hat For a Toddler and a Child Free Crochet Patterns