Traditional baubles in a non-traditional shape.
Of course baby Yoda is everywhere, and has seen and done everything. However, it's time for some baby Yoda Christmas ornament ideas. After all, what better way to celebrate that special Christmas for the Mandalorian fan in you family. To summarize, these patters all portray Baby Yoda in different Christmas-related variants.Indeed, those hugge, solulful eyes and bat-like ears are just what the doctror ordered. Therefore, regardless of whether there are fans in the family, or if you simply like the patterns, there is a baby Yoda ready to beautify your Christmas.
Santa Yoda Ornament
First, bring the power of the Force to your Christmas tree with this super adorable Santa Yoda Christmas Ornament! Santa Yoda is quick and easy to make and he's the perfect stocking stuffer for any Jedi in your life.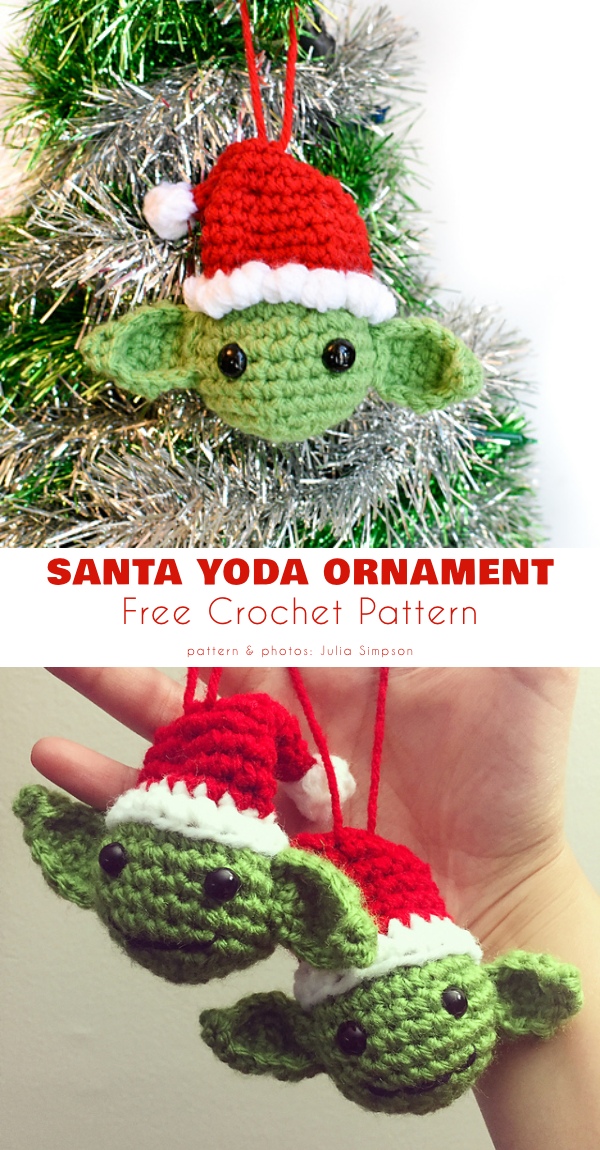 The full article about this pattern is here:
Advertisements

Baby Yoda Ornament
Next, this Baby Yoda Christmas ornament measures approximately 18cm/7″ across from the tip of one ear to the tip of the other. Indeed, this is likely the largest pattern here.
The full article about this pattern is here:
Advertisements



Advertisements

Baby Keychain Ornament
Of course, a Baby Yoda Christmas ornament collection needs a cute baby Yoda in his space pod, ready to zip around the tree.
The full article about this pattern is here:
Advertisements

You may also like: