Hello there, dinosaur lovers – we've got something great for you. Today we are talking about free patterns for Amigurumi Dinosaurs because these beasts can be very cute and friendly! We are taking you on a trip far back in time, so prepare for horned dinosaurs and tyrannosaurus rex.
With these great designs, you will crochet amigurumi dinosaurs for your kids to play with. It is also a great opportunity to learn while having fun because most of these patterns are suitable for beginners. Crocheters all around the world love dinos and came up with hundreds of ideas. Of course, we can show you only a few of them, but we think it's enough to get your creativity going!
Our collection of amigurumi patterns suits all skill levels, and what can be better? You can make them no matter if you're a beginner or a seasoned crocheter. Sit back, relax, and dive into the world of prehistoric creatures.
Let's explore the world of free dinosaur patterns!
You may also like:
Is it hard to crochet a dinosaur?
Amigurumi patterns can be challenging, but in fact, they mostly use single crochet stitches and working in the round. If you're familiar with these two crochet techniques, you can easily try tackling simple free crochet toy patterns.
That said, here's a little note for beginners. Crochet dinos can be detailed or simple, so look for a pattern that has the least amount of elements. Some designs look amazing but require putting together lots of small elements. This may mean using a needle and thread, so we don't recommend it for crocheters with poor eyesight.
To start, we recommend choosing the toys that have the simplest shapes. In addition, the heavier the yarn, the better because you'll be able to see all the stitches.
What do I need for amigurumi projects?
Usually, amigurumi projects require:
yarn of choice
crochet hook (size chosen accordingly to the yarn)
stitch markers
safety eyes, embroidery thread, or felt eyes
stuffing
needle and thread to sew the parts together (if necessary)
Please remember that the type of yarn will greatly affect the size and style of your toy. Designers usually use cotton yarn for amigurumi toys. Remember that your dinosaur amigurumi pattern can use different types of tools than listed, so always check pattern notes before starting.
Why crochet amigurumi dinosaurs?
These creatures always fascinate children, so it's a great idea for a gift. Even if your little one isn't interested in prehistoric creatures, they will most likely love it anyway. Why? It's simple – because dinos look a little bit like dragons. Every kid knows tales or movies about dragons, so these handmade toys will remind them of their favorite characters.
That said, not only kids would be happy to receive an amigurumi dinosaur as a gift. Crochet amigurumi dinos come in all shapes and sizes, so you've got a range to choose from. Small toys will be perfect as keychains or charms, while bigger ones will serve as cuddly sentimental pieces. To make it even more unique, try including some unique characteristics – use favorite colors, add cute embroidery or wire glasses.
Free Crochet Dinosaur Patterns
T-Rex Amigurumi
This amigurumi dino will be a toddler's favorite, but we know grown-ups who would love it as well. He is just the right size to cuddle and carry! The finished crocheted t-rex measures about 8" tall and 7" across (mostly head).
Do you think dinosaur toys are reserved for boys? I assure you that girls love these creatures too! Make it in pink and violet and no girl will resist it. To make it even more feminine, add a crochet flower, or make a custom dino dress.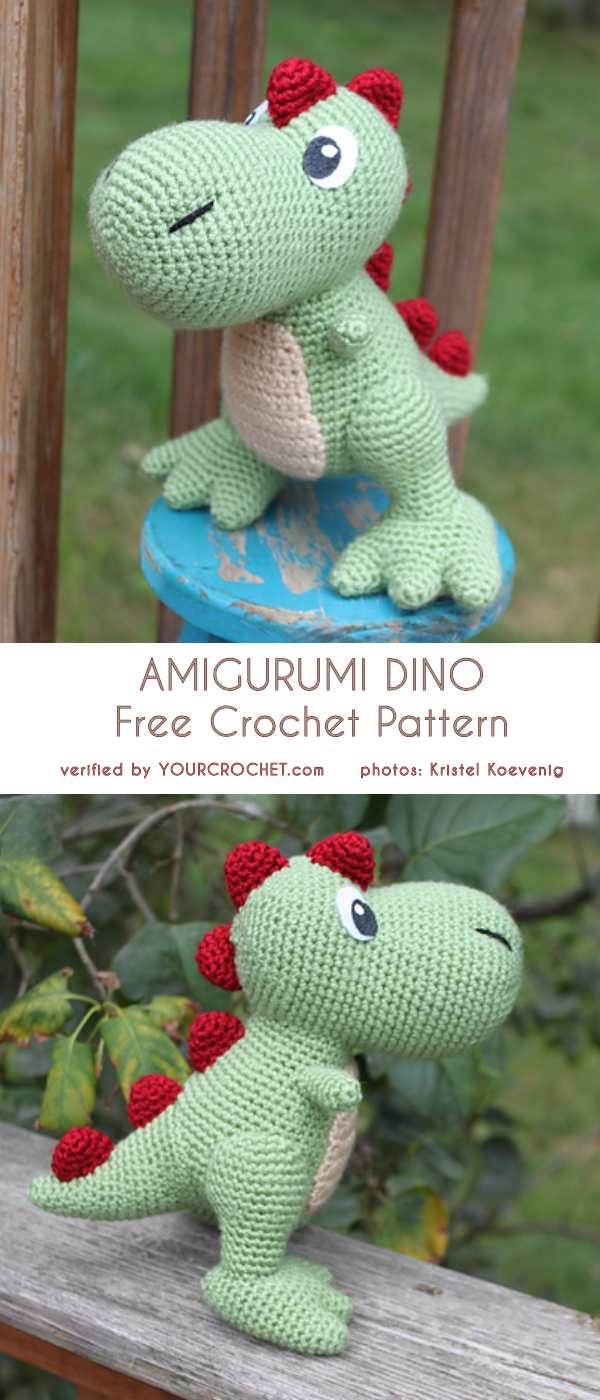 The original pattern and the photos are on Ravelry:
Danny the Dinosaur
This amigurumi creature by the genius author behind Cuddly Stitches Craft is a treat for every dino lover. We all need a soft friendly toy sometimes, no matter the age, right? Obviously! Make one yourself, it's not that difficult at all thanks to step-by-step instructions.
The size of this toy is great for toddlers, but remember to change up the plastic eyes for embroidery. Small parts like these can be bitten off, so it's better to be safe than sorry. By using needle and thread, you can sculpt the head and make the eye pop.
The original pattern and the photos are on Cuddly Stitches Craft:
More info on Ravelry here.
Crochet Dinosaur
We have been top fans of brilliant amigurumi designer Halime Özel for some time now, that's for sure! If you like crochet patterns for toys, start following her on social media. How about this lovely dinosaur for your first project with her?
This little pal has lots of details, and that's what makes him look so good. Small white dots on his back and toes make him look natural and lifelike. Earthy tones are an obvious choice for dinosaurs, but feel free to experiment with colors – it's a toy, after all!
The original pattern and the photos are on Ravelry:
The bottom photo is on Instagram here.
Crochet Triceratops Dinosaur
If you are a fan of colorful amigurumi, this one by Halime Özel is a must-have. Why? Because it is not only colorful but also out-of-this-world adorable! We promise you won't be able to stop after making just one, so get the yarn ready!
Kawaii-style dinosaurs will most likely become girls' favorites, but I bet boys would love to have them, too. In the bottom photo, you can see two versions, and they both look great! Experiment with the color palette and don't be afraid to go a little crazy.
The original pattern and the photos are on Ravelry:
The top photo is on Instagram here.
Happy Monroe Dinosaur Amigurumi
It turns out everyone loves sweets, crochet dinosaurs included! If you have made simple toys before and are on the lookout for something more original, here it is. Sedef Bay's pattern is so creative we can't stop raving about it!
The original pattern and the photos are on Lovely Craft:
Happy Monroe Dinosaur Amigurumi
More info on Ravelry is here.
Tanner the Triceratops
Meet Tanner, the friendly triceratops in the most beautiful shade of blue! We simply don't know what we adore the most about this pattern – his cute horned face or the details. Our hearts are melting!
The original pattern and the photos are on The Nicole Chase:
More info on Ravelry is here.
For more free patterns every day follow us on Facebook, or share your ideas in our Facebook group!