Crochet patterns for amigurumi plants have arrived, beautiful people! Are you as excited as we are? While winter is not over, why not help things along with some permanent amigurumi plants? They bring a touch of the vernal equinox into your home but don't require much in the way of light which is significant for those of us without a lot of natural light in our homes or with darker areas that could use a little green. Apart from that, the projects themselves are a lot of fun and will make great gifts, for example for a housewarming. Below you will find crochet patterns for plants like succulents, snake plants, and sunflowers. Choose one of the best crochet hooks for beginners and crochet away! Links to free patterns are under the photos.
You may also like:
Crochet Houseplants with Free Patterns
Succulents, Aloe Vera
Did you know that aloe vera has magical powers? Yes, even the crochet version! It will calm your senses and surely make your window sill look beautiful. With this pattern by Yarnspirations, you can make many in different sizes and shades of green.
The original pattern and the photos are on Yarnspirations:
String of Pearls
Have you ever seen this awesome plant? Mother's nature wonderful creation, without a doubt! If you want to have your own version without having to take care of it, here is a solution. A beginner-friendly, free crochet amigurumi plant pattern by brilliant ollie + holly!
The original pattern is on ollie + holly:
Barrel Cactus
Have you already found your favorite free crochet cactus pattern? There are so many awesome options out there, right? If you don't feel like looking any longer, no worries. This one by genius Nuria Álvarez certainly ticks all the boxes.
The original pattern and the photos are on Ravelry:
Desktop Succulent Fence Post Cactus
Succulents are amazing plants that can deal with very harsh, very dry environments and bring a touch of life to otherwise bare landscapes. That's a quality well represented in this amigurumi succulent plant that will be a great touch on your desktop or in a nook somewhere in the home. It would also work amazingly well in a windowless bathroom that could do with a green touch. The link to this crochet succulent free pattern is under the photo.
The original pattern and the photos are on Yarn and Chai:
The snake plant is a decorative plant that has been cultivated for centuries, and it's lovingly represented here in crochet. This is a wonderful amigurumi plant project that will be a pleasant diversion from blankest, squares, and teddies, which are usual crochet fare. The leaves are nicely rigid and stand just like on the real plant, and the whole pattern itself will be great for an area at home that doesn't get a whole lot of sunshine. The link to this free amigurumi plant crochet pattern is under the photo.
The original pattern is on My Blu Print:
Info about this version and the photos are on Ravelry here.
Advertisements

Snake Plant
Continuing, here is another pattern for a snake plant. If you don't have any sunny spot in your home or don't have a green thumb, do not worry. The crochet plant is resistant, looks real, and is fun to make! It undoubtedly will upgrade your interior ambiance.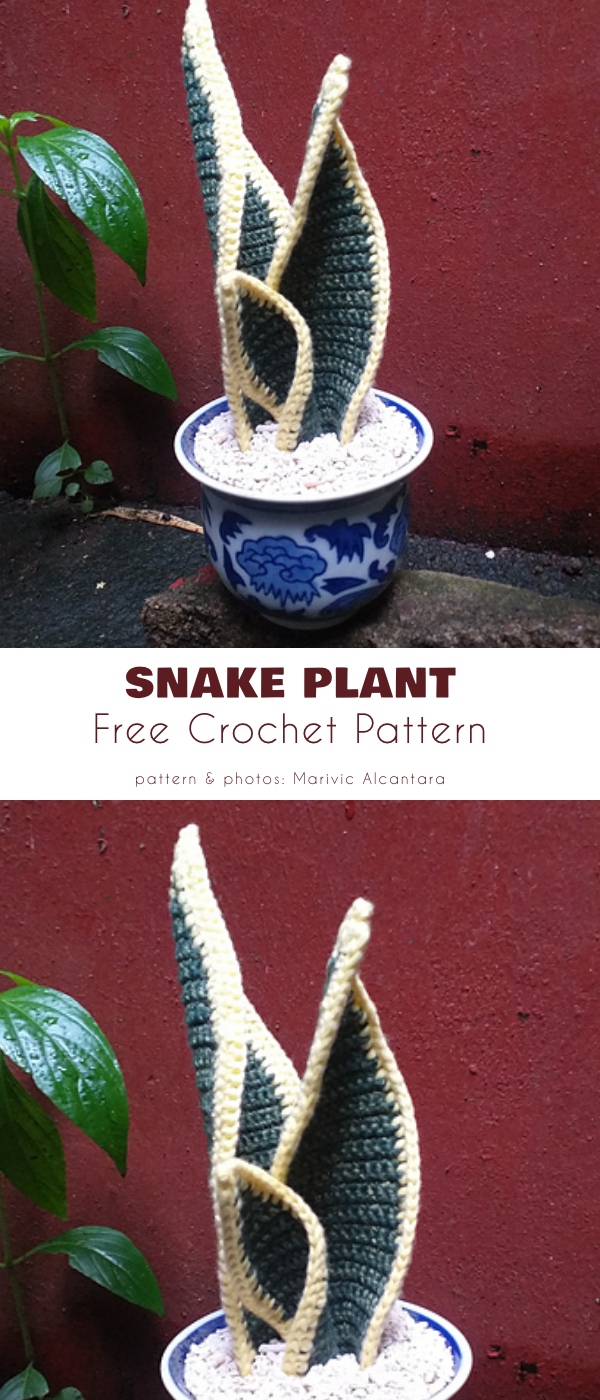 The original pattern and the photos are on Ravelry:
Fence Post Cactus
UPDATE: This pattern is no longer available for free. 
This colorful flowering cactus is a wonderful example of how well crochet can imitate real life. This Fence Post cactus in a pot is simply amazing, highly lifelike and a joy to make. It'll be a great decoration for a windowsill or a nook where the light doesn't get intense enough to grow a real cactus. Moreover, it'll simply be fun to make. What could be better?
The original pattern and the photos are on Ravelry:
Happy Sunflowers for Windowsill
To bring even more sunshine into your rooms, take a look at the happy sunflowers pattern. This will REALLY brighten up your windowsills or nooks and crannies around the house.

The original pattern and the photos are on Ink & Stitches:
FAQ
What yarn is the best for amigurumi plant?
It's definitely cotton yarn, because it creates smooth surface and doesn't stretch much. There are a lot of colors available, so you can make sure you'll choose the right shades for your houseplant.
Are these projects suitable for amigurumi beginners?
Yes, they are, especially the simplest ones, such as snake plant, or cactus. Simple shapes are easy enough to work up quickly, so the satisfaction is almost immediate!
How to add character to amigurumi toys?
The best way is to add details! Sewing on little cactus flowers, attaching plastic eyes on a flower, or literally painting with pastels over the finished object all add character.