These beautiful flower-motif blanket patterns will be a perfect detail to decorate your home with. The gamma of matching colors and 3D textures with beautiful flowers will draw attention and be captivating to behold.
Narcissus Cal Blanket Free Crochet Pattern
When all at once I saw a crowd,
A host, of golden daffodils;
Beside the lake, beneath the trees,
Fluttering and dancing in the breeze.
This is a CAL project that is a living embodiment of the William Wardsworth poem. It's a beautiful floral crochet pattern with a highly developed surface and a very pleasing texture. Although the pattern is not particularly difficult of an in itself, the scale and beauty make it an ambitious project for the seasoned beginner and a fun pastime for the veteran. It's a 7-part CAL starting on January 7th. Join in, enjoy and build your CAL community.
Skills: Easy          Designer: Anitha Domacin
Go to the pattern:
Advertisements

Happy Little Tree Blanket Free Crochet Pattern
This pattern has it all: beautifully matching colors, flowers, a 3D texture and a lovely lace border. Rose and plain hexagons are mixed together to make this pattern really unique and quite outstanding. If you are a novice, don't feel overwhelmed, because the Happy Little Tree Blanket pattern is well written and beginner friendly.  Good luck! A link to the free pattern is at the end of the post.
Skills:  Easy        Designer:  Rachele Carmona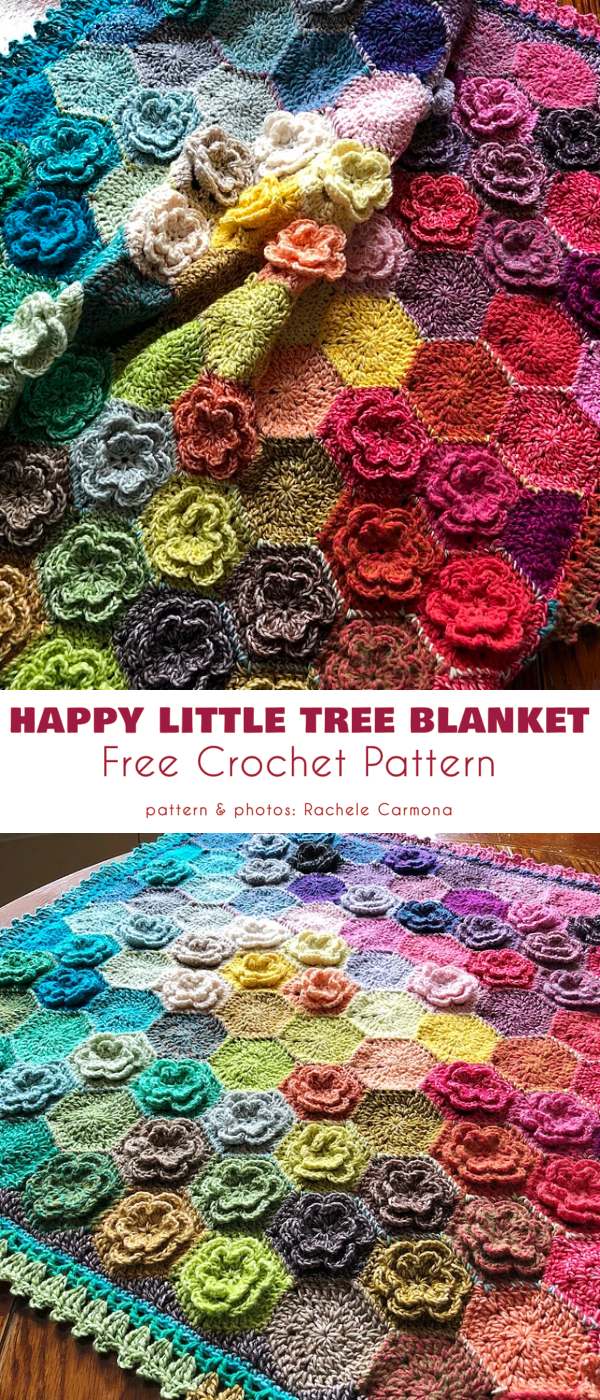 For more free designs every day follow us on Facebook. Share your ideas and your work on our Facebook group!
Go to the pattern:
Advertisements