I'm very glad that handmade gifts are getting more and more popular these days, especially because there is a need for more sustainable life and fight with consumerist habits. To make a comfy crochet shawl, you can use literally scraps of yarn you find in your attic. To give them new life, grab your crochet hook and research possibilities – do you want it to be a triangular shawl, long rectangular scarf or comfy cowl? Depending on what you like the most, decide and start crocheting! Easy, beginner-friendly patterns work up really fast, so you will most definitely make it before Christmas. Links to free patterns are under the pictures.
You may also like:
Skills:  Easy           Designer:   Andrea Cretu
For more free designs every day follow us on Facebook. Share your ideas and your work on our Facebook group!
[spider_facebook id="1″]

Iris Cowl Free Crochet Pattern
Lace stitches and ombre yarn are my favorite combination. This cowl is easy to make, and the yarn is exceptionally soft. This little addition to your seasonal wardrobe will make all the difference. Why not make it as a gift for someone you love, too?
Go to the pattern: Iris Cowl
Advertisements

Brushland Wrap Free Crochet Pattern
Tunisian crochet can be intimidating, but it's important to keep going! This triangular shawl is worked on a bias, and it's a perfect opportunity to hone your skills in this technique.
Go to the pattern: Brushland Wrap
Advertisements

Frosted Petals Asymmetrical Scarf Free Crochet Pattern
Cream and pink goes so well together! This fun scarf is very versatile, and it works with many styles. Wear it during winter for a little bit of extra comfort. Such scarf would be a lovely gift for stylish mum.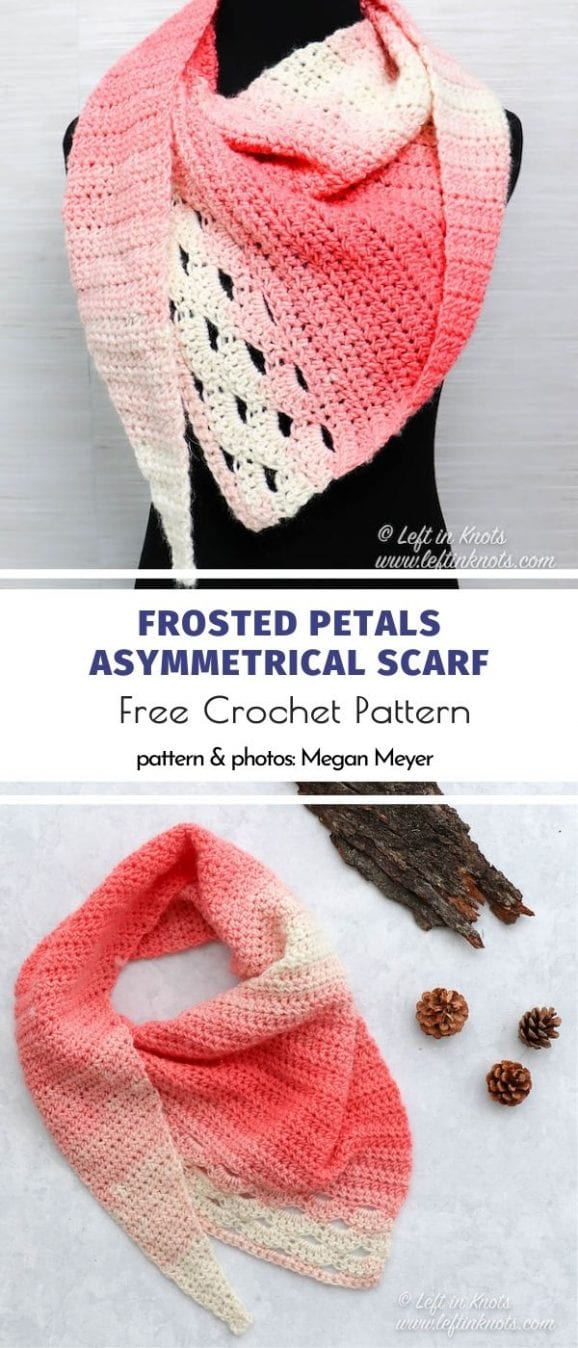 Go to the pattern: Frosted Petals Asymmetrical Scarf
Advertisements

Arrow Wrap Free Crochet Pattern
This long arrow-shaped wrap looks as great when unfolded, as when wrapped around your neck. Variety of stitches is fantastic, and yet it's easy to pull off. Choose contrasting colors to make this amazing graphic accessory.
Go to the pattern: Arrow Wrap
Advertisements

Shell & Lace Shawl Free Crochet Pattern
Little shells create lacy fabric of this fantastic shawl. It has unusual elongated shape, which drapes beautifully. It will be a lovely addition to formal wear, or elegant touch in your everyday attire.