There are few more beautiful animals than peacocks. Although their singing reminds one of Florence Jenkins, the absolutely amazing plumage is a sight to behold. Pavo cristatus, the Indian or common peacock, shimmers in blues and turquoises all over. But the real piece de resistance are the tail feathers. When the male peacock fans out his tail, the beautiful, wispy weathers spread out to reveal the "eyes" at the tips. It's quite a sight to behold. In older times, they were considered an essential animal to have in your gardens for that very reason. Crocheting is a great way to bring some of the beauty of peacock feathers into your home and add it to your projects.
French Mini Peacock Feather Free Crochet Pattern
The French Mini Peacock feather takes peafowl plumage and distills it to a small colorful "eyelet" that is a great applique or decorative motif for another project. As you can see below, you can also fashion these into their own accessories.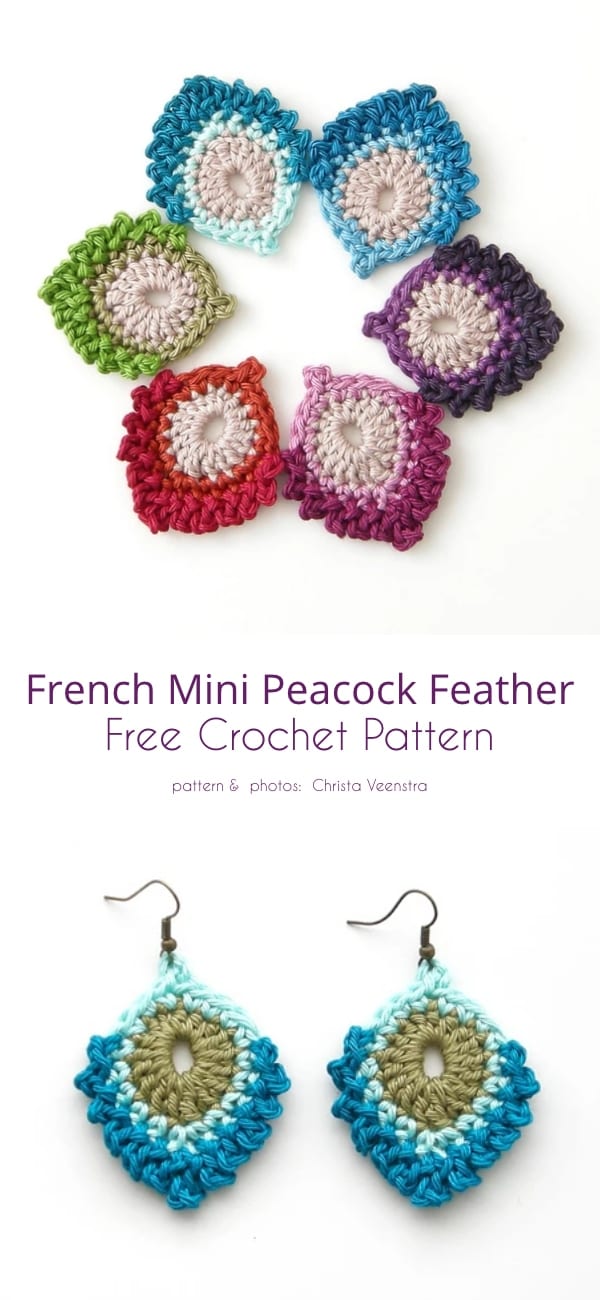 The full article about this pattern is here:
Advertisements

Peacock Feather and Bookmark Free Crochet Tutorial
Here is a different application of this motif. This bookmark uses the eyelet of a peacock feather as the tip of a string bookmark. This is an easy yet beautiful pattern to make a decorative item for everyday use. I find this to be a wonderful idea for a gift. Unfortunately this tutorial is not available in English jet, so please turn on an English automatic translation.
The tutorial  is here:
Peacock Coasters Free Crochet Pattern
The eyes of peacock feathers lend themselves wonderfully to make small or medium sized flat projects… so a coaster is a natural embodiment of this. Have a look below, and see if any of the color combinations inspire you.
For more free designs every day follow us on Facebook. Share your ideas and your work on our Facebook group!
The full article about this pattern is here:
Advertisements