There is no much to do in your garden
So it's time to start to 'grow' amigurumi potted flowers again! To this end, here are some potted flower patterns to put some cheer in your autumn blues. Overall, flowers are a great theme, because they are colorful, fun and very, very attractive. Also, from a purely crochet standpoint, they can be an easy way to put some bounce in your projects and also to involve your children as well. Moreover, the patterns can use up the stash of yarn ends that are left over from your summer projects. In particular, because these ends are likely to be very colorful. Therefore, make some room for new yarn ends by using up these old ones to make fun, bright flowers.
Little Flower
To begin with, we present this little pattern is a lovely little amigurumi potted flower doll with sad puppy eyes. Indeed, they give it an almost unbearable level of sweetness. However, please consider making safety eyes if you want to make one for the youngest of us.
The full article about this pattern is on Ravelry:
Advertisements

Potted Plant
Next, here is a lovely idea fo crocheted bouquets of amigurumi potted flowers. They are undoubtedly a touch of summer on a cold winter evening. To summarize, this is a highly realistic pattern with a beautiful flowerpot and a dense, full array of blossoms.
The full article about this pattern is on lionbrand.com blog:
More info about project photographed here.
Advertisements

Potted Flowers
Of course, you need not make hyper-realistic amigurumi potted flowers. Thus, here is a pattern that you can use to make a variety of crochet flowers depending on your mood , taste or decor. Indeed, you can get across the very concept of "flower" without imitating any particular one.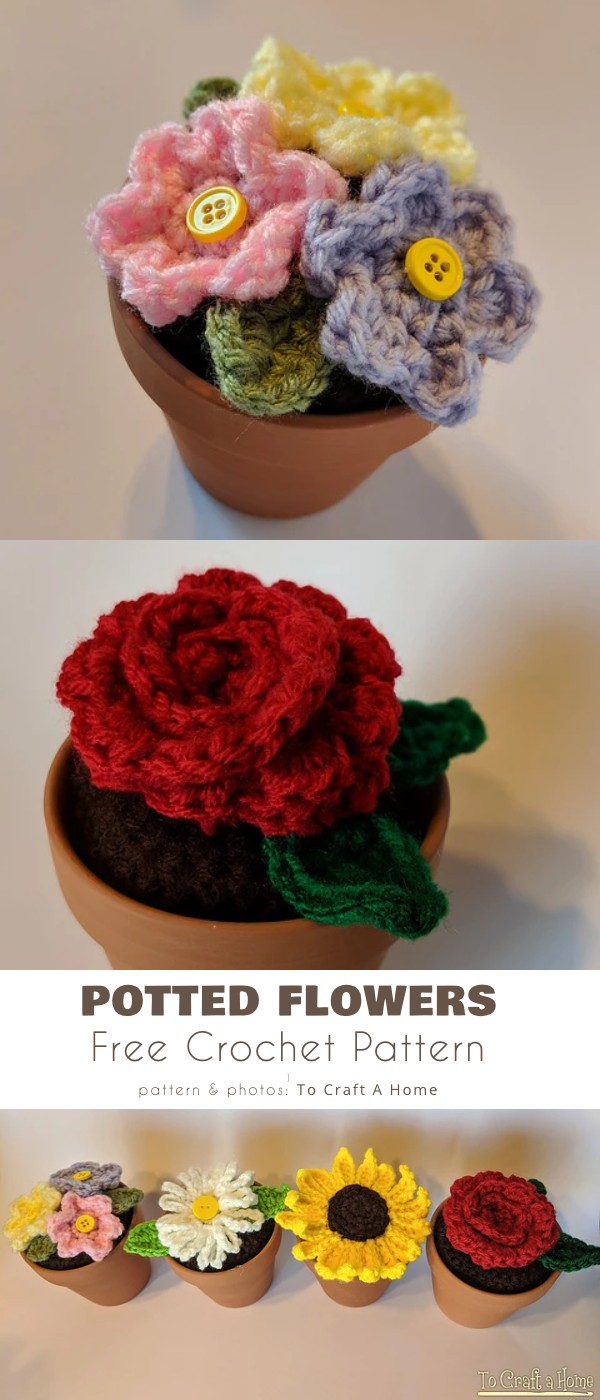 The full article about this pattern is on tocraftahome.com blog:
Advertisements

You may also like:
For more free designs every day follow us on Facebook and share your ideas and your work on our Facebook group!